Here Come Da Fudge -- The Vanilla Fudge -- With the Spirit of '67
FTC Statement: Reviewers are frequently provided by the publisher/production company with a copy of the material being reviewed.The opinions published are solely those of the respective reviewers and may not reflect the opinions of CriticalBlast.com or its management.
As an Amazon Associate, we earn from qualifying purchases. (This is a legal requirement, as apparently some sites advertise for Amazon for free. Yes, that's sarcasm.)
Submitted by

Dennis Russo

on Mon, 03/02/2015 - 06:00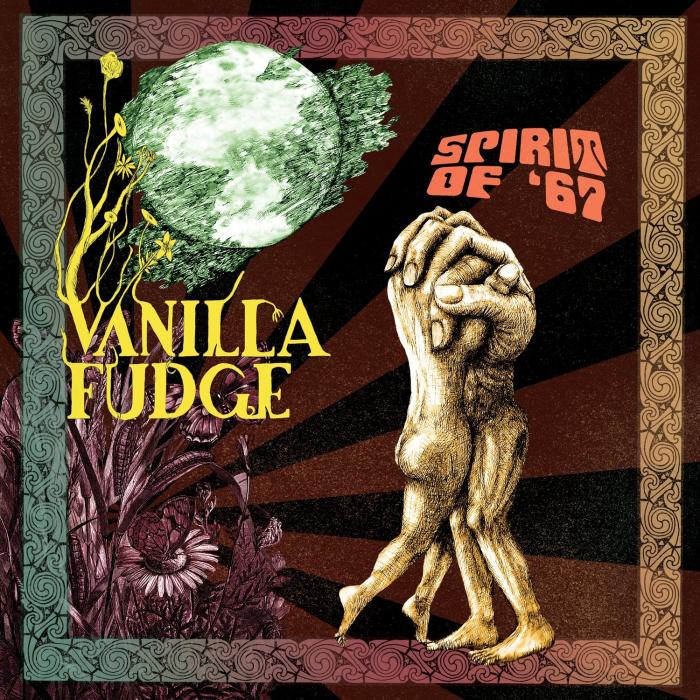 SPIRIT OF '67 is the first album by Vanilla Fudge in 10 years. The group still retains three of the four original members of the band: Carmine Appice on drums, Mark Stein on lead vocals and keyboards, and Vince Martell on guitars. They're joined by Pete Bremy on bass, who replaces Tim Bogert. The band continues to be true to their original form of playing covers of some of the greatest songs in rock and R&B. The only difference here is that, when they first started, the covers they did were of fairly current songs; now they are bona-fide classics.
On this album they cover songs that range from the Doors to the Stones, the Who to Smokey Robinson and the Miracles, from Procol Harum to Marvin Gaye, and others, putting their own touch, their own style on every song.
Those of us old enough to remember the days of the second generation of rock music -- I'm talking about the late 60's early 70's -- and those fortunate to remember (and still own) Vanilla Fudge albums are in for a real blast with this new album (on CD).
Before sitting down to listen, I couldn't help but wonder to myself, "Do these aging rockers still have it? Can they still be as creative and imaginative on their retelling of classic songs? Can they still sound like Vanilla Fudge?" A few bars into the first track of "I Heard It Through the Grapevine" I got my answer. They were at once a new Vanilla Fudge, but at the same time the soul of the original was there too.
When you have true rock musicians who have always remained rooted in their history, it's amazing how easy they make it seem to just pick up their instruments and start playing as if it was still 1967. And don't think of these gentlemen as tired old rockers going through the motions. All of them are consummate musicians, who still play today with the same passion and emotion that made them who they are. They are not a group bent on going off on five minute solos; they play together as a band, each member adding their talent to the song, resulting in the great music you will hear in the CD. They are from a time when it was more important what and how you played, rather than how fast you could play it; a time when drums had "skins" and guitarists used picks to play.
This attribute did pose a problem for me in a way. As I was listening the music, the songs kept wanting me to melt away the decades and recall the days when this style of rock and these songs were played on mainstream radio, not relegated to an oldies stations or dedicated vintage vinyl style pay music service channels.
From the first song through the last, each song was a treat -- each done so differently from the original that they sound fresh and new, several of which I now personally prefer to the originals, such as "I'm a Believer" and "For What It's Worth." Not that I didn't like the originals, I just prefer these, much the same way I have always preferred their version of "Keep Me Hanging On" from their self titled album from, you guessed it, 1967.
To try and describe each song individually would be long and laborious, as well as boring. Part of what makes these songs so good is that you don't know what to expect them to sound like until you hear them, other than the fact you know the musicians and the style to which they play.
If you're not familiar with their style, I have read something somewhere that pretty much describes them. They are almost a bridge between psychedelic rock and what would later become heavy metal. Keep that image in mind and you have a good idea of the excitement they bring to the songs on this disc, even to songs such as "Tracks of My Tears!"
I really enjoyed listening to this CD (over and over again). With so much of today's music sounding either the same or just plain lame, and so many other musicians doing covers of classic songs so unimaginatively that it blatantly shows their lack of real talent, this CD is a breath of fresh air: vintage '67.
Go in not expecting these songs to sound like the originals, and listen to it through, and I think it will have you wanting to go back through their catalog of music to their older albums as well. The Fudge are as fresh today as they were back in 1967, so get yourself some!
As for me? Well I'm fortunate (smart) enough to have all of their original albums, so I only have to go as far as my record collection to hear them, and I consider SPIRIT OF '67 a worthy addition to it.
Vanilla Fudge: Spirit of '67
Track Listing
1: I Heard It Through The Grapevine
2: The Letter
3: I Can See For Miles
4: Break On Through (To The Other Side)
5: The Tracks Of My Tears
6: I'm A Believer
7: Gimme Some Lovin'
8: For What It's Worth
9: Ruby Tuesday
10: Whiter Shade Of Pale
11: Let's Pray For Peace
Recent Tweets
Top Ten Most Popular Ever