Anna Danes Find Your Wings Soars with the Eagles
FTC Statement: Reviewers are frequently provided by the publisher/production company with a copy of the material being reviewed.The opinions published are solely those of the respective reviewers and may not reflect the opinions of CriticalBlast.com or its management.
As an Amazon Associate, we earn from qualifying purchases. (This is a legal requirement, as apparently some sites advertise for Amazon for free. Yes, that's sarcasm.)
Submitted by

Dennis Russo

on Fri, 09/23/2016 - 14:26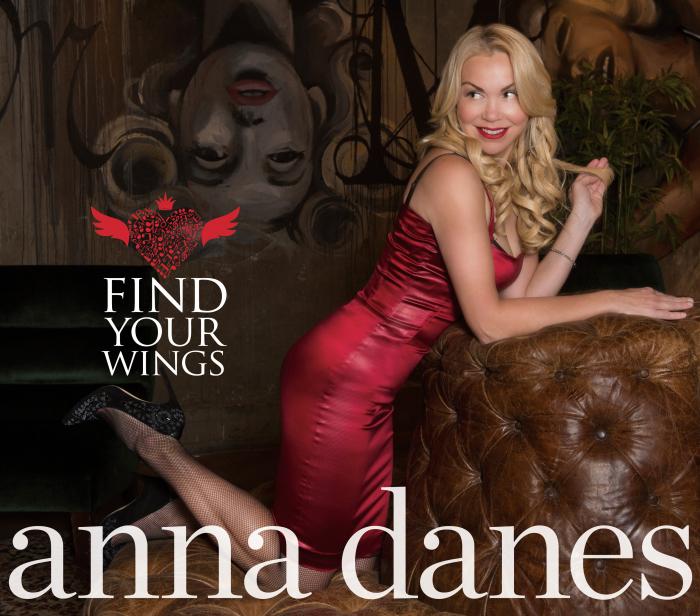 This newest album from Anna Danes recorded at Capital Records Studio A, the same studio and microphone by the way used by her role models Frank Sinatra and Nat King Cole, is one of those albums that sounds both new and classic at the same time.
That's no small feat, considering Anna didn't start really singing until 3 years ago when, as fate would have it, her daughter refused to sing at a vocal lesson. And, with the lesson already paid for, Anna stepped in. And the rest, as they say, is history.
This new album, set to release in October during National Breast Cancer Awareness month, turned out to be not only an album of great songs but also an album of great strength, comfort and peace. Because while Ms. Danes was working on marketing and promoting this record, she was diagnosed with breast cancer.
Many of the songs on this album lend themselves freely to finding hope, strength and purpose in one's life; a metaphor for not only herself looking beyond challenges that she's faced in the past and now and rising above them, but for countless others as well. And don't get me wrong, that is a wonderful thing, especially with the title song "Find Your Wings." But this album is so good that I hope that it doesn't get thought of as just an album created for encouragement in the face of this terrible disease and other of life's struggles. While it is and does offer that, it is so much more.
This is a jazz album that stands on its own two feet – nay, it flies on its own wings, and should in every way be thought of as a wonderful "old school" jazz album that hits on all eight cylinders. Anna created a CD here that is so good, in fact, that listening to it had me imagining her in a supper club somewhere in New York or Chicago with people sitting around in their shawl collar dinner jackets and Luis Viton dinner gowns, around small oval tables with little lamps on the center with iced Moet Chandon sitting in silver buckets at the side of the table, all the while Anna is in a red full length dress cut down to here and slit up to there, leaning up to and stretching out across the piano (the upright bass and small drum kit sit behind them), singing her songs while the piano accompanies her almost as a duet. Then during songs like "In The Wee Small Hours" I could see her strolling up to a dinner guest, gliding her hand down his cheek, and flipping his bow tie before making her way back to the stage.
Now that to me is jazz! Okay, maybe it didn't hurt seeing her in a red satin dress on the CD cover to help me envision that, but the music is what brings that picture to fruition in my mind.
While Producer Dave Darling mixed the album so that Anna was front and center, the musicians, especially the pianist and arranger Rich Ruttenberg, make this album seem more like a duet than a solo work. Even though Anna does sing a duet on the song "That's All" with Richard Shelton, it's the chemistry between Rich and Anna that is so spot on. It was as if each knew what the other was thinking, and where they were going in the songs, singing and playing together; and when it seemed right, Anna stepped back at just the right time to let the piano take the song in a different but cohesive direction, then seamlessly coming back in. Songs such as "I'll Wait For You" and "See You In L.A." to name just a couple here are brilliant.
Rich Ruttenberg plays his instrument like a true jazz pianist should in my book. While undoubtedly there are many comparisons that could be made on this album, the way he arranged and played it, I kept hearing Dave Brubeck, Bill Evans and even Vince Gauraldi on every song.
Bassist Try Henry and drummer John Ferraro are equally adept at playing in unison with Anna and Rich, making this tight small ensemble jazz package. I love the openings of "See You In L.A." and "I Want To Be Around/Cry Me A River" with the bass lines -- just great music being played by great musicians all-round.
This is Anna's show, though, no doubt about it. Her songs run the gamut from sultry ("When You Were My King") to torch-like, upbeat and snappy, like the ones mentioned above, and she sings them all brilliantly.
Speaking of the duet with Richard Shelton on "That's All," when he comes into the song I thought, oh my gosh he sings and sounds just like the "Velvet Fog" himself! Both Anna and he sing the song so well together, with each voice complementing each other's perfectly, and perfectly mixed to boot.
Sonics on this CD are stunning. The piano, upright bass and drums have a realism to them that give them a sense if three-dimensionality. The soundstage is wide but tight, with a good sense of depth.
I loved sitting and listening to this CD over and over again, each time hearing new little nuances in Anna's voice, having fun and playing with her group; that just kept me interested and focused on not only listening to the music but immensely enjoying it.
Anna's voice is recorded very naturally, giving her voice a real feel of humanness. It's recorded so well that a couple of times I could pick up some slight tonal "cracks" in her voice, but never to the extent that it detracted from the music and the songs. Her band is so tight that they always seem to play with her and never outshining her, which can be done by some experienced artists when paired with someone who has not been around as long. That is a testament not only to them, but also Anna, who, with such relatively short time behind the mic, proves she can stand toe-to-toe with even the most seasoned musicians.
For anyone into jazz vocal albums, this CD is a no-brainer. For any audiophile, this CD is a no-brainer. There is so much to like on the album -- from the songs, to the way there arranged, performed and recorded -- I don't see where you can not only not go wrong, but where you could do better.
Songs on this CD:
When You Were My King

I Will Wait For You

It's Crazy

I Want To Be Around/Cry Me A River

Find Your Wings

That's All

Long Distance

In The Wee Small Hour

See You In L.A.

Mr. OMG

The Voice

I Love You
Recent Tweets
Top Ten Most Popular Ever