Frank Zappa's Hot Rats Long Awaited Vinyl Release Well Worth It
FTC Statement: Reviewers are frequently provided by the publisher/production company with a copy of the material being reviewed.The opinions published are solely those of the respective reviewers and may not reflect the opinions of CriticalBlast.com or its management.
As an Amazon Associate, we earn from qualifying purchases. (This is a legal requirement, as apparently some sites advertise for Amazon for free. Yes, that's sarcasm.)
Submitted by

Dennis Russo

on Mon, 11/14/2016 - 08:13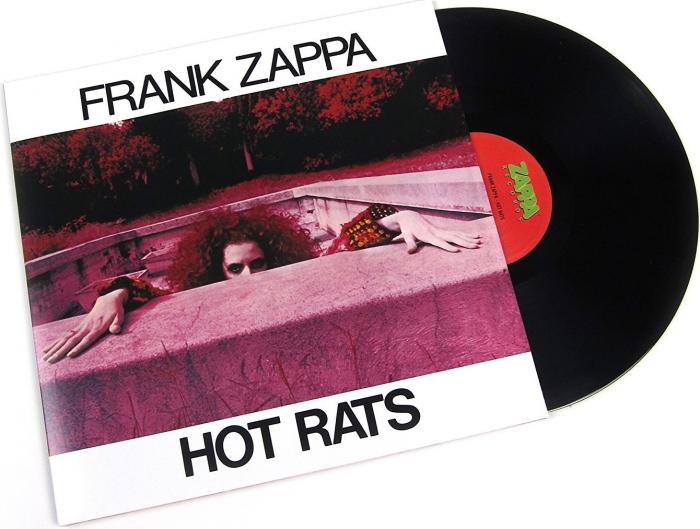 For someone like me, who has been a fan of Frank Zappa's music for years and also a frustrated record collector who for years had been looking for an affordable copy of this LP in good condition (any of his LPs, for that matter), you can imagine my excitement to realize the end of my quest was at hand now that HOT RATS has been reissued once again, and this time on 180-gram vinyl.
Holding the LP in my hands, I felt transported back to a time long ago, imagining what it might have been like to have bought this record when it was first released and the anticipation of listening to it for the first time.
I was immediately pleased by the quality of the gatefold cover of this single LP issue, and the rendering of the artwork on both the inside and outside covers.
Slipping the LP out of the cover, I was again pleased to see it cradled in an anti-static sleeve--something important that I have stressed in many, if not all, of my record reviews, because if you are going to go through the trouble of making a high quality reissue at least go the extra steps and place it in an anti-static sleeve. The sonic benefits are easily heard (or should I say not heard) when something as simple as this is employed. While there is a definite vinyl resurgence, there are still a good many people spinning wax that do not have an anti-static brush, and this will help them hear the best from their new album.
That rabbit trail aside, the records were very clean of pressing debris, and the label was centered nicely on the album.
After cleaning (yes I know I said it was clean--and it was--but I still clean all my records before playing to remove and residual "shmutz" lurking in the grooves that could deter the sound) and putting it on my turntable, I could see the LP was noticeably free of any warpage--another good thing to see on a new album.
As the first song started, I was immediately hit by how quiet the background was, almost inky black and there was very little surface noise.
One of the many things my DeVore 3XL speakers do very well is cast a wide soundstage, and this album has a very wide soundstage. While not very deep, it stretched from well outside my speakers' boundaries and filled everywhere in between.
This reissue allowed me to really experience these songs for the works that they are. So much goes on in the songs, all of which are instrumentals other than "Willie The Pimp" which is voiced by the venerable Captain Beefheart. This song of all of them was my least favorite, because while the instruments on the song (and all the others) are very clear, Beefheart's vocals here were cloudy to the point of being almost muddy; whether or not this was on purpose I don't know, but nonetheless I found him fatiguing to listen to.
Overall I found the highs extended without being grainy, as I had expected given that this record was originally released (I believe) in 1969 (even though this record was from a 2008 mastering by Bernie Grundman from Frank Zappa's original edited master), and the dynamic range of the album nicely balanced. Yet another testament to Zappa's mastery of his craft.
The instruments were very well recorded. The drums and bass on "Peaches En Regalia" were natural sounding and easy to follow amid all the other music, while the guitar work on "Willie The Pimp" was nice and clear with an electric-ness to it that I really liked. And to make another call out, the sax on "The Gumbo Variations" has a nice, natural chestiness. As I said earlier the sound stage is very wide and the instruments placed nicely in the plane, even if that plane was mostly two-dimensional.
This album is so unique in itself, and each song is so different from the others on it. Even Zappa coined it in the album cover as a "movie for your ears." And that it is. What I also thought was unique is that Zappa is credited as having produced, composed, and directed it. That is not something you normally see associated to just one person.
There are quite a few guest musicians on this album that serve to make it sound as good as it does. Aside from Captain Beefheart, you will hear Shuggy Otis, Jean Luc Ponty and Sugar Cane Harris play as well--and do they play! What is also cool is that you get many opportunities to hear just how good of a guitar player Zappa is. I know I have said that before, but here is a great example of it. The sax playing of Ian Underwood is just plain crazy; he plays this almost kind of jazz (not your Coltrane kind of jazz) rock/fusion that can sometimes be befuddling in its compositions but at all times leaves no doubt in your mind of his ability to play.
The one constant theme I find in each song is that there is always something different going on--something different to listen to. The song could be going in one direction compositionally, and a guitar, sax, or bass line would go off in a different direction, but all the while never straying from the cohesiveness of the whole composition, as in "Son Of Mr. Green Genes." Well, two constants, actually: all of the songs on this LP are great jams! And that all ties back to Frank Zappa being the producer, composer and director. It is his vision from start to finish. If there were others involved in any of those three steps, it would not have that cohesiveness.
This is one of those albums you have to consider as a "must have." The original will probably always be worth more, as there are some liner note additions to this copy that I do not believe were on the original. But regardless, this is a great album that many have either never heard before or not heard in many, many years. It deserves to be heard and deserves to be part of your collection.
Songs on this LP
Side 1
Peaches En Regalia

Willie The Pimp

Son Of Mr. Green Genes
Side 2
Little Umbrella

The Gumbo Variations

It Must BeA Camel
Recent Tweets
Top Ten Most Popular Ever