Bright Hill Road a Dark Path to the Inevitable
FTC Statement: Reviewers are frequently provided by the publisher/production company with a copy of the material being reviewed.The opinions published are solely those of the respective reviewers and may not reflect the opinions of CriticalBlast.com or its management.
As an Amazon Associate, we earn from qualifying purchases. (This is a legal requirement, as apparently some sites advertise for Amazon for free. Yes, that's sarcasm.)
Submitted by

Damascus Mincemeyer

on Sun, 12/27/2020 - 09:03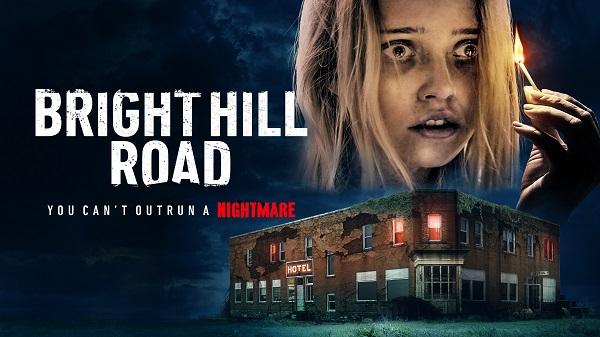 For millennia the nature of existence has both intrigued and terrified humankind; philosophers, alchemists and the religiously inclined have written inexhaustible volumes about their quests to understand the totality of the universe we inhabit and our place in it. Within our modern age artistic expression has often served as the primary engine for those of thoughtful disposition to pose questions regarding reality in ways that not only provoke but entertain.
"Everyone who comes here has a secret," one character steadfastly states halfway through Uncork'd Entertainment's latest enigmatic offering, Bright Hill Road, and the mysteries offered in the film's slow burn, are the exact kind those same philosophers of yore propounded: Where are we and why, exactly, are we there?
After surviving a homicidal office rampage by an employee she fired the previous week, struggling, on-the-edge alcoholic human resources manager Marcy (Siobahn Williams) flees her unraveling life on the pretense of visiting her sister in California to recuperate. When she wakes up in her car on the eponymous road in front of an isolated, middle-of-nowhere boarding house, it seems she may have found a temporary safe haven from trouble, but the new sanctuary offers no easy comfort: creepy, austere hotelier Mrs. Inman (Agam Darshi) repeatedly tempts Marcy's shaky self-inflicted sobriety by leaving bottles of complimentary wine on her dresser, sobs emanate from the empty room down the hall, footfalls echo on the floor and the basement is filled floor-to-ceiling with the possessions from the house's previous occupants. As Marcy slides further along a downward spiral of inebriated delirium, she meets roguish Owen (Michael Eklund), the house's sole other renter, whose intrusive presence only serves to accelerate Marcy's deterioration. While her visions become increasingly nightmarish and any attempts at escape are thwarted, desperate inquiries quickly develop: is she trapped in some sort of sinister time loop, ensnared in an otherworldly purgatory, or is Marcy only hopelessly wandering the dark corridors of her own shattered psyche?
Bright Hill Road paints a bleakly intense portrait of one individual's personal disintegration; the script by Susie Moloney builds its tension one carefully-laid brick at a time, a storytelling framework tautly complimented by Robert Cuffley's vivid directing. Lengthy stretches of unnerving silence smother the audience with an uncomfortable anxiety as they wait for the next shadowy shoe to drop, and the frenetic explosions of barely constrained cinematic chaos reward the patient onlooker with a kaleidoscopic volley of vigorous, hazy, hallucinogenic imagery. A breathless claustrophobia permeates every facet of the production, accentuated by the sparseness of the environment and minimal cast--there are but three principal players in the movie, each performance stridently strong enough to propel the tale to its hellish end.
Yet it's that very finale that serves as the movie's foremost Achilles Heel; as Marcy learns you can only run so far from yourself and the repeating motifs of repentance and accountability take hold, the inevitability of the conclusion is largely apparent to a seasoned viewer early in the proceedings. There's more than a unflinching similarity to the stark horror classic Carnival of Souls or any given episode of Rod Serling's television masterpiece The Twilight Zone. And much like that seminal series' sensational paranoia-drenched mindbenders, Bright Hill Road shows us that the path to true understanding is through a thorough comprehension of one's self and admitting the ramifications your own actions . 
I give Bright Hill Road a 2.5 (out of 5) on my Fang Scale (Add a point if you've never watched even a single episode of The Twilight Zone).