What to Add to Your First Crowdfund Campaign (Besides the Product)
FTC Statement: Reviewers are frequently provided by the publisher/production company with a copy of the material being reviewed.The opinions published are solely those of the respective reviewers and may not reflect the opinions of CriticalBlast.com or its management.
As an Amazon Associate, we earn from qualifying purchases. (This is a legal requirement, as apparently some sites advertise for Amazon for free. Yes, that's sarcasm.)
Submitted by

RJ Carter

on Tue, 03/22/2022 - 20:37
You have a great idea for a product -- maybe a comic book. You have the talent, you have the processes. What you don't have is the money to get that ball rolling.
Thirty years ago, that may have stalled your project, or even stopped it completely before it got off the ground. But with the advent of crowdfunding, people have the unfettered opportunity to reach the masses with their ideas, and find out whether their idea has merit by the response of the audience -- specifically a monetary response, backing your project so that your dream can become their reality.
But the competitive nature of these campaigns, whether on Kickstarter or Indiegogo or Zoop, means that creators have to get... well... creative. They have to find a way to tap into their audience and make them not just their customers, but their sales force. To do that, you have to vest your customers in more than just the minimal success of the project. You have to get them engaged and enthusiastic even when your project is past the goal line. To do that, many creators utilize "stretch goals," items or extensions that get added to the project based on how much more funding is received. Suddenly, a customer who has already pledged their support sees that, if you get another $500 or $1000 in funding, their investment will get them your product plus more! This incentivizes them to evangelize your product to people they know, urging their contacts to back the project, and in so doing help you achieve that goal so they can get their plus more.
But what kinds of stretch goals should you consider -- especially if you're a first-time crowdfunder, with a product that people want but with which they are still unfamiliar? Here are a few things that can be inexpensively added to a crowdfunding campaign that will keep people emotionally invested without breaking your bank. It might be tempting to go big with things like t-shirts or action figures, but remember: nobody is in love with your character as much as you are. Putting these kinds of things in your first campaign may very well be a reach beyond your grasp. So it is probably best to keep it simple with things like the following:
Custom Stickers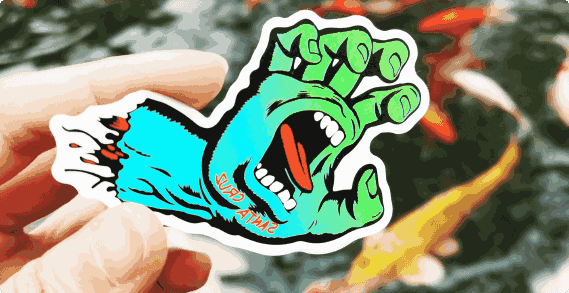 One popular item that you will see added to a campaign is a custom sticker, or multiple custom stickers. A comic book campaign will consider having the artist draw the character in a pose that can then be printed as a die-cut sticker. People love stickers because they are versatile. They go on lockers, on laptops, on backpacks -- anything with a surface might become a platform for your customer to, essentially, advertise their love of your product. Most places that do custom stickers can also do custom magnets as well as pins. Shop around and see what options are offered that fit your budget. And remember to include the title of your project somewhere in the art! When someone sees your cool character, they may not have the opportunity to ask who it is and where it's from, so having that logo as part of the art makes sure that your full message gets out there.
Trading Cards
Trading cards and comics have gone hand in hand since both collecible media were invented. And with the availability of print-on-demand, it's easy to find a print shop that can print glossy trading cards of your characters on the front and their important information on the back. If you're feeling particularly daring, you might even turn the cards into a card game, but that's again something we would recommend for down the road, after your product has become a household name!
Posters and Prints
Posters and prints of your character are an easy item to make as a stretch goal; the printer who is doing your comic is, most likely, already geared up to product such items, and will be happy to expand their business relationship with you. But keep in mind the shipping problems you might incur by thinking too big. Ideally you want your poster to fit within the same footprint as the comic mailer, so you want to keep the dimensions 12 inches by 9 inches. If you do a 12 x 18, you can consider folding the poster. But if you go larger, you may find that you have to roll the posters into tubes -- and now your shipping charges have gone up, and probably more than you estimated on your campaign. (For help on the shipping charges before and after your campaign, Critical Blast Logistics is at your service.)
Extra Pages
Perhaps the easiest stretch goal of all for a comic book campaign is the addition of extra pages, either by showing art progressions from pencils to inks to colors, or including pinups by guest artists -- or even including a whole new short story as a backup. No customer is going to be upset that the 36-page comic they ordered arrives with 48 pages in it!
As competition drives creativity, more unique possibilities will present themselves for add-on and stretch goal items.