Antonio Banderas Excellent In The Heroic Tale Of THE 33
FTC Statement: Reviewers are frequently provided by the publisher/production company with a copy of the material being reviewed.The opinions published are solely those of the respective reviewers and may not reflect the opinions of CriticalBlast.com or its management.
As an Amazon Associate, we earn from qualifying purchases. (This is a legal requirement, as apparently some sites advertise for Amazon for free. Yes, that's sarcasm.)
Submitted by

Jeff Ritter

on Thu, 11/12/2015 - 23:05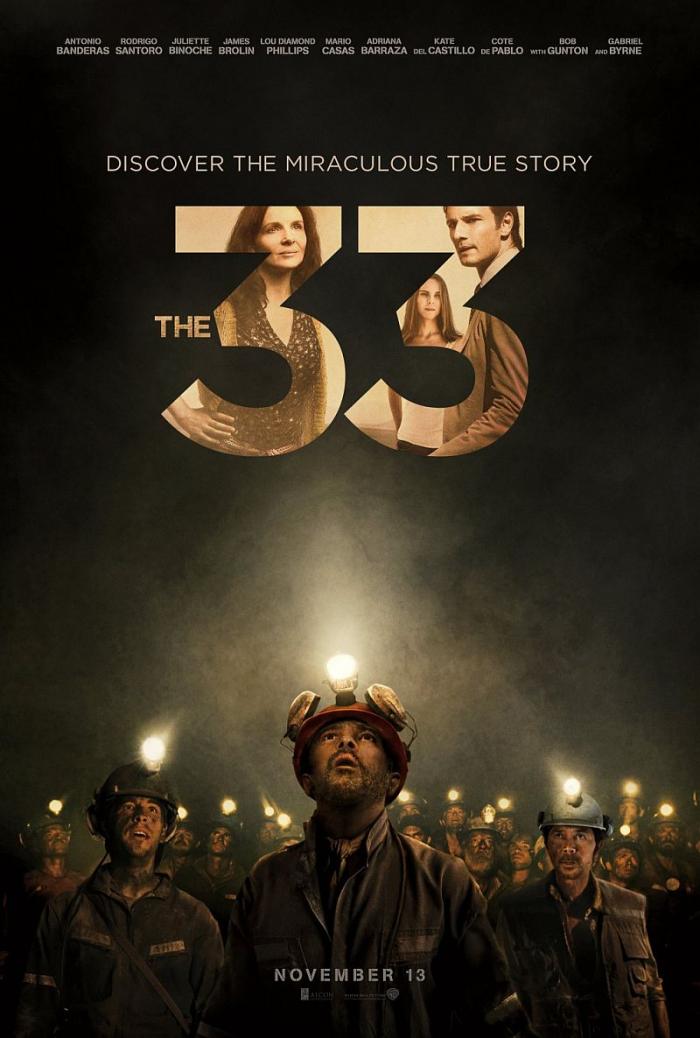 I think the first movie that I remember being aware of Antonio Banderas was 1995's ASSASSINS, with Sylvester Stallone. It certainly wasn't the pinnacle of moviemaking, but it was fun for what it was. That became the Year of Antonio, as he starred in five other movies released that year: MIAMI RHAPSODY, DESPERADO, FOUR ROOMS, NEVER TALK TO STRANGERS, and TWO MUCH. Banderas hasn't slowed down a whole lot, averaging at least a couple of films a year. From underappreciated gems such as THE 13th WARRIOR, the underrated FEMME FATALE, and the goofy but fun retro romp of THE EXPENDABLES 3, Banderas has always been fun to watch. THE 33, directed by relative newcomer Patricia Riggen, is another strong showing by the versatile Spanish star.
If you followed the news in 2010 you already knew how this was going to go down. Like APOLLO 13 or TITANIC you could find out what happened on Wikipedia pretty quickly. The film works because of the atmosphere and the acting. I'm claustrophobic, which is something I probably should have thought about before attending this screening. Once the mine collapsed--trapping 33 men in the lowest level some 2300 feet below the surface under a giant slab of dense rock that was more than twice the size of the Empire State Building—I started to find it difficult to sit still. I was glad that Patricia Riggen gave ample screen time to the miners' loved ones camped half a mile above them, praying for their safe return and driving the Chilean government into unprecedented action.  Those frequent shots above ground probably saved me from a full-blown panic attack.
Regarding the acting, I will start with obvious: I always enjoy Antonio Banderas. The dude is just cool. He played Mario Sepulveda, a veteran miner who became a celebrity for his upbeat demeanor and sense of humor with the media as they awaited rescue. He's the heart of the group, keeping tight control over the rationing of only a few days worth of food that had to be stretched more than three weeks before the drill team, led by the Minister of Mining Laurence Golbourne (Brazilian heartthrob Rodrigo Santoro) and chief mission engineer Andre Sougarret (Gabriel Byrne) finally found them. While certainly every miner trapped in that mine for more than two months are heroes for holding things together, telling 33 stories in two hours isn't good filmmaking. Some of the big names in this film include Lou Diamond Phillips (who is a pretty darn good actor—it's a shame he doesn't get more big roles beyond playing Latinos or Native Americans) as Don Lucho, the shift foreman who was the last to reach the surface, longtime character actors Jacob Vargas and Oscar Nuñez, Juan Pablo Raba (from Marvel's AGENTS OF S.H.I.E.L.D.) and rising Spanish star Mario Casas. James Brolin has a small part as the drill operator who eventually finds the miners and the always exquisite Juliette Binoche plays the estranged sister of one of the trapped minors and serves as a focal point for the families to rally around. One of my favorite character actors, Bob Gunton, is also on hand as Chilean President Sebastián Piñera.   
As we were leaving the theater one of my fellow critics proclaimed THE 33 to be "barely up to made-for-TV standards." I found that to be a bit harsh. Was he disappointed that the men didn't turn on each other, resorting to cannibalism to survive? Look, this is a feel-good film because it was a real life story with a happy ending. I usually complain about happy endings when they're applied as a neat and tidy wrap to a dark and complicated plot. The miners didn't completely survive unscathed, but they did overcome extremely long odds to see their story put to film. The cinematography by Checco Varese was well done, the film never dragged, and the dialogue was surprisingly much funnier than I would have expected. There was a rather strange "last supper" dream sequence that can only be described as food porn, and it worked beautifully to demonstrate their collective hunger without simply proclaiming it over and over. It was typically 100 degrees down where they were stuck; there were no bathroom facilities, no showers, no real airflow to speak of, and no privacy. They didn't dwell on the horrendous living conditions, but they didn't ignore it, and if you allow yourself to be absorbed by the narrative and imagine what that experience was like for those men—and their loved ones above—I think most folks would think twice about dismissing this as merely a made-for-TV movie. It's a terrific story of a nation coming together and reaching out to its neighbors for help in saving the lives of their citizens. How often do events like this actually have a true happy ending? Enjoy THE 33—and hope that your own nation tries as hard if it's you trapped 2300 feet below the ground. 
Recent Tweets
Top Ten Most Popular Ever