Simu Liu Shines in Shang Chi and the Legend of the Ten Rings
FTC Statement: Reviewers are frequently provided by the publisher/production company with a copy of the material being reviewed.The opinions published are solely those of the respective reviewers and may not reflect the opinions of CriticalBlast.com or its management.
As an Amazon Associate, we earn from qualifying purchases. (This is a legal requirement, as apparently some sites advertise for Amazon for free. Yes, that's sarcasm.)
Submitted by

Jeff Ritter

on Wed, 08/25/2021 - 18:21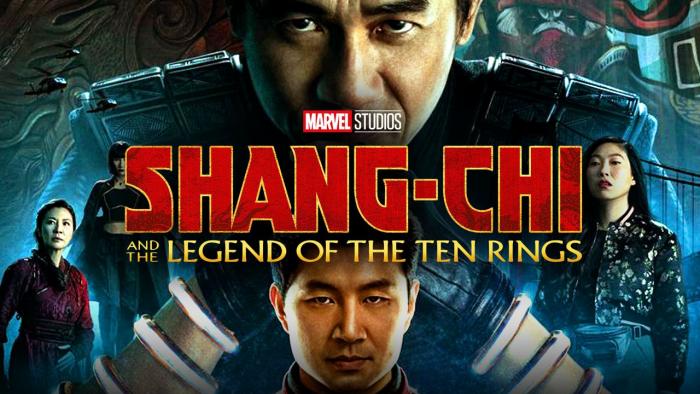 Marvel's 25th entry to their Cinematic Universe is something you don't see Hollywood do very often. They made a film with a predominantly Asian cast, with an Asian-centric story. Most of the time, Hollywood either imports a foreign film via distribution rights (think Crouching Tiger, Hidden Dragon) or they take an Asian star like Jackie Chan and drop him into an American style film with an American actor as a co-star (think Rush Hour). Executive Producer Kevin Feige tabbed a relative newcomer Destin Daniel Cretton to direct Shang Chi and the Legend of the Ten Rings. Given a reasonably blank canvas to work from, Cretton has crafted a surprisingly engaging superhero film. 
For a filmmaker, Shang Chi would seem like a dream character to work on. Why? He's not Spider-Man, or Captain America, or Iron Man, all instantly recognizable characters the world over. Shang Chi is a character that Marvel created in the early 1970s when they had acquired the rights to British author Sax Rohmer's "Fu Manchu" characters. Though popular in the 1930s through the 1960s, the stories of the fiendish Chinese supervillain Dr. Fu Manchu have come to be viewed as racially insensitive stereotypes. Marvel's rights to those characters have expired, but Shang Chi was a wholly Marvel-owned creation of writer Steve Englehart and artist Jim Starlin. Over the years, Marvel comics had typically used Shang Chi as their quasi-Bruce Lee, a true martial artist without any actual superpowers to speak of. He generally fought evil Asian drug lords and street gangs in the gritty style of old Kung Fu movies and would only occasionally cross paths with the superhero community, most often with Marvel's other top martial artist, Iron Fist. Only in the last decade or so have Marvel writers started to incorporate Shang Chi into their superhero world more. 
With the freedom to recreate Shang Chi for the 21st century on the big screen, Cretton and screenwriters Dave Callaham and Andrew Lanham did a remarkable job of reinventing the character for modern tastes. Of course, the most important element in this feat was the casting of Chinese/Canadian actor Simu Liu as Shang Chi. No longer constrained to being a Bruce Lee clone, Liu's Chang is much more relatable to today's consumer. He showed strong chemistry with costar Awkwafina, who played his non-superpowered bestie Katy. When we first meet these two, they seem like a far less-than-dynamic duo: a pair of twenty-something slackers, content to work as car valets for a hotel in San Francisco. But when they are attacked on a bus in broad daylight by a gang of ninjas lead by the mercenary supervillain Razor Fist (Florian Munteanu), Katy discovers her buddy's secret—he's a bad-ass martial arts master! From there, the battles only get bigger and grander, but the fantastic fights aren't really what the film is about. It's the classic hero's journey—Shang Chi's acceptance of his true identity and his battle against his father, the long-lived Wenwu (terrifically portrayed by Tony Leung), who wields the magically powered Ten Rings of Ta Lo. That's all of the plot that I'll spoil for you, except to say that if you're a fan of  Asian cinema you'll likely find that certain fight scenes share more in common with my earlier mentions of Rush Hour and Crouching Tiger, Hidden Dragon than Enter the Dragon, at least until the actual dragons show up! 
For Marvelites like me, the Ten Rings was a clear reference to the Mandarin, infamously played by Ben Kingsley in Iron Man 3. That reference factors into the plot but also serves to cleanse the Mandarin reference from the MCU altogether, as the term isn't much better than Fu Manchu is today. Rather than simply "retcon" the Mandarin from the MCU, Cretton embraced Iron Man 3 director Shane Black's gag by bringing Kingsley back as the false Mandarin, cowardly actor Trevor Slattery. The set-up for this is the Marvel One Shot short film All Hail the King which can be found in the extras on the Thor: The Dark World home media and on the internet. The script purposefully avoids directly naming Wenwu as the Mandarin, effectively putting that dated nom de guerre to rest. The rings themselves are no longer finger jewelry taken off the victim of an alien spacefarer who crashed on Earth but reimagined as ten arm bands that can be fired off as a ranged attack, swung like a chain melee weapon and other neat tricks of mystic/martial combat. As a Marvel reader since Shang Chi: Master of Kung Fu could be found on the new release racks at your favorite comic shop, I thought the change to the rings was excellently done and long overdue, not to mention oddly fashionable. The mystical land of Ta Lo is one of the most obscure Marvel references in a Marvel movie to date—it has only been seen once in the history of Marvel Comics, in Thor Issue #301 by Mark Gruenwald and Ralph Macchio (not to be confused with the Ralph Macchio of Karate Kid and Cobra Kai fame) with artwork by Keith Pollard and Chic Stone. The dragons and other exotic creatures of Ta Lo likely drew inspiration from Shao-Lao, the dragon of K'un Lun, which was referenced but never shown in Netflix's Iron Fist show, and are amazing to see on the big screen.
For cinemaphiles and MCU fans, Shang Chi and the Legend of the Ten Rings is simply marvelous, pardon the pun. It has some of the best fight choreography we've seen to date in a Marvel movie, thanks to Fight Coordinator Guillermo Grispo. Impressively, Liu did most of his own stunts, just like Jackie Chan! It has an exciting range of locales shot in sumptuous detail by cinematographer Bill Pope. Kym Barrett's costumes look realistic, modern and sharp. Industrial Light and Magic does their usual exemplary work bringing Ta Lo and its unusual creatures to life. But the most engrossing part of the film is the performance and chemistry the principal pleyers: Simu Liu, Awkwafina, and Tony Leung. Liu has an everyman quality that allows fans to quickly like Shang Chi, making him the easiest Marvel hero to relate to since Paul Rudd's debut as Ant-Man in Captain America: Civl War. The relationship between Shang and Katy is handled in a surprisingly refreshing way, never venturing into what you might expect would be the inevitable romantic entanglement. Awkwafina's strong performance holds up well opposite Liu, and their intriguing send off in one of the two end credits scenes leaves the door wide open for expanding her character in a big way. Leung is one of the most dynamic bad guys to lead the evil side of a Marvel production. He may not be quite at the level of Tom Hiddleston's quintessential role of Loki (though his status as a villain is certainly debatable after the events of the Loki series on Disney +) or Michael B. Jordan's Killmonger from the masterful Black Panther (I'm not sure if Vincent D'Onofrio's Wilson Fisk from Netflix's Daredevil is offiically in the MCU canon or not, but he should be!), but he's far better than the likes of Ray Winstone's disappointing General Dreykov from the most recent MCU offering Black Widow or the missed opportunity that was Christopher Eccleston's Malekith the Dark Elf in Thor: The Dark World. A future super-villain team-up of Munteanu's Razor Fist, Georges St. Pierre's Batroc, and Olga Kurylenko's Taskmaster, perhaps even in a future Shang Chi film, would not go unappreciated. Liu has some big shoes to fill in the likes of Robert Downey Jr. and Chris Evans as a lynchpin character in the MCU, but given the opportunity he seems to have the presence and charisma to reach that level.
The film is not without a few minor faults, however. As cool as the dragons are the special effects become the focus of the climactic battle. That's a shame after the efforts of Liu and Leung. Focuing more on the father's quest to recruit his son into his evil army and the son's quest to redeem his father or die trying would have elevated both characters, in my opinion. It's easy to see the appeal for a director getting his first big budget break in a gamechanging mega-franchise like the MCU. Were I in Cretton's director's chair I probably would have spent heavily on Industrial Light and Magic's special effects too. But less is usually more, and making the dragons less vital to the climax would have offered another opportunity to delve deeper into Shang Chi's mystic heritage. Meng'er Zheng as Xialing-Shang's sister--and Andy Le as Wenmu's henchman Death Dealer both felt underdeveloped as characters, though perhaps they'll resurface in a future sequel.  As always, the worst thing about Marvel movies is having to wait for the next one!
Shang Chi and the Legend of the Ten Rings, which also features Michelle Yeoh as Jiang Nan, Fala Chen as Leiko Wu, Meng'er Zheng as Xialing, Andy Le as Death Dealer, Tim Roth as The Abomination, and Benedict Wong as Wong, the protector of Kamar-Taj and friend of Doctor Strange and the Avengers, hits US theaters on September 3, 2021, officially, but check with your local theater to see if they have an early show or two on September 2, 2021. The movie has a run time of 2 hours and 12 minutes, and is rated PG13. For more information, please visit https://www.marvel.com/movies/shang-chi-and-the-legend-of-the-ten-rings.