You are here
Home
›
Television
› Devil's Advocate: Lucifer Episode 313, "Til Death Do Us Part" ›
Devil's Advocate: Lucifer Episode 313, "Til Death Do Us Part"
FTC Statement: Reviewers are frequently provided by the publisher/production company with a copy of the material being reviewed.The opinions published are solely those of the respective reviewers and may not reflect the opinions of CriticalBlast.com or its management.
Submitted by

RJ Carter

on Tue, 01/30/2018 - 08:10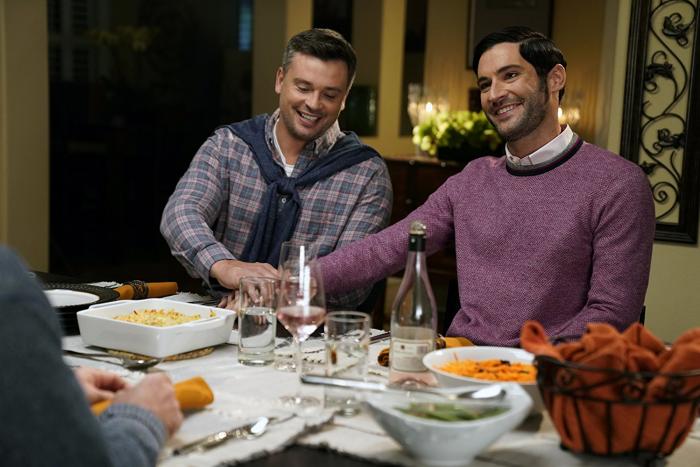 TOM ELLIS kills it in a smashing episode of the FOX series, LUCIFER.
"Til Death Do Us Part" finds Lucifer (ELLIS) pairing up with Lt. Marcus Pierce (TOM WELLING) to go undercover as a married couple in a suburban utopia in order to find a killer. But there's more going on than their partner, Detective Chloe Decker (LAUREN GERMAN) realizes, because this excercise in marital bliss is more than just a cover -- it's a means for Lucifer to get to know Pierce better, his strengths and, more importantly, his weaknesses. Because Lt. Pierce is an immortal -- Cain, cursed to walk the Earth as the first murderer. And Cain wants to die.
Cain has tried several different ways to kill himself over the years, the latest being taking a bullet while standing next to Chloe. He deduced that if Chloe made Lucifer vulnerable to mortal harm, she might do the same for him. But no, Chloe's effect is unique to Lucifer. Lucifer has vowed to give Cain what he wants, and they go over the many different ways that already haven't worked for Cain. But he always seems to grow back. Look for an X-Men reference when Lucifer asks if Cain were to be split in two, would he grow into two Cains. He wouldn't, Cain says, because only one half would grow back. He has a theory, called the "Master Molecule theory" and Lucifer interrupts: "Wolverine Rules, I know." However, Lucifer isn't about to give up trying, reminding Cain that everyone has their kryptonite (an Easter egg in an Easter egg, as Welling famously played Clark Kent in the long-running fan favorite SMALLVILLE).
The case in front of them is a murdered woman who happened to be a chemist breaking bad for a Korean mob. Her body was found in a wood chipper, to the horror of all the neighbors who loved her. To get to the root of the issue, Lucifer takes on the gang head-on, convincing the drug lord to be extremely cooperative in exchange for the best Ecstasy recipe on the market. But the tale goes from drug dens to the dangerous world of trimmed hedges and noise complaints: suburbia! As Cain and Lucifer put on their front, they have a breakthrough moment about their relationship that is truly great television. And the resolution to the murder case was pretty spiffy as well.
Alongside all this is the growing relationship between Chloe's ex, Dan (KEVIN ALEJANDRO) and Charlotte Richards (TRICIA HELFER), which threatens to go into weird territory quickly when Mazikeen (LESLEY-ANN BRANDT) finds herself strongly attracted to Charlotte as well.
One almost hates for Lucifer to succeed in his latest mission. Having Cain along for the ride has been fun, and it would be nice to know that even if he left the series for a while he'd still be "out there, somewhere" able to appear in future stories.
Recent Tweets
Top Ten Most Popular Ever