Shannon Maer Brings Fantasies to Life Through Art
FTC Statement: Reviewers are frequently provided by the publisher/production company with a copy of the material being reviewed.The opinions published are solely those of the respective reviewers and may not reflect the opinions of CriticalBlast.com or its management.
As an Amazon Associate, we earn from qualifying purchases. (This is a legal requirement, as apparently some sites advertise for Amazon for free. Yes, that's sarcasm.)
Submitted by

RJ Carter

on Wed, 02/11/2015 - 15:35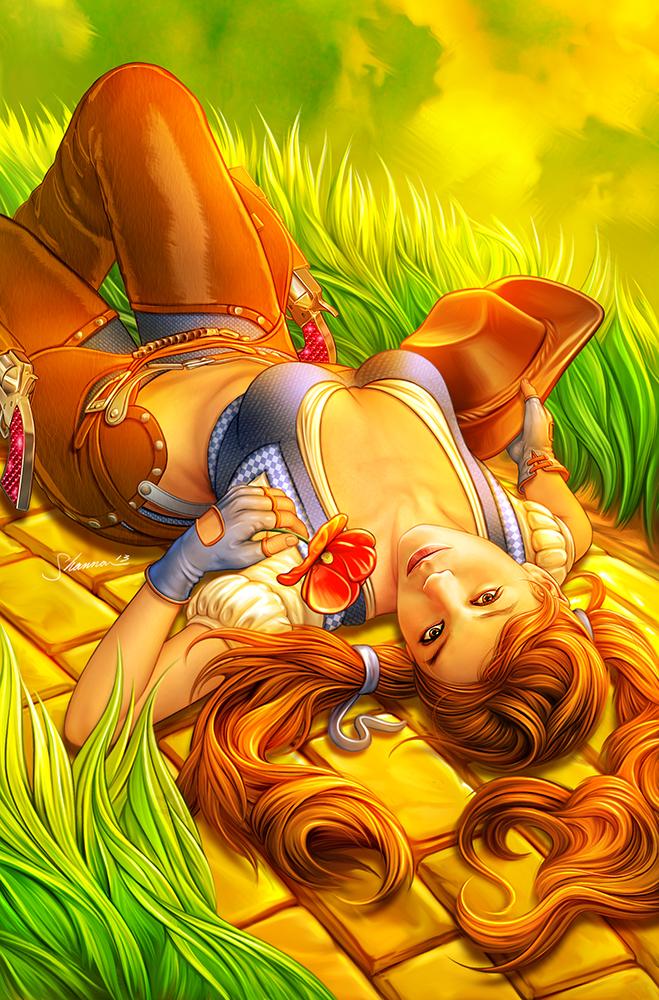 To say that the Internet has revolutionized society is a saying so commonly obvious that even the television gecko and camel sneer at me for saying it. But for fans of comics and fantasy, it truly is a whole new world -- or rather a doorway to whole new worlds -- as it allows new artists to have their material seen by millions of people at once. I've seen my share of struggling artists showing off their talents (and, sometimes, lack thereof), but I was particularly taken with the work I started to see from a name I hadn't encountered.
Shannon Maer has a striking realistic style despite the fantastic subjects he envisions. It's much like Boris Vallejo, but with more light and a dose of whimsy. He shows off much of his work -- and work in progress -- at a separate Facebook page, where fans can revel in a world of mermaids, pixies, and warriors. But I hadn't seen his work anywhere else other than online, and I had to know more. And if you want to know more about someone, what better way than to ask them directly?
Here then is our conversation, and hopefully your own introduction to someone whose work you should really be looking for.
Having seen your photos on Facebook, you appear to be quite young to be so accomplished. When did you first begin showing a talent for drawing and painting?
It feels both like it's been a long journey, and as if I'm only just getting started. Following your passions is an arduous journey, and any accomplishments you are referring to, certainly did not come easily. You build on your own skills one stage at a time, and for as much as you need to remain dedicated, it is equally important to not be too hard on yourself. Self discouragement is one of the great pitfalls that any artist will face.
As for when I first started showing an artistic disposition, that was from as early as first grade when people noticed. I was always known as the art kid in school. At 6 years old my teacher sent me home with some materials to draw the background scene to our morning math problems. I thought it was cool to do, but didn't really put much thought into it. It was just the way it was.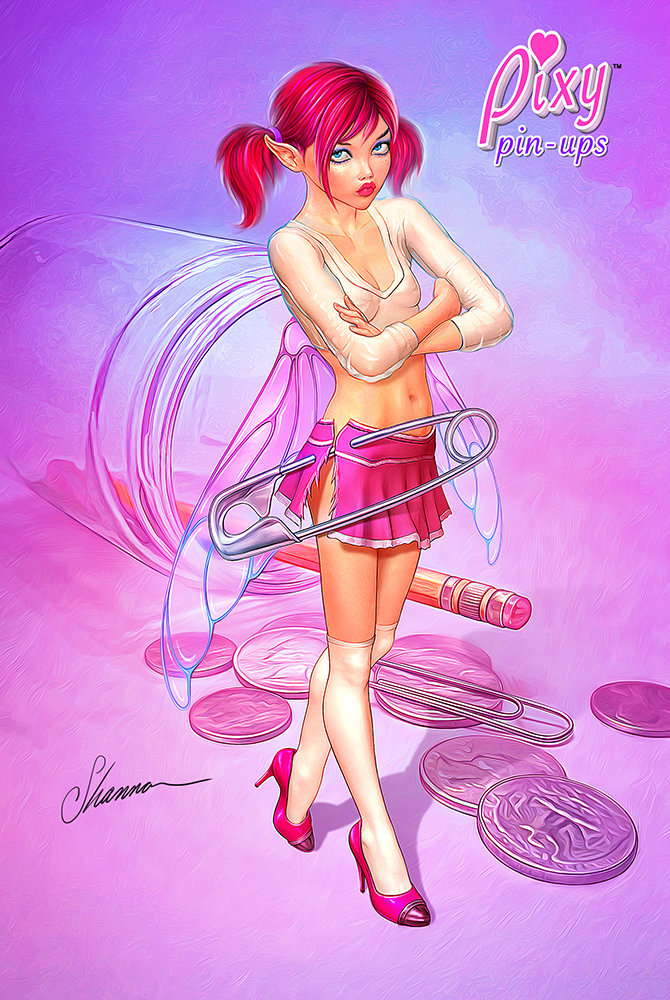 Your Pixy Pin-Up concept is fascinating, not just in its departure from the standard fantasy artwork of mermaids and warrior princesses, but in that it takes on the urban fantasy element while retaining the more traditional fairy aspects, creating a unique and compelling result. Is this a concept-in-search-of-a-book, or do you have other plans for the series?
The Pixy Pin-Ups series is one of those impulse creations. It had a life of it's own that just took over. There was no specific outlet that I had intended, but I just knew that I had to make them. I know they may have caused a few eyebrows to be raised, but they have certainly proven to entertain! Prior to "Mermaid's Wish," they had become the highest number of print requests that I've ever received.
What was your first published piece, either interior or cover, and how did that connection come about?
My first published Comic Book cover was for Big Dog Ink's THE LEGEND OF OZ: THE WICKED WEST. I received a random inquiry from Kimberly Hutchison about doing something for one of their titles. She had approached me directly through my Facebook art page. I had never inquired as to how they first became familiar with my work, but that is something that I will now have to ask. I took one glance at the work that their company was putting out, and was just taken back! I immediately said yes, and a new chapter in my life had begun!
Speaking of books, do you have anything planned regarding a published collection of your body of work?
Yes! I am currently in the early stages of putting together a book. It is still being mapped out, but I believe it's time has come. I want it to not only display these works, but hopefully be a resource for artists and others in the field. Just as I'm always looking to learn from others, I would be so pleased to share the knowledge that I do have.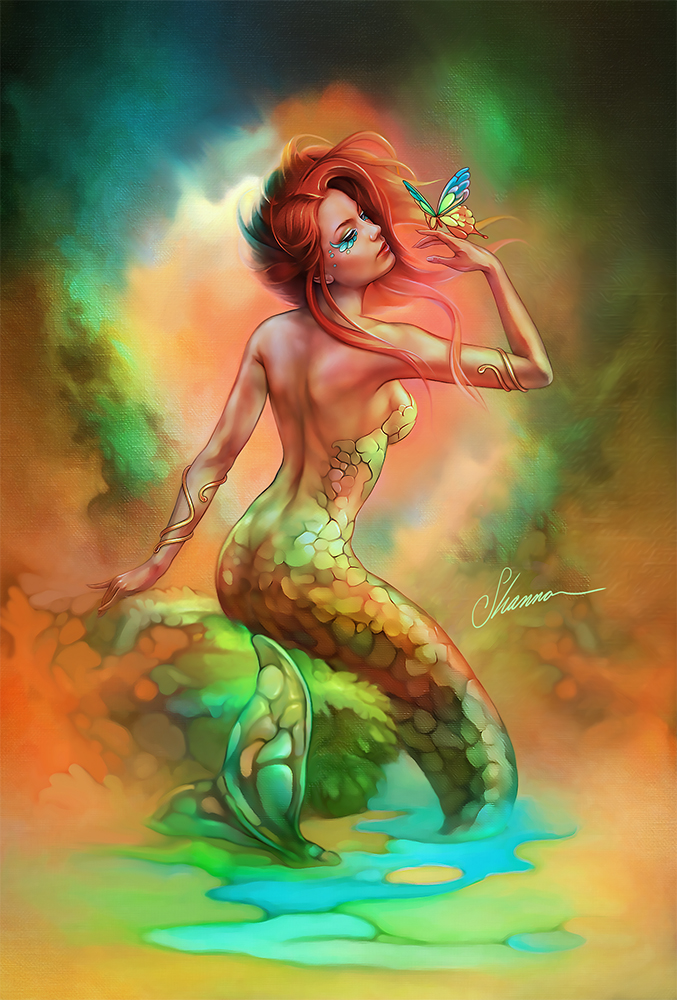 Do you have any pieces that you were close to that you regret selling or refuse to sell?
I haven't really been letting go of any originals. You will find that it has been a very rare thing. Since I started in comics I have done a fair amount of pencil work for these, but I've mostly just held on to them. I have been considering offering the originals for "Harbinger," and the original for "Mermaid's Wish" to establish a presence with collectors, but I will put in some more thought on that!
After people browse your online galleries, I'm sure they start to contact you about commissioned work. Do you have time for that, and if so what have been some of your more memorable requests?
As of right now I have never accepted a request to do a commission. I am usually juggling too many projects already and just haven't had the time for it. Perhaps some day I will, but for right now, I think that making some of my originals available might make a few people happy!
Find more of Shannon's artwork at his webpage, www.ShannonMaer.com.