You are here
Home
›
Interviews
› Jordyn Kane's 'Get Your Cape On' Lyrics Inspire ›
Jordyn Kane's 'Get Your Cape On' Lyrics Inspire
FTC Statement: Reviewers are frequently provided by the publisher/production company with a copy of the material being reviewed.The opinions published are solely those of the respective reviewers and may not reflect the opinions of CriticalBlast.com or its management.
As an Amazon Associate, we earn from qualifying purchases. (This is a legal requirement, as apparently some sites advertise for Amazon for free. Yes, that's sarcasm.)
Submitted by

S.J. Mitchell

on Fri, 10/16/2015 - 13:30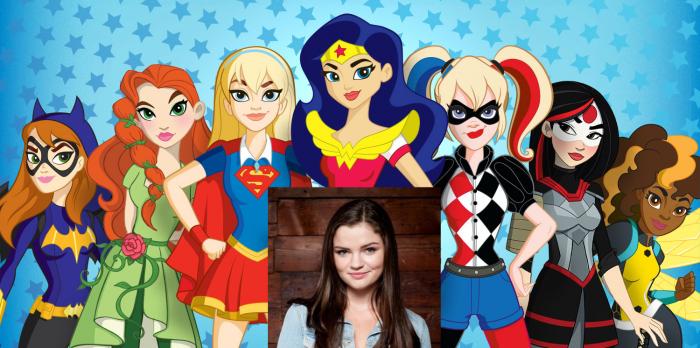 DC's Super Hero Girls. A property fashioned by DC in partnership with Mattel toys. On the surface, it appears like nothing more than a way to market toys to young girls. But, when you start digging, you unearth so much more when you reach the foundation.
The theme, 'Get Your Cape On', has a music video on both YouTube and DC's Super Hero Girls website. Accompanying the video are inspiring lyrics, written and performed by singer/songwriter, Jordyn Kane.
The song has catchy verses and the music video flashes images, of our favorite heroine's, that make it highly entertaining. But when you get past the 'fun factor' you'll realize that it serves as a rallying cry, empowering girls everywhere to bravely stand against adversity.
It begins by suggesting that we can confront our fears because the power lies within us. Believe in yourself and have confidence to keep moving forward. The second half of the song promotes togetherness and unity. Standing by each other's side, in support of one another, is such an important message for today's youth, who are exposed to more diversity than ever before.
Stylistically, it does a superb job of taking you on a journey that's parallel to the lyrics. It starts off in a way that's almost unsure of itself, before transitioning to a crescendo as the vocals begin to inspire.
The composition takes flight, as it reaches the chorus; Jordyn's powerful vocals soar with confidence, in an unforgettable way.
I reached out to Jordyn about being tasked with creating a song that symbolizes DC's Super Hero Girls, and her overall experience with the project...
---
I had the opportunity to thank you, for this song, on twitter. I want to take a moment to do it again, here. In a media that sees so many young pop stars grow up and tackle adult themes such as sex and drugs, it's nice to see a song that inspires young girls (or anyone really) to discover their inner-strength. So, as the father of a 10 yr old girl, who loves superheroes and music...thank you.
Thank YOU! I'm so glad that people are liking the message!
What an incredible opportunity for you. Having worked with Mattel in the past (Barbie in Rock 'n' Royals), did you have to audition or were you approached for this project?
I am so excited to be a part of this project! I am just loving the concept of the show. I am all about girl empowerment!
I actually work as a songwriter for a company who does a lot of the music for different Mattel movies, so I guess you could say I was approached for this project. I absolutely love getting to write for Mattel whether it's Barbie, Monster High, Ever After High, and now DC Super Hero Girls!
Were you given creative freedom or was there a lot of collaboration along the way?
I always have lots of creative freedom, but there is also a lot of collaboration with the brand!  When I start a song, I'm usually told what the concept of the show or movie is, and what they want the song to be about. For this song, I was given a synopsis of the show, and told that the song should be about being able to overcome obstacles, and working together. Usually, I write a song, send it off, and then there is a lot of back and forth, collaborating, with the brand. After a few takes at the song, we end up with a song that makes everyone happy!
Have you ever had an experience that required you to reach inside, 'get your cape on' and overcome adversity?
Being a singer/actress, there is a lot of rejection in my life. I have been on so many auditions! I've been turned down SO many times. This business is a very tough one, but I've learned that you can't take things personally. Every time you get turned down, you have to get back up, and try again. I've had so many people in the industry tell me that I'm not a good enough singer, that I'm not skinny enough, that I'm too young/too old. As cliché as it sounds, you just can't listen to the doubters, you just have to believe in yourself and never give up.
Which of the characters would you say you most identify with?
I think I identify most with Supergirl! Just like me, she's clumsy, awkward, and can't always get it right. But, at the end of the day she's fun and kind!
Lastly, do you have any upcoming projects that you'd like to share with our readers?
I have tons of projects coming up with Mattel! There are a few Barbie movies coming out with some of my songs, and I even got to do the singing voice in one coming up! I can't say too much, but you should definitely look out for some exciting movies coming soon!! You can always check out my YouTube channel, where I post a new cover song every week! I also post original songs and vlogs!
Thank you for your time and I wish you nothing but the best with your future endeavors.
Thanks so much for asking me some questions! I'm so glad you like the song! Keep in touch!
---
Watch the video for 'Get Your Cape On' and let us know your reaction in the comments below!