JingleFest 2014: A Rocking Showcase of Today's Newest Country Stars
FTC Statement: Reviewers are frequently provided by the publisher/production company with a copy of the material being reviewed.The opinions published are solely those of the respective reviewers and may not reflect the opinions of CriticalBlast.com or its management.
As an Amazon Associate, we earn from qualifying purchases. (This is a legal requirement, as apparently some sites advertise for Amazon for free. Yes, that's sarcasm.)
Submitted by

Jeff Ritter

on Sat, 12/13/2014 - 19:03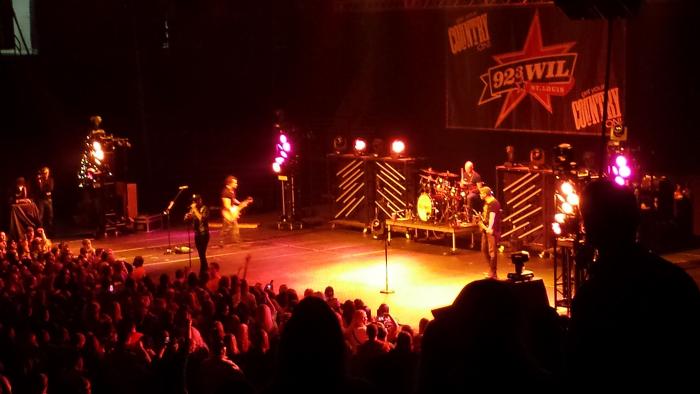 If you read my recent review of the Garth Brooks concert in St. Louis, you would recall that I don''t consider myself a country music fan. Except for Brooks, perhaps Kenny Rogers and Jimmy Buffett—if he even qualifies as country, I've never been sure what genre label best applies to the founding father of Margaritaville—I've had no use for it. The greats like Waylon Jennings, Johnny Cash and Marty Robbins are resting in peace, and the modern country I was subjected to my various girlfriends in their cars was all bad yodeling and hillbilly overkill. Chattahoochee is an Indian word given to a river, not a four-word sentence. Everybody sounded like they were describing a "tore nay doe" on the local news. And every song boiled down to four topics: boots, trucks, women and beer. How could anyone listen to such a depressingly limited genre of music? It was basically the same as rap (chains, stolen cars, women and alcohol/drugs) but at least rap occasionally spoke of the plight of the black man in white America, life in the gang-infested low income neighborhoods—they told stories about their lives, like Waylon and Johnny and Willie Nelson used to do.
After seeing Garth Brooks and now the JingleFest 2014 showcase of the latest up-and-coming artists in today's country music scene at the Family Arena in St. Charles, I may have to change my tune. For a country music extravaganza, JingleFest rocked. The show featured four young artists either currently breaking out from the rest of the pack or just beginning to achieve superstardom. That's not just hyperbole—previous JingleFests have featured The Band Perry, Luke Bryan, Miranda Lambert, Blake Shelton, Josh Turner, Taylor Swift, Eric Church and Jason Aldean, so the folks who put this together know what they're doing,
As proper country gentlemen should, it was ladies first on the bill with RaeLynn.  Just 20 years old, cute as a button with platinum blond tresses, RaeLynn has appeared on the second season of The Voice, getting selected to Team Blake (Shelton) despite also drawing interest from Team Adam (Levine). Her biggest hit to date is "God Made Girls," which reached no. 7 on the Billboard Country chart. At first I wasn't sure what to think of her vocals. Her voice has a unique quality to it, certainly country but with a little bit of a future Cyndi Lauper type of high-tone rock-opera aura to it. I think she'll eventually be a crossover artist between country and pop. Her songs were catchy and their message inspiring to young ladies. She also played the only song I knew all night, covering her friend Meghan Trainor's megahit "All About That Bass (No Treble)."
Up next was the Swon Brothers, the Muskogee, Oklahoma natives who were also featured on The Voice, again under the guidance of Blake Shelton in season four.  Zach and Colton Swon have a wonderfully soulful harmony, though Zach handles the lead singing duties while Colton plays guitars and accompanying vocals. Their set included the hits "Later On" and "Pray For You."Digging into their background after the show I found a clip of them covering "I Can't Tell You Why" by The Eagles, one of their biggest musical influences, on The Voice. If they follow Don Henley, Glenn Frey, Joe Walsh and Timothy B. Schmidt's path, they should have a long career ahead of them.  Their songs seemed the least country, in that they weren't heavily accented and focused on beer.
The next artist was Chase Rice, another reality show contestant but not on a show about singing—he was the runner up on Survivor: Nicaragua. Rice gets a pass from me if he wants to sing songs about trucks and cars since he used to be a pit crew member for Hendrick Motorsports, lugging tires for Ryan Newman and Jimmie Johnson.  It's too late to call him an up-and-comer as his 2014 album Ignite the Night charted all the way to no. 1 on both the Indie and Country charts and no. 3 on the Billboard US 200. His previous release, the EP Ready Set Roll was a top seller in 2013. His set included "Gonna Wanna Tonight," "Ready Set Roll," "We Goin' Out," "Do It Like This," and "Buzz Back." From the beginning of the concert tonight, I'd noticed another break from what I'd long considered the norm in country music—the songs had a different musical tenacity. The country I'd been exposed to in the 1990s and 2000s all sounded exactly the same to me—one simple drum beat, one simple bass line, a couple of twangy guitars, pardon me while I yawn. This festival really modernized their sound, and the backing bands jammed more like rock stars than country boys. Rice's band really brought the power chords, and Rice sounded equally at home rocking out or going the country route while lots of appreciative female fans screamed and swooned over his ruggedly handsome looks.  With no.1 records to his credit already, the sky's the limit for Chase Rice.
Last but not least, Cole Swindell has no reality show claim to fame. He does, however, have a history with country star Luke Bryan, as both were members of the Sigma Chi fraternity at Georgia Southern University. He recorded his first album, the self-titled Cole Swindell, in February 2014 and followed up with an EP called The Down Home Sessions just nine months later. The full album reached No. 2 on the Country chart and no. 3 on Billboard's US 200 while the EP has charted to nos. 8 and 36, respectively. His sound is a little more straightforward country than the preceding bands, and his songs seemed a little more in line with what I'd expected—beer and relationships played prominent parts and I'm pretty sure boots were mentioned a time or two. However, like Rice's band before him, Swindell's supporting musicians wailed away on their guitars and pounded the drumheads like they were playing a rock show. His set included "Chillin' It," "Hope You Get Lonely Tonight," "Ain't Worth the Whiskey,"Brought To You By Beer," and the slow dance number "Swayin'," sure to be a wedding reception staple for years to come.
After getting home from the show, I sat in my house, alone, in deafening silence. My ears rang with that persistent vibratory sound of tinnitus, acquired from years of rock and metal concerts with insufficient hearing protection. I didn't expect to need any for a country show as acoustic Fenders just don't get that loud, certainly not for ballads about ex-wives running over your dog as she stole your truck, which is all fine because there's a full case of beer in the fridge in the garage next to that old hot rod you've been working on since before any of the performers on the stage tonight were born. JingleFest 2014 was my first real exposure to today's country scene, and I'm surprised to find that it's much more dynamic than I'd ever heard country before. I bought into Waylon and Johnny because they lived what they sang about. The 90s seemed full of wannabe cowboys who probably had never ridden a horse until they made a music video for CMT and pretty ladies who got played on Y98 (adult contemporary) as much as WIL-92.3 (today's country). This batch of rising stars and future hall of famers seem to have completely blurred the line between straight up rock and roll and county. It's like Stone Temple Pilots meets Garth Brooks, but for the millennial generation. And as much as it pains me to admit it—which admittedly isn't all that much—it really was quite enjoyable. This doesn't mean I won't be a fixture at rock shows still, but I might be covering a little more country than I'd previously planned on, and I reckon I might not find it to be too terrible a chore. Out of this crop of performers, I'm most eager to see what RaeLynn and the Swon Brothers become, but I wouldn't mind covering any of these acts separately in the future.
Recent Tweets
Top Ten Most Popular Ever