Dirty Dancing At The Fox Theatre Is A Dirty Shame
FTC Statement: Reviewers are frequently provided by the publisher/production company with a copy of the material being reviewed.The opinions published are solely those of the respective reviewers and may not reflect the opinions of CriticalBlast.com or its management.
As an Amazon Associate, we earn from qualifying purchases. (This is a legal requirement, as apparently some sites advertise for Amazon for free. Yes, that's sarcasm.)
Submitted by

Jeff Ritter

on Sun, 10/26/2014 - 00:45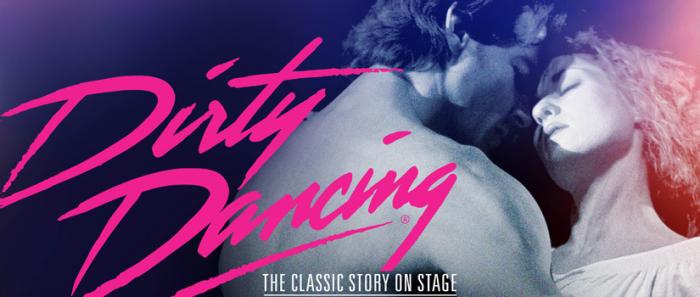 "Dirty Dancing" is the quintessential chick flick. Patrick Swayze's Johnny represented the archetypical bad boy from the wrong side of the tracks, while Jennifer Grey's Baby was the wide-eyed ingénue whose heart could never be filled by the merely ordinary. The Fabulous Fox Theatre in St. Louis opened their 2014-2015 season with Dirty Dancing: The Classic Story on Stage, a rather unusual bit of phrasing that hides the truth of it: this show barely qualifies as musical theatre. 
Sure, it would be easy to dismiss my review with a dose of reverse sexism and say, "You're a guy, of course you wouldn't like it." The story isn't the problem. I've seen the movie—my mother and sister watched it so often we must have gone through three copies on VHS before DVDs were invented. The basic story has been done numerous times and in numerous ways; from Romeo & Juliette to Grease to Memphis to even Beauty and the Beast and the recently reviewed Bonnie and Clyde, theatre and film have always drawn inspiration from the basic notion of forbidden love. Where Dirty Dancing goes wrong is in attempting to recreate film without embracing the medium of theatre.
Eleanor Bergstein wrote the original story which became one of the highest-grossing independent films of all time and returned to the piece to adapt it for theatre. Unfortunately, Director James Powell seemed to be working from the film script rather than that theatrical book. The show is a cavalcade of quick set swaps, as people walk from one room to another in the fancy resort where the story is set. Often these set changes are in place for only a couple of disposable lines before they're struck again for the next short segment. In theatre, as in so many things in life, less is often more. Rather than attempt to faithfully recreate the film shot-for-shot in the confines of the stage, Bergstein and Powell would have been far more successful had they re-invented the story completely and purposefully for the stage.
You'll notice as I did that the production is sub-titled The Classic Story on Stage rather than The Musical. Don't be mislead by the program which boasts a long list of musical numbers. Most of those are instrumentals, background snippets or piped in and only a few are actually sung by the performers onstage. In fact, one of the most disappointing things about this production is that "Hungry Eyes" isn't performed live or entirely and "She's Like the Wind" is barely an afterthought. The only song worth doing live for this show, "(I've Had) The Time of My Life," was performed by two members of the ensemble. The two leads don't sing at all. Most of the live singing is done by Doug Carpenter, who is very good, and Jennlee Shallow, who gave me goosebumps with her amazing voice. They're both tragically underutilized if not entirely miscast--they should be leads in a different production, like Memphis. 
As actors and actresses, the show does have some talent. Jillian Mueller tackles the role of Frances "Baby" Houseman with the pluck and nerve of her film predecessor, and Mark Elliot Wilson would have made the late Jerry Orbach proud as Dr. Houseman. Jenny Winton was terrific as Penny Johnson, the star dancer who finds herself first pregnant and then nearly killed at the hands of a quack abortionist which all leads to Baby stepping out from her proverbial corner. Samuel Pergande plays Johnny Castle and has the dance moves down pat, but lacks the natural charisma and swagger Patrick Swayze brought to the role. Michele Lynch's choreography was fine, particularly the grand finale which takes place on a revolving narrow strip of a stage. I'm certainly no expert on dancing, but I can imagine how difficult it can be on stationary ground let alone on a raised platform not more than four or five feet across and revolving with enough speed to send an actor tumbling on the slightest misstep. Mr. Pergande and Miss Mueller handled that difficult assignment flawlessly.
The thing is, they shouldn't have had to. Director Powell, Executive Producer Seth Wenig and the rest of the creative team should have worked with Eleanor Bergstein to recreate Dirty Dancing as a true stage musical, mining Bergstein's original story to find areas of new exploration. Inner monologues by the major characters could have been set to song, with a competent lyricist adding some needed nuance to the proceedings. This show could have done for the original movie what Wicked did for "The Wizard of Oz." Sadly, it just comes off as a nostalgic money-grab.
Dirty Dancing: The Classic Story on Stage runs through November 2, 2014 at the Fabulous Fox Theatre. For more check out FabulousFox.com. 
Edit note: I had incorrectly stated that Kevin Munhall was the male vocalist on "(I've Had) The Time of My Life". That duty was admirably performed by Doug Carpenter and the statement has been corrected above.