You are here
Home
›
Home Video
› Farts, Femdom, and Fun: Batman and Harley Quinn Shatter the Timmverse. ›
Farts, Femdom, and Fun: Batman and Harley Quinn Shatter the Timmverse.
FTC Statement: Reviewers are frequently provided by the publisher/production company with a copy of the material being reviewed.The opinions published are solely those of the respective reviewers and may not reflect the opinions of CriticalBlast.com or its management.
As an Amazon Associate, we earn from qualifying purchases. (This is a legal requirement, as apparently some sites advertise for Amazon for free. Yes, that's sarcasm.)
Submitted by

RJ Carter

on Tue, 08/22/2017 - 13:47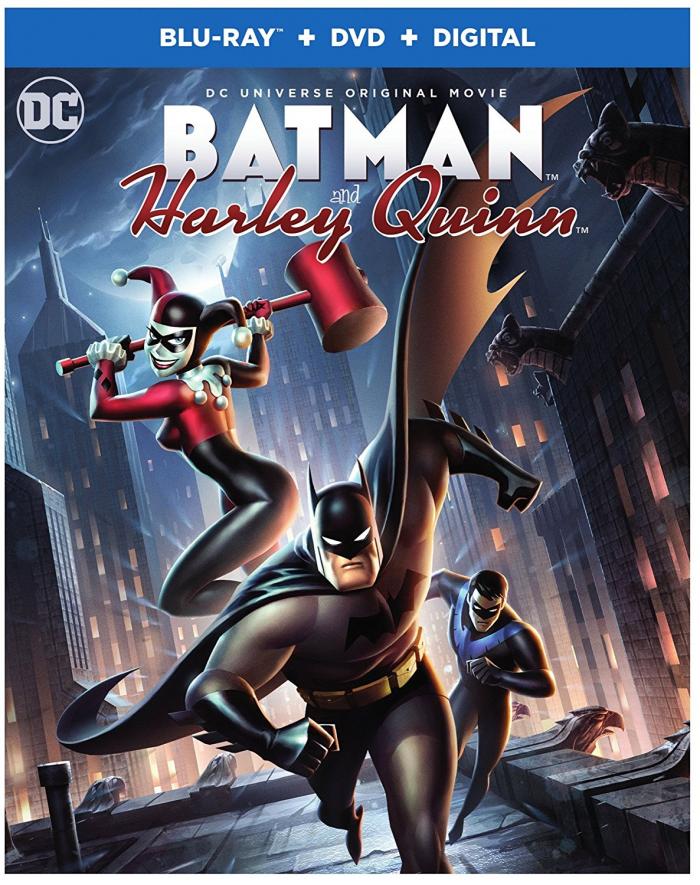 When Poison Ivy (PAGET BREWSTER) and the Floronic Man (KEVIN MICHAEL RICHARDSON) team-up to recreate and viralize the Alec Holland bio-restorative formula in an effort to save the world from global warming by turning everyone into plants, it's up to Batman (KEVIN CONROY) and Nightwing (LOREN LESTER) to put a halt to their plan. There's just one hitch: finding them. This leads our heroes to turn to Ivy's closest confidante and gal-pal, Harley Quinn (MELISSA RAUCH, THE BIG BANG THEORY).
Thus begins a tale of the bats and the batty which takes the familiar environs of the Bruce Timm BATMAN: THE ANIMATED SERIES universe and runs it through the lens of Adult Swim.
Harley is on parole and attempting to go straight. However, job options are scarce and she ends up working a waitress job in a place that's a cross between Planet Krypton and Hooters. When Nightwing confronts her, she gets the better of him and he winds up tied to her bed. You might think that double entendres would rule the day here, but no; those would be way too subtle. This is too "in your face" to be called a double entendre.
What follows is the non sequitur mix of Batman's straightlaced determination undermined at every turn by Harley Quinn's tenuous grip on sanity, with Nightwing caught in the middle. But there's a lot more going on here than just fart jokes (performed with actual farts; "Smells like discipline.") and a few different references to sexual bondage activities. Harley reveals herself (and I don't mean just in that scene with Nightwing!) to be a deeper character, with commentary on how others see her character--comments that seem to be directed more at the fans than at the residents of the DC Universe. She's allowed to shed a tear or three, and be seen as more than just a stream-of-consciousness joke -- right before she yanks the rug out from under you again to remind you that, yeah, she's pretty much nuts.
Storywise, things seem to be going in one direction, as Harley gets the opportunity to point out some of Batman's mistakes through a more common sense approach -- which is really odd, coming from Harley -- like entering a swamp and bringing every gadget except bug repellent. The climactic fight results with Harley appealing to Ivy through unconventional means, and the threat of a deus ex machina ending that is just as disappointing in how it didn't go as how it seemed to be going. And there's a post-credits scene that assures the audience that Harley has found her place in the world, where her madness fits right in.
It's not the strongest of the DCAU films. In fact, the focus is more on fan-service for Harley Quinn lovers than for those who enjoy Batman adventures. But I found myself laughing out loud more than once during this madcap misadventure, and will probably be watching it again soon to see what Easter eggs were here that I didn't catch. (Although I've gotta admit: well-played with the SEDUCTION OF THE INNOCENT reference!) So while it's not exactly fitting with the BTAS universe or the regular canon of the DCAU, this one-off is worth throwing up onto the screen for some (in)decent enjoyment.
This Blu-ray release includes bones features "The Harley Effect" and "Loren Lester: In His Own Voice" that let the cast and crew talk about their characters. There are also two bonus animated adventures and a sneak peek at the next DCAU project, BATMAN: GOTHAM BY GASLIGHT based on the Elseworlds graphic novel of the same name. The collector's edition version comes with a mini-sculpture of Harley Quinn; mine now stands next to my John Constantine and Damian Wayne Robin, just to lighten the mood a little.