DC's SHAZAM! Is Better Than Captain Marvel...and Superman!
FTC Statement: Reviewers are frequently provided by the publisher/production company with a copy of the material being reviewed.The opinions published are solely those of the respective reviewers and may not reflect the opinions of CriticalBlast.com or its management.
As an Amazon Associate, we earn from qualifying purchases. (This is a legal requirement, as apparently some sites advertise for Amazon for free. Yes, that's sarcasm.)
Submitted by

Jeff Ritter

on Wed, 04/03/2019 - 01:02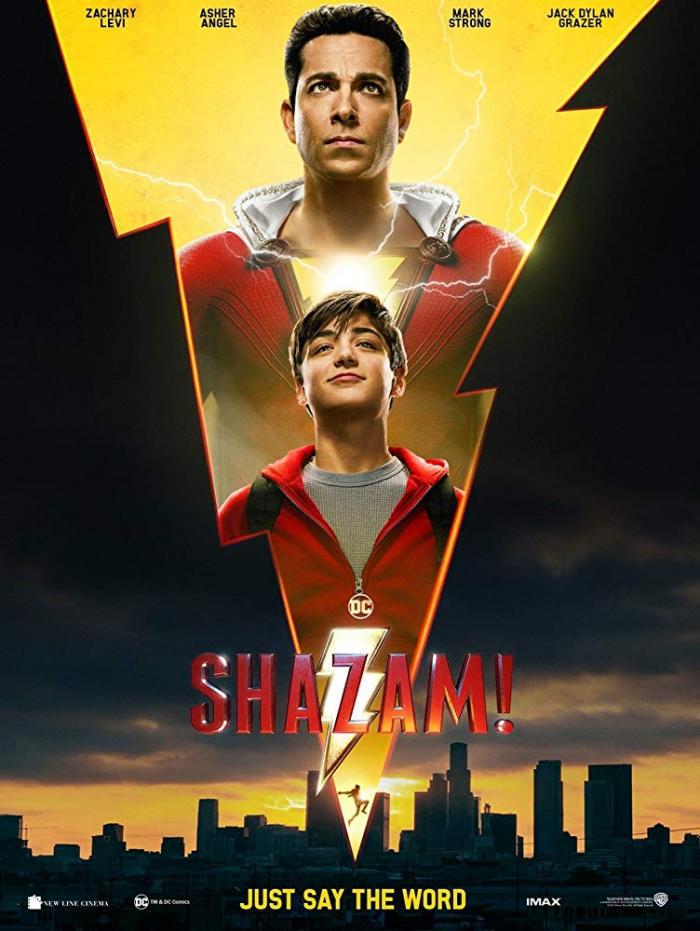 Before I say "I told you so!" because I did, let's recap: Marvel makes awesome superhero movies. Dc makes duds. They did manage to make Wonder Woman and Aquaman entertaining, but Batman vs. Superman, Justice League, Suicide Squad, and Green Lantern – which was so bad that it's star lampooned himself for it in a much more successful Marvel flick – were not even on par with the least of the Marvel Cinematic Universe. That would be Iron Man III, in my opinion, though Thor II wasn't great and….well, can we count Blade III part of the MCU? Nah. It's been such a dismally lopsided contest that DC recently threw in the towel and declared the "shared universe" for DC films dead. They're not going to try to be Marvel. They're just going to try to make good movies again.
Hey, guess what? It's working! Aquaman did big business, and now, in the immortal words of Gomer Pyle (look it up, kids), SHAZAM! is set to do clean up at the box office for exactly four weekends. It's fantastically fun, hilariously heroic and it's not afraid to take some chances with largely successful results. Oh yes, it's much more entertaining than Captain Marvel. I'm going to say it now…I told you so! 
What makes me gush like Gomer Pyle about Shazam!? Well golly, what doesn't? Let's start with the leading man: Zachary Levi is perfect as the World's Mightiest Mortal. Of course, anyone who watched his breakout performance on NBC's Chuck knew he would be. He quite possibly outdoes Tom Hanks as far as playing a teenager in an adult body. His expressions, his line delivery, his mannerisms, you couldn't ask for more, and you certainly couldn't find anyone better suited for the role. No, not even Ryan Reynolds, or Hugh Jackman, no matter how much they wish they were as cool as Levi. Equally excellent is Asher Angel as Billy Batson, Captain…um…Shazam's high school-aged alter ego. Asher is a relative newcomer whose only other acting credit is the TV series Andi Mack on Amazon Prime. A handsome and likable lad, he's a wonderful counterpoint to big and buff Levi.    
I freely admit to being a Marvel fanatic, but let's be honest, very few of the MCU films have really had a truly successful supervillain. The Red Skull didn't make it out of World War II, Loki is actually really cool, and Thanos isn't entirely evil, just single-minded in his pursuit of universal equilibrium. Kaecillius in Doctor Strange is a servant of giant cosmic head, Ego in Guardians of the Galaxy Vol. 2 was a giant planet, and the Mandarin in Iron Man III actually wasn't the Mandarin at all (and there really needs to be one last Iron Man vs. Mandarin movie to correct that, assuming he survives the next Avengers movie). DC hasn't done much better—Jesse Eisenberg's Lex Luthor and Jared Leto's Joker were epic fails.
Shazam! features Mark Strong as Dr. Sivana, and while the cinematic Silvana is much different from his comic book counterpart—the John Lennon shades and bald pate are pretty much it—he's a vicious, sinister and thoroughly evil supervillain. He menaces not just Shazam but Billy Batson and his extended foster family and pretty much anyone else in Philadelphia, where the story takes place. I've been a Mark Strong fan for quite some time, and he seems to relish being a bit bonkers here. It's certainly not strong's first go-round as a villain, but he's usually the coldly efficient spy or the thoughtful murderer, not a reckless, "throw-a-kid-through-a-skyscraper" power mad super-maniac.  He's powered by the monstrous incarnations of the Seven Deadly Sins, and the CGI monsters do wreck quite a bit of havoc in this briskly paced, never boring, 2 hour and 12 minute-long film. Fair warning—I don't know if people care much about ratings anymore, but the Sins do have a few moments of true carnage. It's not gory but if you're thinking about bringing your small and easily frightened child, it is PG-13 for a reason.
The supporting cast is also highly enjoyable, on par or even better than Spider-Man's classmates. Djimon Hounsou is apparently trying to set a record for comic book character roles. He's been Korath the Pursuer in both Guardians of the Galaxy Vol. 1 and Captain Marvel, as well as King Ricou in Aquaman. I think Chris Evans is still in the lead, but now Hounsou can add the wizard Shazam to his list. Yes, the wizard is the one actually named Shazam, not the crimson-wrapped thunderbolt with the big grin. I know, it's confusing -- see the movie, and if you're still confused afterwards Google "Captain Marvel copyrights + lawsuits." Trust me, it's not a big deal, and it doesn't detract one bit from this film's enjoyment. But I digress, so back to raving about this phenomenal cast! Jack Dylan Grazer plays Freddy Freeman to perfection. Freddy is Billy's foster brother who is a bit f a social outcast at their school, prone to exaggeration and a walking encyclopedia of superhero knowledge. He helps train Billy in his newfound powers, mostly by trial and error. He brings much more to the role than being merely the sidekick, impressive considering he only has a small handful of acting credits beyond young Mr. Asher. Grace Fulton, who has had recurring roles on TV's The Ghost Whisperer and Revenge, plays Mary Bromfield, the oldest of the foster siblings, which also include Jovan Armand from ABC's The Middle as Pedro Peña and Ian Chen from ABC's Fresh off the Boat as young hacker Eugene Choi. Last but far from least, 10 year-old star Faithe Herman from NBCs This Is Us absolutely steals every scene she's in! I don't want to say more about the kids because it would give away too much of the plot, but they're great fun to watch together. I almost forgot! John Glover—Smallville's Lionel Luthor--has a small but important role here too.
Director David Sandberg, another member of Team Shazam! with a very modest resume, seems to be a natural fit for this production. He handles the mundane and the superheroic equally well, constantly moving the story along without getting bogged down in insignificant details and unnecessary subplots. See Hollywood? It can be done! The script by Henry Gayden is quite funny but does contain more coarse language than I'd expect in a PG-13 rated film. The executive producers include Black Panther's Jeffrey Chernov, Hiram and Dany Garcia (the Jumanji reboot, Rampage, Skyscraper…notice a trend?), longtime DC creative honcho Geoff Johns, and little known pro wrestler Dwayne Johnson. I'm joking, of course—the megastar known to the millions…and millions!…of his fans as WWE Superstar "The Rock" knows a thing or two about action movies. He's a top box office draw himself, and I can only hope he'll suit up in the often-rumored role of Black Adam in the sure-to-be-green-lit-immediately sequel. Chuck versus The Rock would have been fun a few years ago, but Shazam versus Black Adam would blow the roofs off of cinemas everywhere.
Shazam! opens April 5, 2019 in the U.S., and will delight superhero moviegoers and comic book fans alike. I think Shazam's comic creators, the late Bill Parker and C.C. Beck, would be quite pleased to see their creation brought to life so expertly on the big screen. I've always thought DC was sitting on a goldmine with Shazam/CaptainMarvel/Billy Batson. Yes, Superman is an icon but he's so boring, and Clark Kent is even worse. Batson has the same appeal as Marvel's Peter Parker, and one could argue that as Shazam he's more powerful than the alien from Krypton. I hope this film translates to bigger and better things for the character in the pages of DC comics, but it's doubtful given the terrible shape of the comic industry these days. Shazam! is the best caped hero movie (not counting Batman, who's his own category) since Christopher Reeve's Superman came out 41 years ago. Go see it—Thanos can wait!
Recent Tweets
Top Ten Most Popular Ever