You are here
Home
›
Television
› Dark Crystal Success Shows The Staying Power of a Good Story ›
Dark Crystal Success Shows The Staying Power of a Good Story
FTC Statement: Reviewers are frequently provided by the publisher/production company with a copy of the material being reviewed.The opinions published are solely those of the respective reviewers and may not reflect the opinions of CriticalBlast.com or its management.
As an Amazon Associate, we earn from qualifying purchases. (This is a legal requirement, as apparently some sites advertise for Amazon for free. Yes, that's sarcasm.)
Submitted by

Bill Casticart

on Wed, 09/25/2019 - 21:19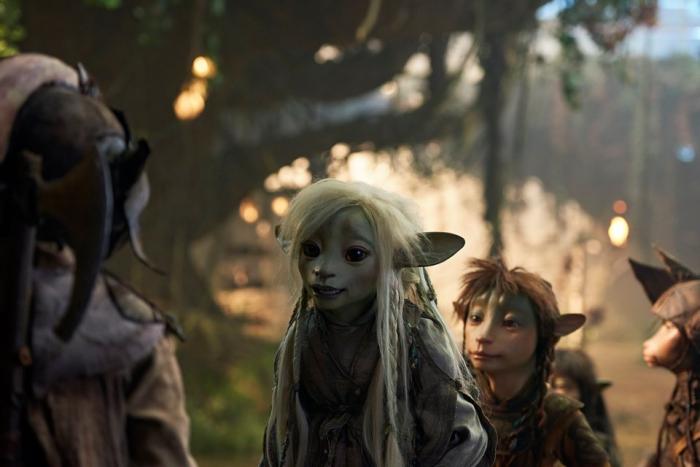 1982 movie The Dark Crystal is probably better categorized as a cult classic rather than as a bona fide classic. So its entrance into 2019 popular culture will have taken many by surprise. The Jim Henson Company collaborated with Netflix to produce a ten-episode prequel to the original film. The Dark Crystal: Age of Resistance explores the magical world of Thra, in which Gelflings look to rebel against the tyrannous rule of the Skeksis.
The power of Netflix and a love of the original film attracted a star-studded cast for what may have seemed like a weird project on paper. Nathalie Emmanuel, Taron Egerton, and Anya Taylor-Joy voice the three Gelfling protagonists, while Jason Isaacs, Simon Pegg and Mark Hamill are three of the cruel Skeksis. Characters are brought to life with puppets that range from 'sort of sweet' to 'downright unsettling', which is roughly the same spectrum created by the original film. It might be the product of The Jim Henson Company, but Fraggle Rock it ain't.
A worthwhile update
Age of Resistance has racked up a rating of 8.8 with IMDb, which surpasses the 7.2 achieved by the original movie. That high score could be attributed to a honeymoon period, although a score of 85% from Rotten Tomatoes reinforces that critics consider this a worthy series. That high score is made all the more impressive by the perception that there is a limit of how many retellings or new chapters of old stories that audiences can tolerate. Last year, Den of Geek released a list of remakes and reboots in the work and came up with just the 115. However, the response to Age of Resistance is evidence that quality trumps all.
It is significant that Age of Resistance never feels gratuitous in its narrative or world-building. While fans of the 1982 movie will instantly know where the plot of Age of Resistance has to ultimately resolve, the fleshing out of the world of Thra and its people adds new depth to the film's story. Its use of animatronics was ground-breaking in 1982, but the TV series' effects still stand out at a time where CGI dominates. The combination of a star-studded cast and a fantasy world will also attract the eye of those looking to scratch their Game of Thrones itch.
The enduring appeal of fantasy stories
The repurposing of The Dark Crystal shares similarities with the Game of Thrones franchise. A Song of Ice and Fire, the first novel in George R.R. Martin's series, was released in 1996. Fifteen years later, the first season of Game of Thrones became a huge hit for HBO. Fifteen years isn't quite the thirty-seven that separates The Dark Crystal and Age of Resistance, but it still gave enough time for two disparate audiences to form.
There were those who voraciously devoured Martin's novels, growing frustrated at his lack of speed but immersed in his rich worlds. There were those who had never heard of Game of Thrones until they heard about this graphic, shocking TV show - with dragons! Book fans were drawn into the TV series, and many fans of the TV show sought to check out the books. In 2019, there are now multiple ways for people to be drawn further into the mythos of Westeros.
Although arguably everyone in the western world has heard of the show and is familiar with its medieval setting and themes to some extent, many have still not watched it. As such, some may engage with the fantasy world of the franchise for the first time through Game of Thrones: Conquest, a mobile game for iOS and Android published by Warner Bros International. For fans of online casino, the official slot on the Betway Casino uses conflict between Westeros' famous families, as well as soundbites and settings from Game of Thrones to frame the action on the reels. Another possibility is that new audiences will be introduced to GoT through the upcoming prequel series. It may seem bizarre to current GoT fans that someone could enjoy the prequel before the books or the original series, but this is likely to happen in the long run.
The same is true for Lord of the Rings. People's first experience of Middle Earth could be J.R.R. Tolkien's novels, Peter Jackson's film trilogy released sixty years later, or even the LEGO LotR video games. The movie adaptation of The Lion, The Witch and The Wardrobe came fifty-five years after C.S. Lewis' first Chronicles of Narnia novel. So, it can be seen that using a fantasy world as a setting essentially futureproofs the story. While once-contemporary tales can feel dated decades later, a well-constructed fantasy world never loses its escapist power.
From a film to a franchise
If Age of Resistance continues to hold up for the Netflix generation, it wouldn't be surprising to see a remake of the original movie or the launch of a spin-off film trilogy. For now, fans will have to content themselves with Age of Resistance Tactics, a strategy game that is set to be released on PC at some point later this year. The addition of a video game marks another step in this transformation of a 1982 cult classic into a 2019 franchise.
Henson has a strong track record of creating beloved characters and worlds that stand the test of time. Sesame Street has been running since 1969, while The Muppets have rarely left the public eye since The Muppet Show's debut in 1976. While those characters have never really gone away, the world of The Dark Crystal has been brought back in vivid fashion for 2019.
The revival of some of Henson's work may not stop there, with MovieWeb reporting that a script is complete for a sequel to another of his cult classics, 1986's Labyrinth. That these tales can be continued four decades later is a testament to that not so old-fashioned power of good storytelling.