You are here
Home
›
Television
› Pep Talk: Riverdale Episode 407, "The Ice Storm" ›
Pep Talk: Riverdale Episode 407, "The Ice Storm"
FTC Statement: Reviewers are frequently provided by the publisher/production company with a copy of the material being reviewed.The opinions published are solely those of the respective reviewers and may not reflect the opinions of CriticalBlast.com or its management.
As an Amazon Associate, we earn from qualifying purchases. (This is a legal requirement, as apparently some sites advertise for Amazon for free. Yes, that's sarcasm.)
Submitted by

RJ Carter

on Thu, 11/21/2019 - 19:12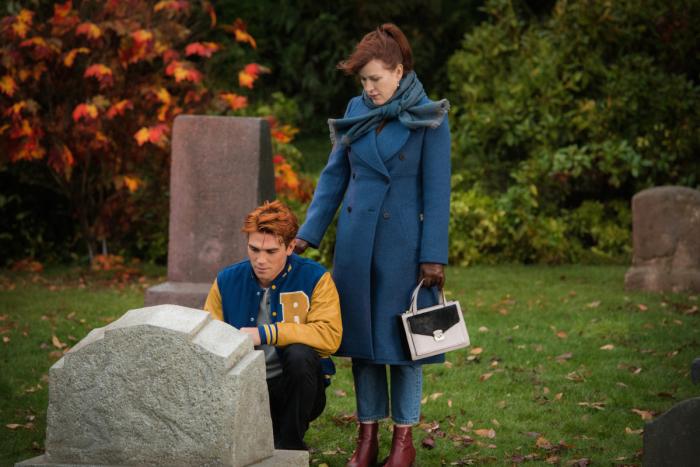 The town of Riverdale is hunkering down as an ice storm prepars to bear down, just in time for Thanksgiving.
Archie (KJ APA) doesn't want any of the homeless kids who frequent his community center to be left out in the cold on Thanksgiving, so he plans to keep the center open all day (and night), serving a Thanksgiving dinner to everyone who comes. Is it just me, or does Archie tend to make a lot of these plans lately, that always end up relying on Veronica (CAMILA MENDES) -- or rather, Veronica's checkbook -- to make happen?
The spread is laid out, with cooking help from Mary Andrews (MOLLY RINGWALD), but the crowd has a few unwelcome visitors -- relatives of the recently bloodied boss of street-crime, Dodger, including his mother, Darla Dickenson (AZURA SKYE). We've seen Darla before, by the way. That dead man that the Coopers buried back in Season 2, when Chic was impersonating Betty's brother? That was Darla's boyfriend, and she tried to extort $10,000 from the Coopers to forget the boyfriend ever existed. (It all happened in Episode 217, "The Noose Tightens.")
Darla believes Archie is the one who put her Dodger into the hospital, and she's there to collect in blood, extracted by lead. As she prepares to put a bullet into our old pal, Archie, the other boys of the center pull a Spartacus, each claiming to be the masked street vigilante. When a noise from the kitchen distracts the Dickensons, Archie makes his move, and Mary Andrews ends the fracas by going Dirty Harry on them all with a weapon of her own.
Of course, none of this would have happened if the community center had been shut down in the first place, which was the order given by new Riverdale mayor, Hiram Lodge (MARK CONSUELOS). Sheriff F.P. Jones (SKEET ULRICH) even drops by to deliver the order to Archie personally -- along with his own, unsolicited advice to ignore Hiram.
Hiram and his wife, Hermione (MARISOL NICHOLS) end up having Thanksgiving dinner at Pop's, when Veronica literally pulls the rug out from under their family gathering, persisting in her refusal to have anything to do with her released-from-prison parents and her newly discovered sister, Hermosa. They end up sharing a table with F.P. and Alice Cooper (MADCHEN AMICK). The meal is predictably tense, and ends with F.P. holding a broken bottle to Hiram's throat.
Jughead (COLE SPROUSE) continues to investigate the mystery of Mr. Chipping's suicide, and it's connection to the possibility that Jug's grandfather wrote the first Baxter Brothers novel, an institution that built much of the school's literary reputation. Stepping in for Mr. Chipping is Mr. Dupont, the author of the first five books -- or at least the second through the fifth book. He continues to urge Jughead to drop his conspiracy theory, but Jug knows exactly who to go to when he has a good conspiracy theory: his girlfriend, Betty (LILI REINHART). She makes it to the school just ahead of the ice storm, when almost all the students and faculty have gone home. But Bret and Donna have stayed behind, allowing for some interesting and tense interrogation. When Betty finds Chipping's tie-pin in Donna's room -- a pin with the insignia of a secret society -- Donna spins a story about how she was having an affair with Chipping, broke it off, and the guilt drove him to suicide. Of course, Jughead and Betty still have their doubts, but there's nothing more they can do for now except snuggle under the covers in Jughead's dorm room -- while some mysterious piece of electronic equipment blinks a red light in the corner. (Tip for actual surveillance novices: cover the blinking red lights; they're super visible, especially when the other lights go out.)
And, of course, it wouldn't be a RIVERDALE episode without the macabre goings on at the Addams--I mean--Blossom family estate. Cheryl (MADELAINE PETSCH) and Toni (VANESSA MORGAN) face the dilemma of getting rid of the body of Cheryl's uncle, and plan to dump it into Sweetwater River before it ices over. But with her aunt insisting on a visit, Cheryl comes up with another plan--a traditional Blossom family Thanksgiving dinner, replete with Nana Rose telling the tale of when the first Blossom settlers came to America and had to resort to cannibalism that first hard winter. What a perfect time for Cousin Fester (this time I'm not making it up, that's really his name) to find his father's wedding ring in the meat pies they've been devouring. Paging Mr. Sweeney Todd, it's time for my haircut. Somehow this passes as blackmail material, and the icing on the creepy cake is when Toni wheels out Jason, sending the extended family screaming into the night.
At least the show does end, for once, on a positive note: the community center is renamed after Archie's father, Fred Andrews, leaving a lasting legacy to the town. I'm sure that means Hiram or the Dodgers will torch it before the year is up.