Top 10 Black Friday Shopping Tips
FTC Statement: Reviewers are frequently provided by the publisher/production company with a copy of the material being reviewed.The opinions published are solely those of the respective reviewers and may not reflect the opinions of CriticalBlast.com or its management.
As an Amazon Associate, we earn from qualifying purchases. (This is a legal requirement, as apparently some sites advertise for Amazon for free. Yes, that's sarcasm.)
Submitted by

Raven Oweiner

on Sun, 11/28/2021 - 08:34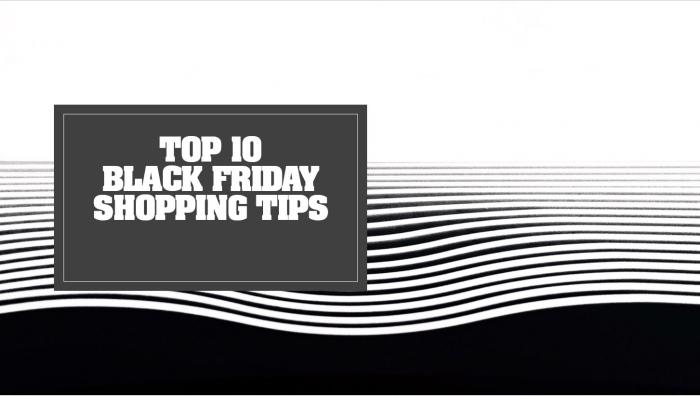 Did you know that Black Friday actually got its start in the 1930s? It's true - President Franklin D. Roosevelt moved Thanksgiving to the fourth Thursday in November back in 1939, lengthening the holiday shopping season and allowing retailers to begin advertising earlier. The rest is history; every year, shoppers around the world flock to retail outlets and websites on the fourth Friday of each November, desperate to find the best deals around. There's an art to doing so, however, so if you want to be a savvy shopper this year, read on to find out our top 10 Black Friday shopping tips.
1. Go for gaming deals
As research conducted by Betway shows, gaming consoles and peripherals are among the most Googled items in the run-up to Black Friday. This shows there's intense demand for gaming hardware during this period, which means retailers are likely to know this as well and to step up the deals they're offering in response. As such, if you're in the market for anything gaming-related, Black Friday is an excellent time to pick it up, so keep an eye on gaming retailers for deals.
2. Stick with trusted brands
If you spot a brand up for sale in a Black Friday deal extravaganza, it could be too good to be true. For example, if you're buying gaming peripherals, look out for deals from trusted brands like Razer or SteelSeries, and try to avoid those whose name you don't recognise. The chances are most of the gear on sale is legit, but you never know when you might end up buying something you regret just because of a significant mark-down on price.
3. Check price-matching policies
When you're out and about shopping in "the real world", make sure to ask retailers if they have a policy regarding price-matching. While many shops don't actually have concrete policies in this respect, they may want your business badly enough that they will offer to match prices for products you've seen online, meaning you can get a great deal on an item for which you don't need to wait for delivery. Always make sure to ask the question!
4. Create a wishlist
Trust us - your shopping experience on Black Friday will be that much smoother if you make a wishlist ahead of time. When you know exactly what you want, not only will you be able to find it more efficiently, but you won't find yourself distracted by deals that could lead to regrettable impulse purchases. Think carefully about everything you could need, and write it down ahead of Black Friday. When it comes to the sales, stick to searching for things on your wishlist.
5. Think about Gray Thursday and Cyber Monday, too
Black Friday isn't the only day when you can get amazing deals on tech and other items. Gray Thursday - which many Americans will, of course, know as Thanksgiving - is also a good day to look out for deals, as is the Monday after Black Friday, commonly known as Cyber Monday. You should also look out for extra deals in the week leading up to Black Friday, because retailers will sometimes chance their arms and hope customers will be hunting for bargains ahead of time.
6. Create accounts for sites ahead of time
Often, retailers' sites will crash if there is high demand for certain items. We've seen this happen recently with consoles like the PS5 and Xbox Series X, and although there are unlikely to be any significant deals on these consoles this Black Friday, it still pays to create accounts ahead of time. That way, you'll be able to fast-track any purchases straight to the checkout, and you won't need to worry about getting stuck on a login page and not being able to buy what you want.
7. Try not to shop in person
Even if there wasn't still a worldwide pandemic underway, shopping in person on Black Friday probably isn't the greatest idea. You might find that online stores offer better prices than their physical counterparts, and since many shops don't have price-match promises, you'll almost certainly be getting a better deal online. Even if you have a preferred shop you like to go to, use the online shopping site instead of going there physically.
8. Make a Black Friday budget
In addition to your wishlist, it might be a good idea to create a Black Friday budget for yourself. It can be difficult to stick to a commitment like this, especially when there are so many deals available, but a Black Friday budget will help you keep your spending down and your spirits high. If you're feeling particularly mathematical, try allocating amounts to each area of your spending so that you don't go overboard on tech and forget to buy things for your home, for instance.
9. Beware low prices
Just because Black Friday is a retail-based holiday, that doesn't mean retailers aren't still out to shift stock they might not otherwise be able to sell. Some items might be placed at suspiciously low prices, so if you see a massive discount, ask yourself why it's in place. It is, of course, possible that the retailer simply wants to offer a good deal on the item, but it could also be a controversial or poorly-received product that retailers need to shift.
10. Be wary of tech life cycles
Technology moves in cycles. If you spot a phone deal this Black Friday, think carefully about whether it's a device you want. For example, although the iPhone 12 has plenty of life left in it, it's not this year's most current device, so you may be paying less only to eventually need to replace it sooner. Similar logic applies when it comes to other devices like tablets and laptops. Doing extensive research on what you want to buy ahead of time will work wonders here.