Batwing goes Into The Dark as his series ends
FTC Statement: Reviewers are frequently provided by the publisher/production company with a copy of the material being reviewed.The opinions published are solely those of the respective reviewers and may not reflect the opinions of CriticalBlast.com or its management.
As an Amazon Associate, we earn from qualifying purchases. (This is a legal requirement, as apparently some sites advertise for Amazon for free. Yes, that's sarcasm.)
Submitted by

Mike 'Ace' Maillaro

on Mon, 02/23/2015 - 09:21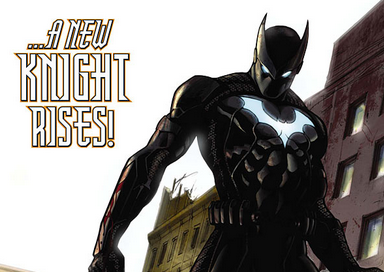 I actually am amazed that Batwing lasted as long as it did. The fact is managed to reach 34 issues (36 if you count the 0 issues and the Future's End special) is a pretty astonishing feat. Batwing seemed perpetually on the low end of the sale's chart, but DC stuck with it for a long time. Batwing started as a member of Batman Inc stationed in Africa who would deal with villains and problems in that region. It was a very unique book, and I thought Judd Winick did a great job with it.
But, after Winick left, it seemed like DC wasn't quite sure what to do with David Zavimbe. Soon after, the character decided to stop being Batwing. And then we find out that David was never Batman's first choice to be Batwing (which as a reader, I found kind of insulting). Batman had apparently never really wanted a Batman of Africa, he really wanted Lucius Fox's son Luke to be Batwing and stations in Gotham. I thought this took away a lot of what make Batwing such a unique title.  This is a review of the last trade of the series that DC just released: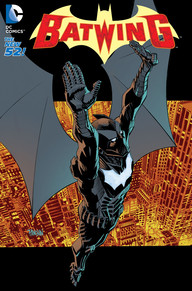 Batwing Volume 5 - Into the Dark
Written by: Jimmy Palmiotti & Justin Gray
Pencilled by: Eduardo Pansica, Jason Masters, & Scott Kolins
Inked by: Julio Ferreira, Jason Masters, Scott Kolins, & JP Mayer
Cover by: Dan Panosian
Colored by: Paul Mounts & Chris Sotomayor
Lettered by: Taylor Esposito, Carlos M. Mangual, Dezi Sienty, & Travis Lanham
Published by: DC
Cover Price: $16.99
Trade Contains Batwing #27-35 and Batwing: Future's End #1
Warning! This review contains quite a few spoilers!
This was a nice hefty trade. You get 9 complete comics for 17 bucks. This was a nice surprise, I was really expecting only 5 or 6 issues. But, with Batwing ending, I guess they wanted to include everything here before they closed shop.
Despite my earlier complaints about Luke Fox as Batwing. I thought this was a pretty good trade. It does get off to a bad start with a confusing tie-in to Gothopia. One thing that constantly bugs me about DC is their continued refusal to include "Previously in..." pages in their comics and trades. Those pages go a long way towards making comics more accessible for readers. And I don't just mean for new readers. I read upwards of 60 comics a month, and it's not always easy to keep everything straight. I have no idea what Gothopia was about, or why they decided to disrupt Batwing with it.
Instead of including that issue, they would have been better off including the Zero Year tie-in issue, since so much of this trade revolves around events that happened there. Back when Luke was young, he had a friend who was constantly bullied by the other students. This student decides to get his revenge by mutating himself into a super-villain named Menace and killing his classmates who tormented him. Luke was forced to stop Menace back then, and all these years later, Menace has sworn revenge. He has no idea that Luke Fox is now Batwing.
During Gothopia, Menace has Ratcatcher kidnap Luke's sister Tam. Tam is forcefed a lethal drug combination that makes her brain-dead. Soon after, Menace has Luke's youngest sister Tammy kidnapped as well. This causes massive fractures in Luke's already strained relationship with his family. One of the major elements of this trade is watching how these acts destroy the Fox family. Lucius starts to put a lot of pressure on Commissioner Gordon and Batman to help them. This makes a great parallel to Luke as Batwing, who is becoming more violent in his attempts to find Tiffany and fix Gotham's problems.
Batwing's search for his sister brings him to Gotham's undercity. Palmiotti, Grey, and the art team did a terrific job introducing us to the undercity. There are various tribal factions at war down here, and they are really well developed. I especially liked when Luke had to throw on a ridiciulous disguise to try and fit in. This showed us a whole new side of Gotham that in a lot of ways was just as foreign as the African continent that the first Batwing defended. Unfortunately, soon after this arc, Batwing came to an abrupt end, and I thought there was a lot of potential left on the table in telling stories about the undercity.
After the Menace story, there are two really good one shot issues. The first one tells the story about a career prisoner named Gruesome George who ends up idealizing Batman to the point he becomes a copycat vigilante. Batwing takes him down in the end, and it's revealed that George has adopted some freak mutant creatures as his children who murder the cops to free him. There seemed like a huge potential to build from here, but the series ends before we find out what is going on there.
The second one shot issues shows a day in the life of Luke Fox. We see him battling crime in Gotham and trying to put together some kind of personal life at the same time. This was a fun issue, probably my favorite one in the trade. I especially liked seeing more of Luke's youngest sister, Tiffany. She's an incredibly bright 6 year old and that leads to some very funny moments in this story with her trying to help Luke pick up a woman.
The last issue of Batwing is a Future's End issue set five years in the future. It does help put Batwing in the context of Batman Inc and gives us some closure on Luke's relationship with his family. This was a really good issue to end the series on. Batwing has really evolved into a top-tier hero at this point, figuring out a clever way to shut down Batman Inc's many enemies. I did think it was strange that this issue didn't mention that Tammy becomes a Batgirl (which we saw in Batgirl Future's End).
I really did enjoy the stories in this trade. There could have been a little more closure, especially in terms of Gruesome George and Batwing's relationship with his family, but you can tell that this book ended abruptly. And it still bugs me that David Zavimbe completely vanished when Luke Fox became Batwing. But those little things didn't take away from my enjoyment of this trade.
Luke Fox continues to appear regularly in Batman Eternal. While I still think he's not quite as unique a character as David, I think DC has a great character here and I hope they continue to spotlight him, especially if they are going to drop him in unique settings like Gotham's undercity.
---
Title
Batwing: Volume 5 - Into the Dark
Written By:
Jimmy Palmiotti & Justin Gray
Art By:
Eduardo Pansica, Jason Masters, & Scott Kolins
Company:
DC
Price:
$16.99
Pros:

You get 9 books for $17, great value.
Gotham undercity was a terrific setting
Art throughout the book was great

Cons:

The Gothopia tie-in doesn't make a lot of sense out of context.
Leaves a lot of open story threads that will probably never get resolved.

Is it worth your $16.99?
I think this trade was a very good value, and I really enjoyed most of the stories here.  I still have some hesitation about Luke Fox as Batwing, mostly because I liked the original Batwing so much, but that doesn't take away from the quality here.