You are here
Home
›
Comics
› Archie Comics takes us to some dark corners of Philadelphia in The Black Hood #1 ›
Archie Comics takes us to some dark corners of Philadelphia in The Black Hood #1
FTC Statement: Reviewers are frequently provided by the publisher/production company with a copy of the material being reviewed.The opinions published are solely those of the respective reviewers and may not reflect the opinions of CriticalBlast.com or its management.
As an Amazon Associate, we earn from qualifying purchases. (This is a legal requirement, as apparently some sites advertise for Amazon for free. Yes, that's sarcasm.)
Submitted by

Mike 'Ace' Maillaro

on Sat, 02/28/2015 - 03:00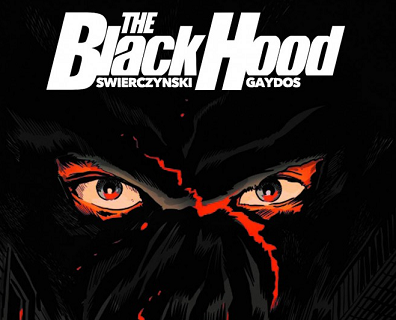 Archie Comics has made numerous attempts over the years to bring back their Red Circle line of heroes. The biggest problem is that Marvel and DC have pretty much cornered the superhero market, so if someone is attempting to get in on the game, they need to bring something different to the table.
The latest attempt has brought in some big names in the comic industry to put a darker, more mature spin on the characters. This actually is my first exposure to the Red Circle characters. But since I enjoyed Afterlife with Archie and Sabrina so much, I figured it was worth checking this book out.
The Black Hood #1
Written by: Duane Swierczynski
Art by: Michael Gaydos
Cover by: Michael Gaydos
Colored by: Kelly Fitzpatrick
Lettered by: Rachel Deering
Published by: Dark Circle (Archie)
Cover Price: $3.99
Note: This is a review of the digital version which can be found on Comixology.
Warning! This review contains quite a few spoilers!
As soon as I saw the creative team on this book, I knew I would be buying it. Michael Gaydos was the artist of Alias, which is one of my all time favorite series. And Duane Swierczynski has done a great job working on books like Bloodshot. Both seem to have a great vision for dark and gritty characters, and I thought that would work really well here.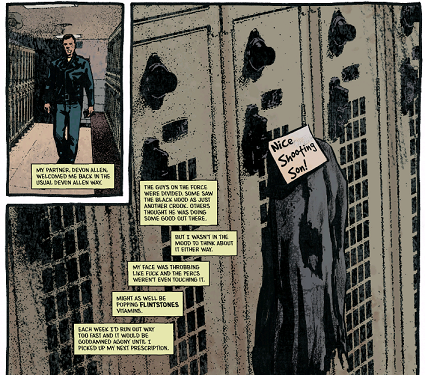 Greg Hettinger is a Philadelphia cop called in on a crime scene near a school. He arrives to find armed gunman involved in a confrontation with a masked vigilante. Greg is shot and disfigured, but he also kills the vigilante. Greg becomes addicted to pain killers, and is dealing with the trauma of the incident when he eventually returns to the police force. As a joke, his partner leaves the vigilante's mask in his locker. Greg finds himself getting more violent and desperate. During a drug bust, he ends up taking a large stash of drugs. Reporters are starting to ask questions. Greg ends up putting on the mask and becoming a vigilante himself, calling himself The Black Hood.
One thing this book did really well was showing how Greg's mental state was falling apart. You can really feel his pain as you read through this book. Typically, when you read something like The Punisher, the tragedy is there, but it often seems just like background noise to get to the action. Swierczynski really made sure the reader was feeling exactly what Greg was going through. The book is often painful to read, especially when you see his therapist trying to hard to reach out to him, but Greg seems to be rejecting any help. 
I also thought they did a great job making this into a real mature title. Sure, there is some violence and foul language, but it is also dealing with mature and real issues.  The "adult" aspects feel natural and are not overused for shock value. I also thought that there was a tremendous amount of truth to the story being told here.  It definitely felt to me like Swierczynski took the time to research the situation and how people respond to traumas. On top of that, I thought the authenticity of how Philadelphia was drawn really added to the impact. Everything about this issue came together perfectly.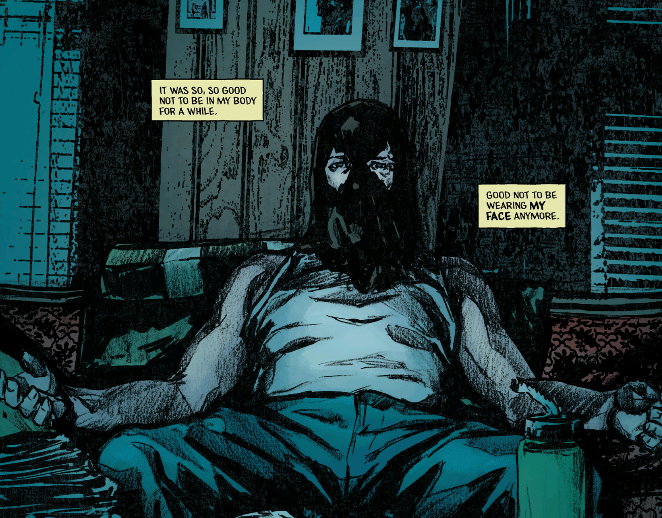 I honestly don't have anything I didn't like about this book. I guess I could say that it's the type of story we've seen quite a bit in comics and movies (cop feels betrayed by the system, and decides to take justice into his own hands), but at the same time, I still think they put a nice fresh spin on it. So much of Greg's problems are because of the physical disfigurement he got in the beginning of the issue. He's not dealing with loss of a family member, he's dealing with the changes in his own physical and mental state.
Gaydos' art was absolutely perfect for this issue. Greg's darkness is apparent, but you also see some bright scenes, especially when he's meeting with his speech therapist. It's clear that there should be hope for Greg, but he refuses to acknowledge it which just makes the story even more tragic. This created some great tension throughout the issue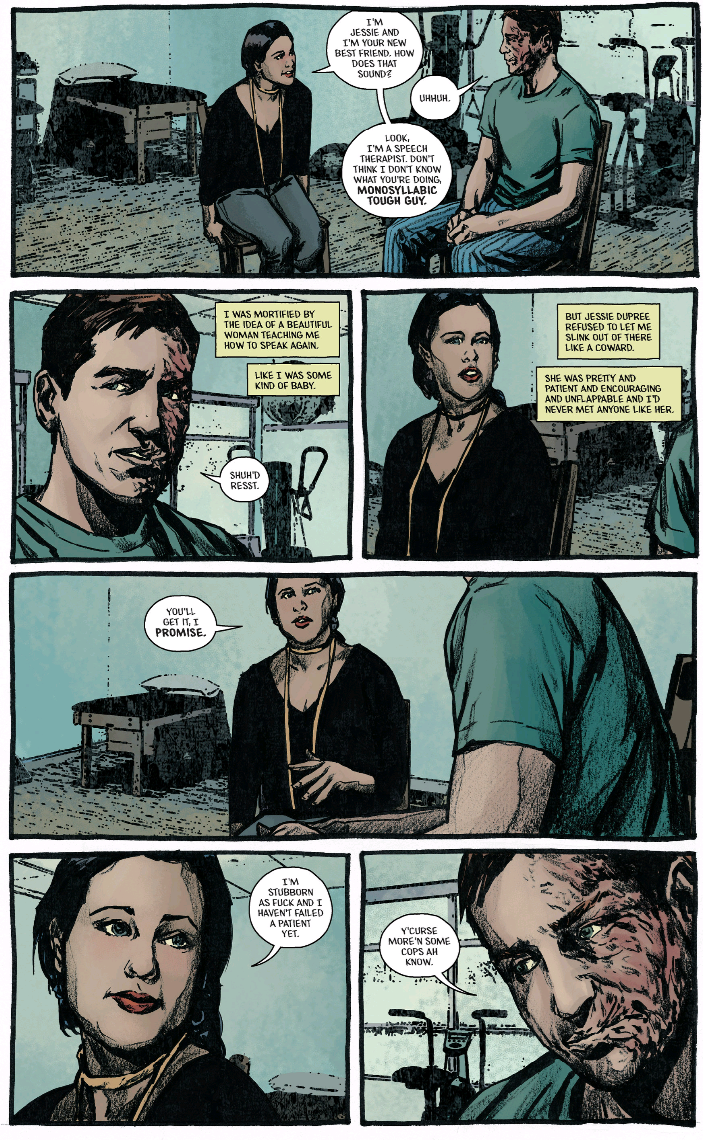 It's almost cliche at this point to talk about the "new" grown up attitude over at Archie Comics. Sure, there are still some terrific all ages books (I especially like Mega Man, and my kids are huge fans of the Sonic line, especially Sonic Boom), but that hasn't stopped Archie from trying some new things, to great success. I hope that these Dark Circle books do well. I really enjoyed Black Hood. It might have been the best book I read this week...though Amazing Spider-Man came close. If this is the quality we can expect from this line, definitely count me in!
---
---
Title:
The Black Hood #1
Written By:
Duane Swierczynski
Art By:
Michael Gaydos
Company:
Dark Circle (Archie)
Price:
$3.99
Pros:

The art and writing blended together perfectly to set the stage for this book.
Real powerful comic experience. 
A great new start for Archie's Dark Circle Line

Cons:

There really isn't anything bad with this issue, some people might be turned off by "another cop gone rogue" story, but I still thought it was very well done.

Is it worth your $3.99?
Definitely!  This was easily my favorite comic book this week and has me eagerly awaiting what comes next from the Dark Circle line.