Vampirella takes on the Lady of Shadows in this new series
FTC Statement: Reviewers are frequently provided by the publisher/production company with a copy of the material being reviewed.The opinions published are solely those of the respective reviewers and may not reflect the opinions of CriticalBlast.com or its management.
As an Amazon Associate, we earn from qualifying purchases. (This is a legal requirement, as apparently some sites advertise for Amazon for free. Yes, that's sarcasm.)
Submitted by

Mike 'Ace' Maillaro

on Tue, 03/10/2015 - 08:45
It's always good to learn something when working on a review. Reading Vampirella: Our Lady of Shadows, I learned that when you are sitting by yourself in a nice restaurant reading a Vampirella comic is probably not the best choice. I was getting a lot of odd and annoyed looks at Ramsey's Pub in Caesar's Palace in Atlantic City when I was putting this review together.
BTW, and this isn't related to the comic at all, the food there was great and the service could not have been nicer. But, I'm afraid I've got some bad news....the drinks are way overpriced. Two rum and cokes cost me more than a three course dinner. Yikes!
But, that has nothing at all to with Vampirella. On with the comic!
 Vampirella Vol. 1 Our Lady of Shadows
Written by: Nancy A. Collins
Art by: Patrick Berkenkotter & Cristhian Crizam Zamora
Inked by: Dennis Crisostomo
Cover by: Terry Dodson & Rachel Dodson
Colored by: Jorge Sutil & John Miele
Lettered by: Rob Steen
Published by: Dynamite
Cover Price: $24.99
Trade Contains Vampirella (2014) 1-6 and Prelude to Shadows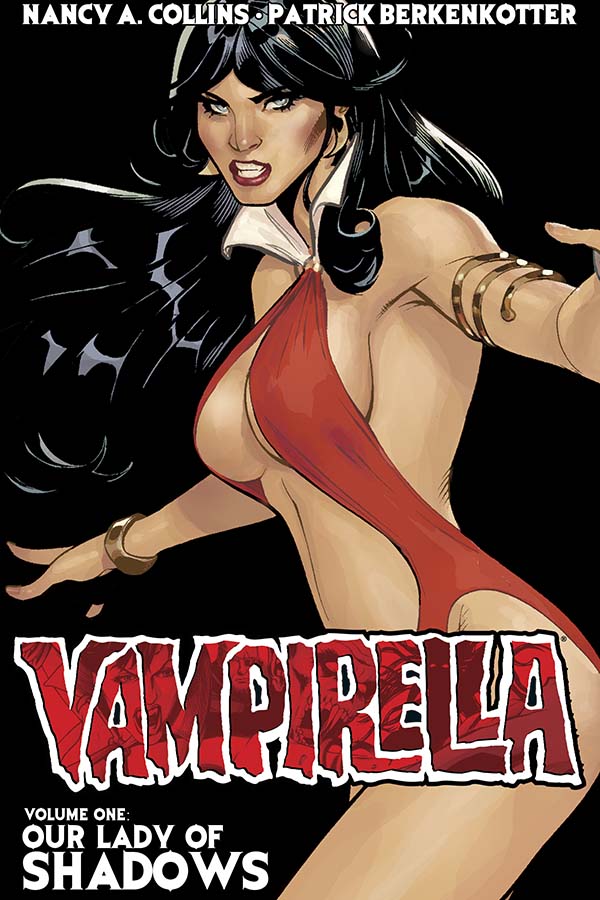 Warning! This review contains quite a few spoilers!
I have not read much Vampirella before this trade, so I wasn't quite sure what to expect. Just based on her costume, I always thought Vampirella had to be real cheesecake, but I was surprised to find that wasn't the case here. I enjoyed this trade quite a bit. It was easily accessible to new readers, while still teasing quite a bit about the bigger history Vampirella has established (Vampirella's been around since the late 60's).  What's really interesting about this book for me is that it was actually pretty friendly to all readers. Vampirella's costume is really the only X-Rated thing about the comic. There is some violence, but nothing particularly graphic and there is only one sex scene that mostly leaves it to the reader's imagination. This should open up Vampirella to a wider audience, though it might turn away some old fans.
The format of this book was basically a long arc that was made up of individual standalone stories. In the first issue, Vampirella is tricked by an old enemy and gets cursed with a creature called the Lady of Shadows. Vampirella has 30 days to get rid of the curse before she and the world are doomed. Over the next several issues, Vampirella is tasked with hunting down different types of vampires to build her own power enough to fight off the curse. Each issue focuses on a specific type of vampire and how Vampirella found and defeated them.
Also, there is a really clever "countdown" through this story with Vampirella infected with a circular scar that is eclipsing as time passed. This clear visual added to the tension built up through the story. While Vampirella is on her quest, she's also being hunted by agents of the Vatican. Actually, this part of the story could have been much bigger. Vampirella seems to have worked with the Church for a long time, but now that she's cursed, they want her dead. The Vatican agents only appear briefly and they never seem like all that much a threat.  I definitely hope they expand on this some in future issues of the series.
But, I did think the different legendary vampires were all really well thought out. Those felt like real threats to Vampirella. I rarely say this, but I kind of wished this story was a little longer. The different vampires and how Vampirella took care of them really intrigued me. I especially liked the creepy vampire that was basically a floating head with some organs hanging down from it. Sorry I can't share an image...one of the problems with pre-release reviews is that we're limited in terms of the art we're allowed to share.
I also really liked the Siren vampire, especially how it led to villagers coming after Vampirella because they saw the Siren as a blessing to the town...even if she kept killing tourists. It was a clever twist on a monster story.  While there were plenty of cool monsters for Vampirella to deal with, the real highlight of this book for me was her internal struggle against the Lady of Shadows. Nancy Collins did a terrific job showing how this curse shaped her view of potential allies and innocents. I have always loved stories about inner demons, and this was a great story.
Another thing that really stood out for me was the character of Drago. Drago was a Nosferatu (and had a terrific classic look to him) and from the beginning, he seems to want to help Vampirella. He seems way too good to be true, and I enjoyed watching his story play out, especially when you see how much he manipulated events, but for mostly good reasons. Vampirella is forced to kill him in the end to take his place as leader of the Nosferatu, and it seems like this will set up many great stories for the future.
On top of the terrific Lady of Shadows arc, this is all contained the preview story called Prelude to Shadows. I was actually a good story, and I liked the foreshadowing with an evil witch warning Vampirella that the Church could not be trusted. But at the same time, it was also my leadt favorite story in the volume. It was hard to follow at times. The rest of the book does a terrific job making all the characters stand out, even bit players. But, in this prelude story, most of the characters are nuns, and they often felt interchangable. That really took away from what seemed like it could have been the best story of this book, since it involved witches, Satan, and some interesting debate about good and evil.
The art in this trade really stood out to me. I especially loved the designs for the various vampires Vampirella faced throughout the story. They were very distinctive, drawing on classic ideas, but giving them a modern feel. I thought that made this book very unique.
I did have one major issue with this book...the cost. It is 25 bucks for 7 comics. Yes, there were extras like a cover gallery and a full script, but for me, these things have never quite justified a $25 price tage. This book was great, and immediately made me want to read more, but if I had to pay for the trade, I would have had to pass, and that would have been a huge loss for me.
Vampirella is a unique book and does a great job bringing this classic character to a new audience. The price tag might scare potential readers away, but I really did enjoy this book and immediately book the rest of the issues in the series. Vampirella is a terrific balance between horror, adventure, and deep characterization. This trade left a lot of intriguing threads including Vampirella as the leader of the Nosferatu and her battle against the Chruch. Nancy Collins seems very well suited to ensuring this book stays awesome.
---
Title:
Vampirella Vol. 1 - Our Lady of Shadows
Written By:
Nancy A. Collins
Art By:
Patrick Berkenkotter & Cristhian Crizam Zamora
Company:
Dynamite
Price:
$24.99
Pros:

This was a great quest story that should hook new and old readers.
Art was gorgeous, especially the designs of the legendary vampires.
Does a great job setting up future stories while still telling a complete story here.

Cons:

The Prelude story could have been a little clearer at times.
Huge price tag

Is it worth your $3.99?
Tough question.  I loved the issues here, but $25 for 7 comics is tricky to justify to me, even with the extras.  I would definitely say pick this series up as single issues instead.  But, if your budget allows for it, it is definitely a great read.