You are here
Home
›
Television
› Roseanne's Return Brings New Topics, More Laughs ›
Roseanne's Return Brings New Topics, More Laughs
FTC Statement: Reviewers are frequently provided by the publisher/production company with a copy of the material being reviewed.The opinions published are solely those of the respective reviewers and may not reflect the opinions of CriticalBlast.com or its management.
As an Amazon Associate, we earn from qualifying purchases. (This is a legal requirement, as apparently some sites advertise for Amazon for free. Yes, that's sarcasm.)
Submitted by

hprice

on Wed, 03/28/2018 - 08:28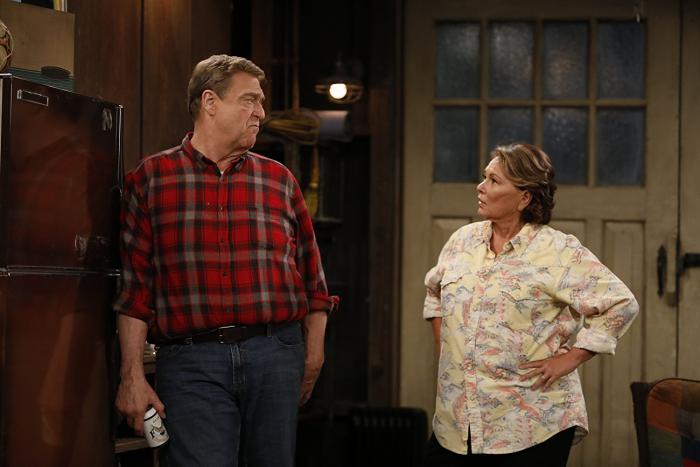 ROSEANNE begins its tenth season after a twenty-year hiatus, and there's a lot of the original feeling wrapped up in its return. As with the original, the middle-America family sitcom tries to touch on all the issues everyday folks deal with every day. And perhaps, to its detriment, it may be trying to take too big a bite at once.
As an ensemble cast, the family of Dan and Roseanne Conner (JOHN GOODMAN and ROSEANNE BARR) try to represent a microcosm of the entire country--it's politics, its struggles, its progressive and reactionary factions. As such, we have Roseanne as a Donald Trump supporter at odds with her sister Jackie (LAURIE METCALF) who is a bitter Hillary booster who's all-in on the Women's March movement. Becky (ALICIA GORANSON) is applying to be a surrogate mother for a wealthy woman (played by the original series Becky #2, SARAH CHALKE), D.J. (MICHAEL FISHMAN) is a U.S. Army veteran back from Syria and raising his daughter Mary (JAYDEN REY) while his wife is still serving overseas, and Darlene (SARA GILBERT) has moved back home with her two children, Harris (EMMA KENNEY) who is almost a clone of the teenage Darlene, and Mark (AMES MCNAMARA), a nine-year-old boy who likes to wear flamboyant skirts.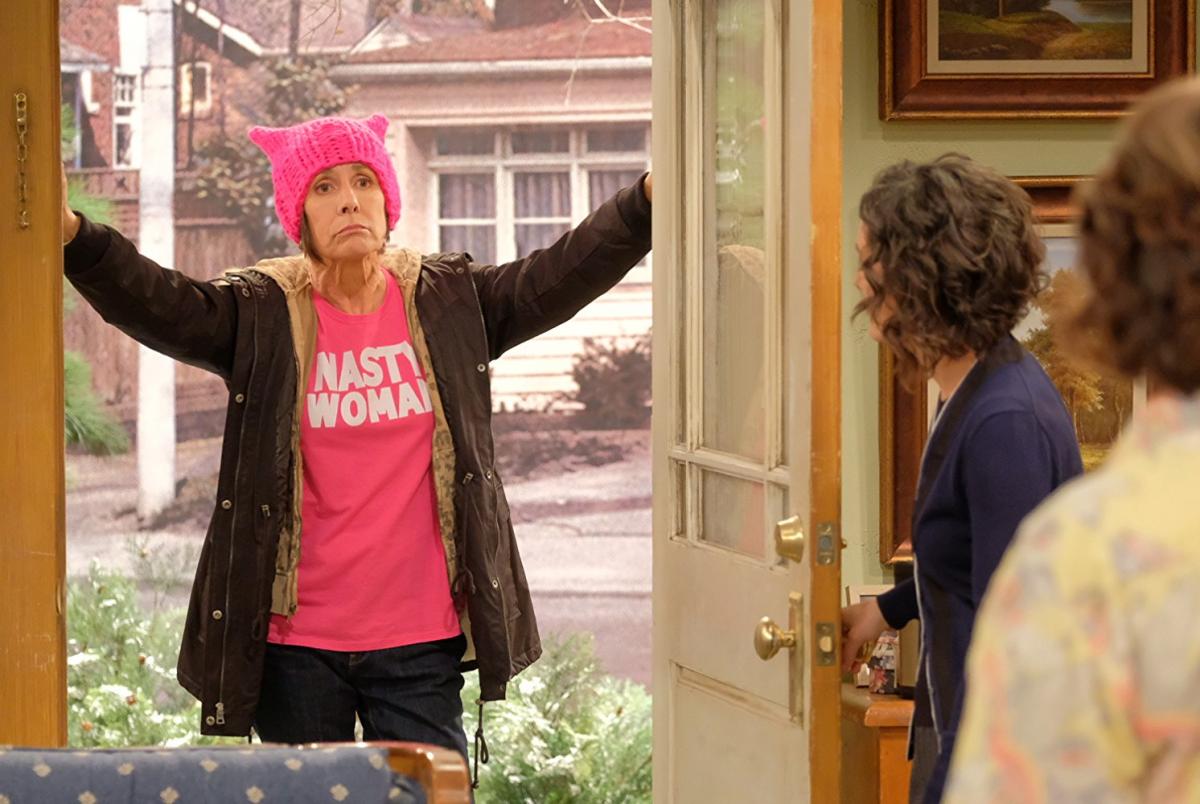 "'Sup, Deplorables." Jackie (LAURIE METCALF) is all-in on the Women's March movement while Roseanne (ROSEANNE BARR) supports Donald Trump.
Despite having so many things on its plate at once, the one-hour series premiere recaptures the feel of the early seasons that made the original ROSEANNE a television staple, foregoing entirely anything that happened on the tail end of the series (much like we don't recognize HIGHLANDER 2, or the last two MATRIX films). The squabbles between Darlene and Becky almost make you see them as teenagers again, not two women in their forties, taking us all right back to the 1990s.
The two main storylines dealt with in the debut episode, "Twenty Years to Life," involve the family's turmoil over Becky's decision to be a surrogate (which may or may not happen, as she's pretending to be 35 instead of 45), which Dan and Roseanne see as selling off a grandchild. Parallel to that is the focus on young Mark and his penchant for skirts. We learn that he identifies as a boy, but just likes the clothing choice so mother Darlene allows him to dress that way. (Unmentioned is where the clothes came from in the first place. I have a ten year old. If we don't put clothes out for him, he'll go three days in the same set of Spider-man pajamas.) Dan worries that he'll get beat up when he starts school, but by the episode's end he's coming to accept both Becky's and Mark's decisions.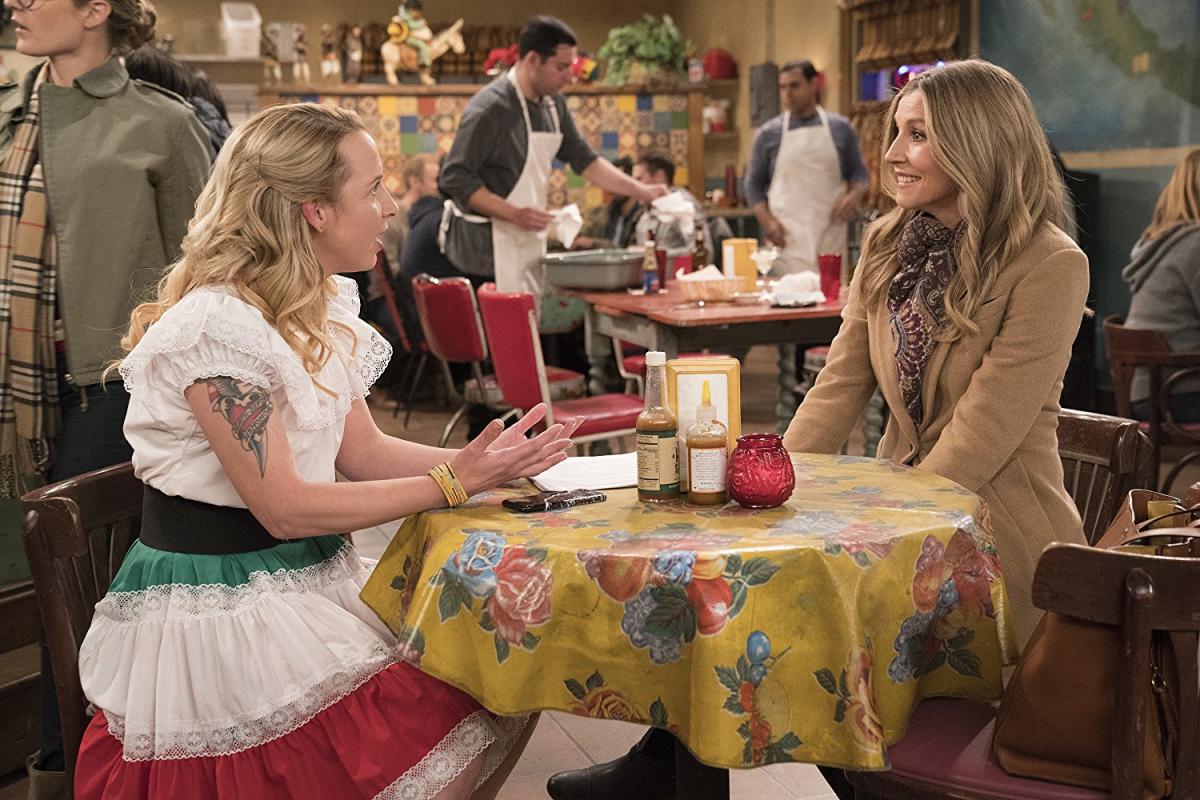 Identical. ALICIA GORANSON and SARAH CHALKE come face to face in the new ROSEANNE.
While tribute is paid to the past, ROSEANNE doesn't dwell in it, separating it from other similar throwback shows like Netflix's FULLER HOUSE. There are no flashback scenes (not yet, anyway), and the show hasn't felt the need to explain the lost details of every single character, present or missing. We know that JOHNNY GALECKI will appear at some point as David, but we don't know as yet what prompted he and Darlene to split up. And while we see a photograph of ESTELLE PARSONS as Grandma Bev, there's no indication that she will be returning to the series as yet.
But we do know who will be returning -- the viewers. The series has been hotly anticipated since it was first announced that the original cast would be returning, While initial reactions on Twitter were congratulatory and even joyous:
Watched the #roseanne revival and I loved it!!!! I've always been a fan of her show!!!! Always have and always will be!!!!

— Caprice (@MsHollywood081) March 28, 2018
i watched the new @RoseanneOnABC last night & it was like coming home to your old room & a warm hug from mom who pinches your side to ask if you are gaining weight! felt so right & so good! #Roseanne

— she gamez (@hashtagsheweird) March 28, 2018
#Roseanne enjoyed the both side perspective. Good to see you guys back. Made me laugh  just like the old day's

— Alexandra (@musicandmykids) March 28, 2018
Wow... It was even better than I'd hoped to be honest, and almost hard for me to wrap my head around . They're older, I'm older. But it felt like I was watching the original @RoseanneOnABC, nothing had changed other than life's topics and time. Simply amazing! #Classic #Roseanne

— Zeke (@ZekeDaHefe) March 28, 2018
#Roseanne watching the Rosanne reboot yessssssss and I'm a liberal. It was funny as ever. This conversation was needed. It's not a left or right thing. We the people agree to disagree baby. This is what makes the world go round. pic.twitter.com/jRuymLl9sH

— Richard S. McClain (@mcclain_r) March 28, 2018
However, it didn't take long for those whose sacred cows got gored to go on the defensive:
For the millionth time we don't want an inside look at everyday Trump supporters. It doesn't matter if it's a #Roseanne reboot or a mainstream media profile. They let their hatred get the best of them, fell for Trump's con and wrecked our country. There is no other story to tell.

— Adam Best (@adamcbest) March 28, 2018
I'm not sure I need to watch this show to see first hand a bunch of poor people who voted against their own best interest and are suffering the consequences of their decision. I can look around the town is live in and see it up close. #Roseanne

— Nurse_Petty_845 (@lizrocks606) March 28, 2018
I will never watch #Roseanne. #Trump support is not funny. It is unfunny. It is scary. Get your scary ass show off TV.

— National_Guard_Mom_RESISTS (@prezli) March 28, 2018
And it's apparently successful enough for people to begin calling for other shows that have been cancelled--and not all that long ago--to get a second shot at the small screen, especially those that seemed to have been cancelled because of politics.
It seems @therealroseanne has SHATTERED the conservative glass ceiling! @ABCNetwork, it's time to BRING BACK #LastManStanding!  #Roseanne #MAGA pic.twitter.com/DilpSsic2S

— Sammy Montoya (@SammyCMontoya) March 28, 2018
We're predicting this is going to continue as long as the new ROSEANNE continues to air--hopefully for another ten seasons.