5 Movies About the Second World War
FTC Statement: Reviewers are frequently provided by the publisher/production company with a copy of the material being reviewed.The opinions published are solely those of the respective reviewers and may not reflect the opinions of CriticalBlast.com or its management.
As an Amazon Associate, we earn from qualifying purchases. (This is a legal requirement, as apparently some sites advertise for Amazon for free. Yes, that's sarcasm.)
Submitted by

Bill Casticart

on Wed, 04/26/2023 - 07:25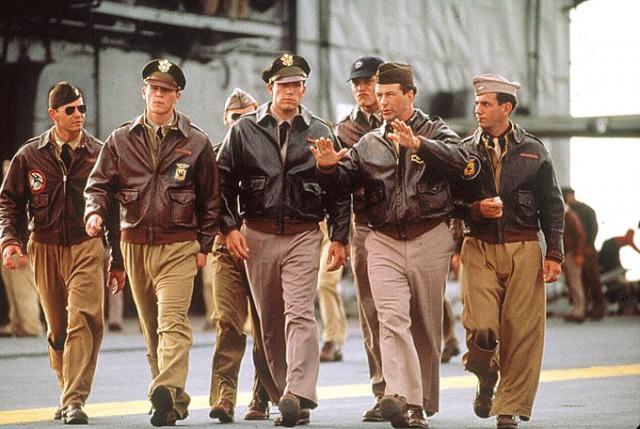 If you look at history, you will notice war as one of the most iconic events that most people cannot seem to forget. Although for some this might seem like a sadistic approach towards human psychology, in real life war is indeed a fascinating topic that has changed the course of history.
Modern society is deeply influenced by the events that happened during the war, in fact, it was reshaped.
Since most people are extremely fascinated by the World War, you will see a lot of books, movies, and TV series based on the world war, being sold and loved by the people. From straight-up blood baths to revolution-leading groups and even horrifying events, you will get to see stories that will keep you up at night. Filmmakers are especially trying to tap into their audience by using world war. However, it seems that slowly, war movies are losing their charm. Most war movies have repetitive stories, so the audience is getting bored. However, we have sorted a list that has a collection of the best war movies that everyone needs to watch.
To watch these movies, we would recommend you to use cable TV as compared to content streaming sites because it offers you a much better channel range, on-the-go streaming option, and on-demand title streaming options as well. If you are looking for a cable TV that offers all these things, we would recommend you use Optimum Cable.
War might seem like a horrific topic that no one wants to talk about but within the war, you will find stories that are worth telling. From exceptional stories of sacrifice to making an environment ready for revolution, you will find humans in the rawest form possible.
Here are some of the best movies with extraordinary entertainment factors that will keep you on the edge of your seat.
1-Imitation Game
Available on: Apple TV, Amazon Video, Google Play Movies, and YouTube
Release: 2014
Runtime: 1hr. 54m
Genre: War, Drama, History
Synopsis: A British mathematician is hired by the government in World War 2 to decipher the most complex code in history that can help them defeat the mighty foe.
If irony had a face, it would be Alan Turing. The man who deciphered the enigma code during World War 2 for the British. Exceptionally mellow yet extremely painful, the story starts with a soft thriller but ends with tragedy. In the world of the ongoing #metoo movement and LGBT rights, this movie highlights the efforts of people who were from marginalized communities. Once a hero who helped the British rule to win the war and saved millions, Alan died a suicidal death due to the criminalization of his sexuality. The movie received great appreciation from critics and the audience. The movie was nominated for different awards including the Oscars. 
2-Pearl Harbor
Available on: Prime Video
Release: 2001
Runtime: 3hr. 3m
Genre: War, Action, Romance
Synopsis: Two best friends working as pilots during World War 2 get into complex circumstances putting their friendship to the test and leading them to take serious decisions.
Although this movie does not highlight the devastating effects of war or the reality of World War 2 it gives it a very different touch. The movie is about two friends who served in the military at the time of World War 2 as pilots. Both friends fell in love with the same woman at different times and the results were devastating. The exceptional story is friendship, love, and sacrifice, this movie is one of the best love stories in the premises of World War 2.
3-Schindler's List
Available on: Google Play, iTunes, and Amazon Instant Video
Release: 1993
Runtime: 3hr. 15m
Genre: War, Drama
Synopsis: Amidst the Jew controversy and semantic sentiments, a German industrialist tries to recruit Jew workers for his company to save them from the horrors of the holocaust.
Where most war movies will give you an insight into the war and the life of the soldiers, this movie has a completely different perceptive. Schindler's List offers a story of a German industrialist looking for Jews workers only. On the surface, the man would look like a posh businesses man ready to buy and recruit factory workers at a low cost but in real life, it was an attempt to save people from death. Exceptionally written and very subtle, the cinematography and contrast of colors further polish the storytelling. This movie is based on a real story and has the extreme power to move the viewer to tears.
4-Valkyrie
Available on: Netflix
Release: 2008
Runtime: 2hr. 4m
Genre: War, Thriller
Synopsis: A group of Nazi officers working under Hitler, designs an elaborate plan to kill the Führer while making sure their plan is perfectly executed without any setbacks.  
If you are looking for a movie that will keep you on the edge of your seat, you need to watch Valkyrie. Exceptionally written with amazing storytelling skills that bind the audience to the screen. The movie mainly revolves around a failed attempted assassination of Hitler. Usually, movies with assignation attempts lack the reality touch but Valkyrie has all the ingredients to make you believe in the reality. The story is based on real-life events, so it is a great history lesson for history buffs as well.
5-Inglourious Basterds
Available on: iTunes, Amazon Instant Video, and Google Play
Release: 2009
Runtime: 2hr. 33m
Genre: War, Action
Synopsis: A group of Jewish soldiers along with a revenge-seeking woman gets on an undercover mission to bring down the government of Hitler amidst war
Imagine a movie by Quentin Tarantino and acted by Bratt Pitt, where accents, dialogues, and snappy comebacks are normal. For most people, a group of people coming back together just to kill Hitler might not seem too interesting, but this movie is an exception. Although a little longer than most movies you will come across, this digital piece is the epitome of storytelling frame by frame. You will not feel like it is a drag or you are struggling with understanding the story and best of all, the movie is a full power-packed entertainment piece.
Bottom Line
Most war movies are high-budget movies so their main attraction is the frame-making and cinematography. However, very few movies can do justice to the story and attract an audience that is more attentive to the plot. The above-mentioned movies have everything that you are looking for.