John Fogerty's 1969 Tour Proves Age Is Irrelevant When You Can Rock
FTC Statement: Reviewers are frequently provided by the publisher/production company with a copy of the material being reviewed.The opinions published are solely those of the respective reviewers and may not reflect the opinions of CriticalBlast.com or its management.
As an Amazon Associate, we earn from qualifying purchases. (This is a legal requirement, as apparently some sites advertise for Amazon for free. Yes, that's sarcasm.)
Submitted by

Jeff Ritter

on Wed, 07/08/2015 - 03:58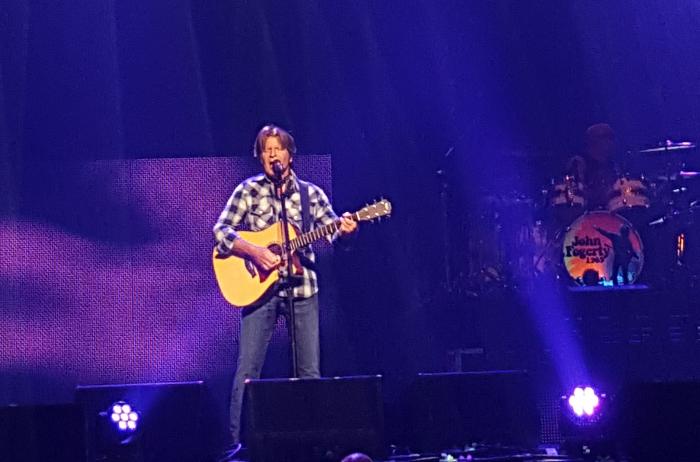 1969. What does that year make you think of--hippies, Woodstock, Vietnam? If you were a alive and old enough to recognize music you couldn't have made it through 1969 without hearing Credence Clearwater Revival. John Fogerty, the band's guitarist, singer and songwriter, was perhaps the most prolific musician ever in a single year. Who else has put out three full albums of all new material in a single calendar year? Not even in the Internet Age does this happen. Credence Clearwater Revival was like a star just bout to go nova—it blazed white hot that year before fading away soon after. Infighting broke up the band and legal battles have kept them from reconciling for decades. Despite the hardships, John Fogerty has endured. He seems pretty happy, just a little more than a month beyond his 70th birthday. He's got an incredible band on a highly successful tour highlighting the glorious year of CCR and promoting his new book, "Fortunate Son: My Life, My Music" coming out this October. To say things are going pretty well for the veteran musician would be an understatement. To underestimate his ability at the age of 70, as I did tonight, would be a colossal mistake.
Seventy is beyond the age of retirement in this country. It's the age of golf, grandchildren and being a part time receipt checker at Sam's Club. When I hit 70 I hope to have even half of Fogerty's vigor. You know what, I don't want to wait that long—give me some of whatever supplement he's taking right now. No, he's not running across the stage and sliding on his knees like a 24 year old David Lee Roth or Vince Neil. His hop at the end of a well-played song probably has a bit less vertical than it once did. I've seen some aging acts in recent years with voices that can no longer hit the high notes on the most cherished hits, or the even the same key. It ends up becoming a karaoke night hosted by the original artist. I always find that disappointing, because most karaoke nights at the local pub are free. I wouldn't want to pay money to have the singer I came to hear hold the mic out so that a bunch of presumably partially to fully inebriated local yokels can drone the lyrics out of tune. I guess that was sort of what I was expecting though as I arrived at the Fabulous Fox Theatre tonight. Other than diminished leaping ability, I'm extremely pleased to repot that John Fogerty may never have been more on top of his game than he was tonight. He put more jams, more showmanship, more fun and certainly many more hit songs into a show that no act half his age could possibly compete with. In short, the old-timer still has it—in spades.
Fogerty's band on the 1969 Tour is nothing short of sensational. Joining the Hall of Famer of stage on guitar is Devon Pangle (guitarist with Beta Wolf) and John's own son Shane Fogerty (also with his own outfit Hearty Har), renowned keyboardist Bob Malone, bassist James LoMenzo (White Lion, Pride & Glory and Megadeth…no, seriously, Fogerty's bassist is from freaking Megadeth!) and drummer Kenny Aronoff (this cat has pounded the skins for everybody, but I think I saw him most recently on the last Chickenfoot tour where he regularly subs for Chad Smith when he's fulfilling his commitments with the Red Hot Chili Peppers). If you'd have told me beforehand that Fogerty was fronting what might loosely be considered a hard rock if not borderline metal band at age 70 I'd have said, "Yeah, right, pull the other one, buddy!" I mean, Credence Clearwater Revival was swamp boogie, wasn't it? Bob Malone was 4 years old in 1969. Devon and Shane Fogerty are pups. LoMenzo is surprisingly 56 but was only 10 in 1969. These guys brought some real rock chops to this gig, with Fogerty and son jamming with one another regularly and everyone getting a turn or two for a solo. John was strumming away all night, except for that one point about halfway through where he did a series of hammer-ons that would have made Eddie Van Halen proud.  His vocals were surprisingly strong and perhaps only slightly tamed from his Woodstock days.
I will freely admit to having expected to hear stripped down Americana, something more akin to Crosby, Stills and Nash. I dig CSN too, so if that was what I got I'd have been perfectly fine with it. No, this felt more like Neil Young only a bit more fun (don't panic, I like ol' Neil as well, but let's face it, he's always been pretty serious). The protest songs are still applicable today, but there's also a joy of comfortable familiarity—those songs are toe-tapping oldies for a guy like me who didn't exist until four years after 1969. The audience appeared to skew a little older than me on average, and I didn't see a lot of teens anywhere, but everyone at the Fox tonight was very appreciative. A "You still got it!" shout during a guitar change prompted a rim shot from Kenny Aronoff and a chuckle and shrug from Fogerty which seemed to reply, "Thanks, friend, but who said I'd ever lost it?"
The set list reads like an infomercial from Time/Life Music. I knew almost every song, and the couple of numbers I didn't recognize were perfectly fine. Each song was somebody's favorite, but the ones that seemed to get the crowd the most excited were "Centerfield" and "Proud Mary." The latter, of course, was also a megahit for Ike and Tina Turner and the former was from Fogerty's comeback in the 1980s. In St. Louis, it's practically the second National Anthem. "Lookin' Out My Back Door" was loudly sung alon to as well.
The setlist:
Born on the Bayou 
Travelin' Band 
Up Around the Bend 
Who'll Stop the Rain 
Lookin' Out My Back Door 
Joy of My Life
Midnight Special (an old Leadbelly cover)
Keep On Chooglin' 
Hey Tonight 
New Orleans (originally by Gary Bonds, I think)
Lodi 
Green River 
Good Golly Miss Molly (Little Richard cover) 
Mystic Highway 
Ramble Tamble 
Whole Lotta Shakin' Goin' On ('ol Jerry Lee Lewis probably wasn't the first, but in STL he's the only one who matters)
Rockin' Pneumonia and the Boogie Woogie Flu (Huey Smith & The Clowns, more famously Johnny Rivers cover)
Long as I Can See the Light 
I Heard It Through the Grapevine (Smokey Robinson & The Miracles cover)
Have You Ever Seen the Rain? 
Down on the Corner 
Centerfield 
The Old Man Down the Road 
Fortunate Son
The Encore:
Bad Moon Rising
Proud Mary 
There was no opening act. John Fogerty and his band brought the heat—literally, there were pyrotechnics!—right from the start and never let up for a rousing two-hour program that still felt like it was over too soon. Seventy years young or not, Fogerty has cracked my all-time top 5 concerts list. Age is irrelevant when you can rock like this. Personally I can't imagine anyone left the Fox disappointed, except perhaps in discovering that it was raining once again. "Who'll Stop the Rain?" indeed?