You are here
Home
›
Home Video
› Arrow Video Brings the Films of William Grefé Out of the Swamp and Into Your Home ›
Arrow Video Brings the Films of William Grefé Out of the Swamp and Into Your Home
FTC Statement: Reviewers are frequently provided by the publisher/production company with a copy of the material being reviewed.The opinions published are solely those of the respective reviewers and may not reflect the opinions of CriticalBlast.com or its management.
As an Amazon Associate, we earn from qualifying purchases. (This is a legal requirement, as apparently some sites advertise for Amazon for free. Yes, that's sarcasm.)
Submitted by

Stu Moran

on Mon, 11/22/2021 - 17:57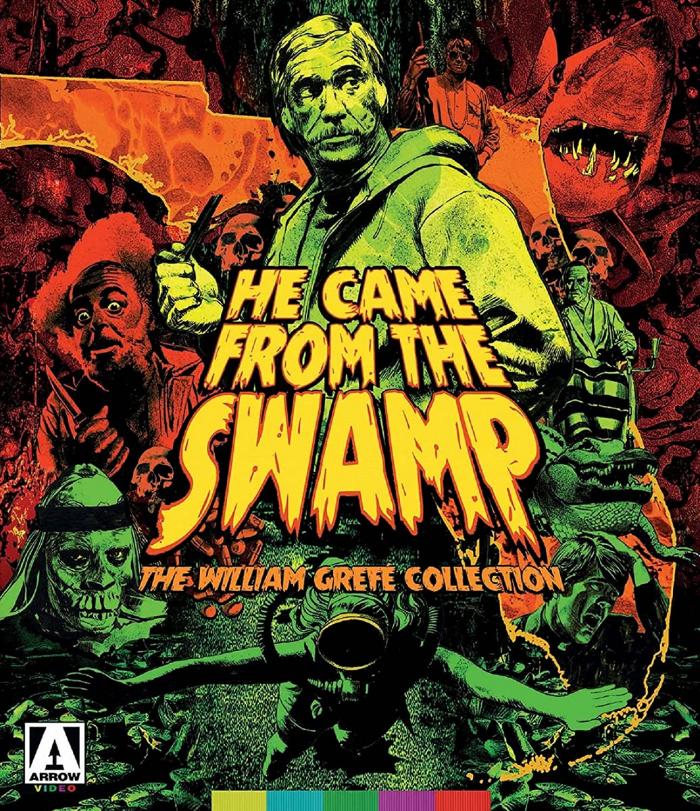 If Ed Wood had lived in the bayous of Florida and dreamed of making films, his name would be William Grefé. Arrow Video collects Grefé's exploitation films in this one spectacular box set which serves as a one stop shop to the mind behind the madness that is William Grefé.
First up from 1965 is Sting of Death, a Beach Blanket Bingo style horror tale that brings rock-and-roll obsessed teenagers face to face with a creature that dwells in the swamp and drowns as many as he can.
The 1966 horror film Death Curse of Tartu is the next feature, and it is a tale of an archaeology professor gone missing. His students take on the task of locating him, starting with the last place he was seen: an area infested with alligators, snakes, and a shapeshifting witch doctor.
1968's The Hooked Generation is Grefé's first outing into drugsploitation films of the time, where three drug running criminals take out a group of Cuban soldiers and Coast Guardsmen off the coast of the Florida everglades.
Following that trend is 1969's The Psychedelic Priest, which also dips into the druggie films of the era. In it, a priest accidentally experiences an acid trip and sets his life on a downward spiral of depression, anxiety and, ultimately, self-reflection.
1970's The Naked Zoo stars screen legend Rita Hayworth in a drug-fueled tale of swinging singles, lies, sex, murder, and deceit. Mixing crime-drama with sexploitation and high tension, you start to see Grefé venture off into different styles of storytelling techniques.
Wanting to cash in on the Jaws blockbuster hit of the time, Mako: Jaws of Death (1976) brings us the tale of Sonny (Richard Jaeckel), a lonely man who keeps sharks as pets. He has a psychic bond with them, and is willing to kill anybody who would seek to hurt the sharks.
Last but not least is 1977's Whiskey Mountain, which also Grefé attempts to cash in on the hicksploytation or hillbillysploytation (if those are even words) in the vein of Deliverance and The Hills have Eyes. Unsuspecting female campers get taken hostage by mountain dwelling folk, and it's up to the men who were left behind to rescue them from the horrors the family is subjecting them to.
The transfers from each film are hit and miss for each one. Arrow did the best job they could compiling all the footage from 16mm to 35mm negatives, moldy film reels, and spliced together drive-in footage that really does give the set an accurate grindhouse feel, and teleports you into that era, right into the swamps from which these films were born.
I highly recommend this set to anyone who doesn't know anything about Grefé's work and wants to round out their collection of Grindhouse Exploitation Cinema.
4.5/5.0
SPECIAL EDITION CONTENTS
Seven William Grefé films: Sting of Death (1966), Death Curse of Tartu (1966), The Hooked Generation (1968), The Psychedelic Priest (1971), The Naked Zoo (1971), Mako: Jaws of Death (1976) and Whiskey Mountain (1977)
Brand new, extended version of Ballyhoo Motion Pictures' definitive documentary They Came from the Swamp: The Films of William Grefé
High-Definition Blu-ray (1080p) presentations on 4 Blu-ray discs
Original uncompressed mono audio for all films
Optional English subtitles for the deaf and hard of hearing
Reversible sleeves featuring newly commissioned artwork for each of the films by The Twins of Evil
STING OF DEATH (1966) + DEATH CURSE OF TARTU (1966)
Brand new introductions to the films by director William Grefé
Archival audio commentaries for both films with William Grefé and filmmaker Frank Henenlotter
Beyond the Movie: Monsters a-Go Go! – a look into the history of rock 'n' roll monster movies with author/historian C. Courtney Joyner
The Curious Case of Dr. Traboh: Spook Show Extraordinaire – a ghoulish look into the early spook show days with monster maker Doug Hobart
Original Trailers
THE HOOKED GENERATION (1968) + THE PSYCHEDELIC PRIEST (1971)
Brand new introductions to the films by director William Grefé
Archival audio commentaries for both films with director William Grefé and filmmaker Frank Henenlotter
Beyond the Movie: Thet's Drugsploitation! - a look inside the counter culture films that inspired The Hooked Generation with author/film historian Chris Poggiali
Beyond the Movie: The Ultimate Road Trip - the story behind The Psychedelic Priest with Chris Poggiali
The Hooked Generation behind-the-scenes footage
The Hooked Generation Still Gallery
THE NAKED ZOO (1971) + MAKO: JAWS OF DEATH (1976)
Brand new introductions to the films by director William Grefé
Brand new audio commentaries for both film with William Grefé
William Grefé's original 92-minute Director's Cut of The Naked Zoo, painstakingly reassembled from various source materials
Alternate version of The Naked Zoo, as reedited by its original theatrical distributor, featuring added gratuitous nudity and a performance by blues-rockers Canned Heat - 100% non-director approved!
Beyond the Movie: That's Sharksploitation! - a deep dive into the history of shark films with author/film journalist Michael Gingold
The Aquamaid Speaks! - a brand new audio interview with Mako actress Jenifer Bishop
Sharks, Stalkers, and Sasquatch - a brand new audio interview with Mako writer Robert Morgan
Mako Super-8 Digest Version
Mako Original Trailers and Promos
Stills Galleries
WHISKEY MOUNTAIN (1977) + THEY CAME FROM THE SWAMP: EXTENDED CUT (2020)
Brand new extended cut of They Came from the Swamp: The Films of William Grefé
Brand new introduction with William Grefé for Whiskey Mountain
Brand new audio commentary for Whiskey Mountain with director William Grefé
The Crown Jewels - featurette on independent film studio and distribution company Crown International Pictures
William Grefé Short - Bacardi and Coke Bonanza (1981)
On Location in Miami - an archival tour of filming locations with director William Grefé
Whiskey Mountain Trailer and Promo Gallery
They Came from the Swamp deleted scenes
Bonus Exploitation Trailer Gallery