"Bring Me My Broadsword and Clear Understanding!"
FTC Statement: Reviewers are frequently provided by the publisher/production company with a copy of the material being reviewed.The opinions published are solely those of the respective reviewers and may not reflect the opinions of CriticalBlast.com or its management.
As an Amazon Associate, we earn from qualifying purchases. (This is a legal requirement, as apparently some sites advertise for Amazon for free. Yes, that's sarcasm.)
Submitted by

Dennis Russo

on Sun, 09/24/2023 - 23:45
Jethro Tull Releases 40th Anniversary Vinyl Edition of "The Broadsword and the Beast"
As a fan of Ian Anderson and Jethro Tull for over 50 years, I was eager to see and hear what this new 40th Anniversary edition of the "The Broadsword and the Beast" album would contain. I've always found anything like this that the "band" put out in the past to be full of goodies and musical gems. Happily this set is no exception.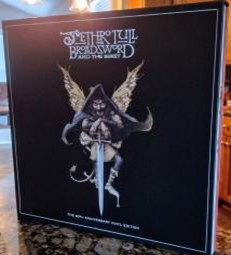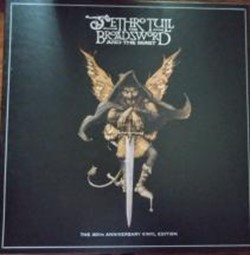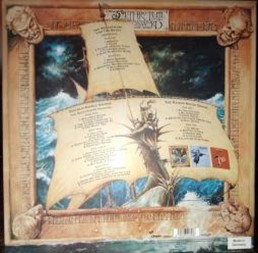 Nestled between "A" and "Under Wraps", Broadsword is/was the 14th studio album from the group, and the version contained in this set is a 2022 remix by Steven Wilson, who has done several classic Tull albums to date, including "Stand Up" and Aqualung."
Also included in this open sided box set made in Germany from Chrysalis is a 2-album set titled Double-Edged Sword: The Broadsword Sessions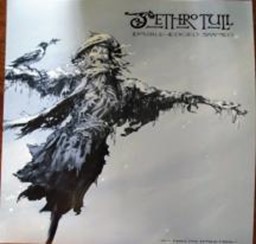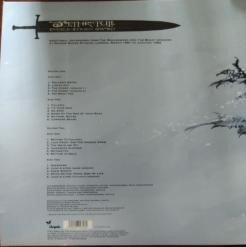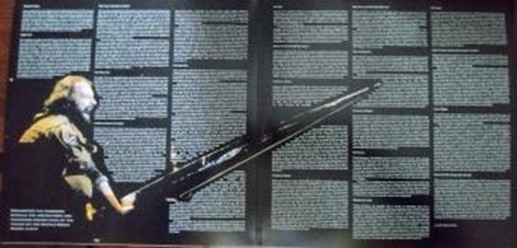 which contains additional songs from the "Broadsword" sessions at the Maison Rouge Studios, and which has a cover of "Jack Frost and the Hooded Crow" by none other than Iain McCaig himself; and it's so cool looking and dare I say that in it I might detect a bit of Ian Anderson's face in the image of the scarecrow. (I will probably end up framing this album simply for the cover.). Opening the gatefold cover reveals snippets from Ian Anderson detailing the inspirations behind each of the songs contained in this album.
There is also another album, The Maison Rouge Demos, which is pretty self-explanatory. But it is neat in that it has some songs that are on the other two albums and a couple that are not.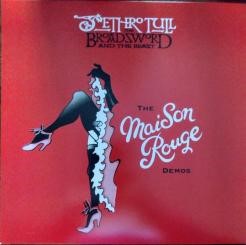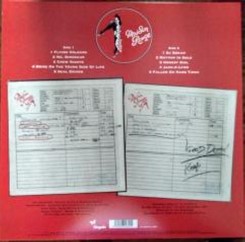 To top it all off (the icing on the cake, so to speak), there is the almost obligatory boxed set booklet. This is a nicely rendered booklet of album dimensions on fairly heavy glossy paper stock, chock full of pictures of the band, both posed and unposed, and in different places and scenarios. It is filled with a wealth of information around the album and what it took to bring it all together, and the state of the band at the time. A nice read, but make sure your fingers are clean as the booklet is glossy print.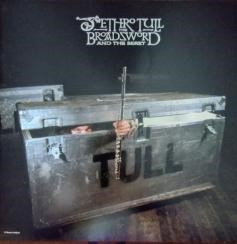 As the band has gone through a plethora of personnel throughout the decades, I think it best to name the band members that took part in this album: there is Ian Anderson on vocals, flute and acoustic guitar; Martin Barre on electric and acoustic guitars; David Pegg on bass guitar, mandolin and vocals; Peter-John Vettese on piano, synthesizers, vocals; and Gerry Conway on drums and percussion.
This album was/is one of my favorite albums, not just because of the music contained therein, but also for the album cover artwork. Next to the artwork of Burt Silverman's Aqualung, the cover art of Broadsword, done by a young Iain McCaig, is stunning and captivating. It makes you look at it and concentrate on all the details going on in it. You might be more familiar with some of Iain's later work on Star Wars (he designed Padme' Amidala and Darth Maul) as well as other works too numerous to mention here, and this album cover is no less gorgeous than all his other creations! There are even some "Easter Eggs" he put into the cover, and to date the only one I've been able to ascertain are that of the Cirth runes that line the edges of the front and back cover are taken from J..R.R. Tolkien's "The Hobbit" -- and you'll find if you take the time to look, they spell out the opening lines from the song "Broadsword!" How awesome is that!?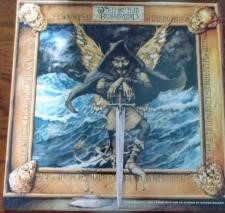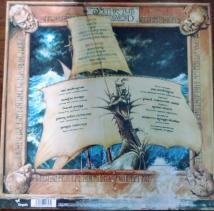 The artwork in this reissue and box is beautiful, and I am so glad; because, sadly, after 40 years my original copy cover has shown some wear...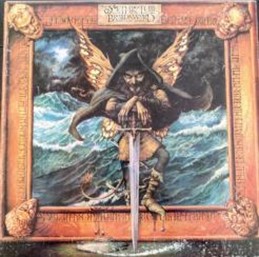 …this new one I will make sure stays pristine!
I mentioned that I have an original copy of the album, and I made sure before I spun the new disc that I listened to the original one several times to make sure it's "sound" was fresh in my mind. I am very happy (but not surprised) to say that when I did put the new copy on the turntable, I was pleased to hear that Mr. Wilson did his usual exemplary fine job of remastering, in that the differences I heard were subtle -- distinct, but subtle.
All too often these days when someone gets the hand on remastering classic albums, they quite frankly butcher it. Sergeant Pepper's comes to mind immediately. Give me the original of that album any and every day of the week. On this album I noticed a bit more immediacy and natural tone to the instruments, as well as a slightly deeper sound stage presence. There seems to be a bit more quiet between the instruments that leads me into this sense of depth. The original is good, this is simply better.
To me, Tull songs -- and in particular Ian Anderson's writing -- are best exemplified when he creates a storyline, one that draws you into what is going on in the song, not just you listening to it. He weaves lyrics into songs that paint a vivid picture in your mind's eye, something which he has done magnificently through the years on albums such as "Aqualung", "Heavy Horses", "Songs from The Wood", and "A", just to name but a few. This album is no exception; the song "Broadsword and the Beast" conjures up this almost Nordic tale of far-off invaders from another land in the distance, coming to pillage and plunder, and the townspeople setting forth their call to arms to ready their men and protect their families and repel them, with a driving drum beat and distant horns and Martin's guitar work. It's marvelous! "Beastie" is a haunting, nightmarish tale that has a synth sound to it reminiscent of the album "A" but not as strongly used or as eerie. "Fallen on Hard Times" is a political song that is perhaps even more relevant today than it was 40 years ago. The album's first side ends with the short "Slow Marching Band" which, to me, has an almost melancholy Auld Lang Syne feel to it.
As you listen to the songs on this album and the accompanying albums, you get the sense that some of these songs could have been happy on earlier or later albums. For instance, the first song on the side one of the "Double-Edged Sword" album "Roland's Entry" could have easily been included on this album's predecessor "A" and not felt out of place. "Jack Frost and the Hood Crow" spins a tale that would have been equally at home were it on the "Songs From The Wood" album as would have "Pussywillow" off of "Broadsword".
To me this album is a complete success and worthy of the treatment it is given in this reissue. I'm taking nothing away from the other albums in the set, though, as they each have gems of their own. On the "Double-Edged Sword" album, the first song on side 2 of the first album, "Calafel," has wonderful guitar work pin-pointedly spread across the sound stage, while the first song on the first side of the second album in the set "Return To Calafel" is an acoustic version of that song (albeit sadly much shorter).
"The Swirling Pit" is an amazing song, an instrumental that starts off with an electric blues guitar that gives way to a minstrel mandolin. How cool, and only a tune that Tull could have conceived! "Jack-A-Lynn" is a song of a personal nature to Ian that he speaks about on the liner notes, and is recorded in two ways on the "Double-Edged Sword" album and once on the "Maison Rouge Demo." All three are sooo good!
The "Demo" album is fine in its own right, as it gives you a chance to hear how some of the songs evolved from the recording on the demo to the finished product, as well as a couple that are not on either of the two other albums in the set.
Taking all things in, and there's a lot to take in here!, this boxed set of one of Jethro Tull's classic albums is worth its weight in gold as it is a treasure trove of wonderful music and insights that have been exceptionally curated, wonderfully recorded, and finely presented. It's a stellar example of why vinyl records are good, better, BEST over obsolete CD's and all the streaming  format nonsense!
A must have for any and all Tull fans, vinyl Fans, music fans!
The BROADSWORD AND THE BEAST:
Side 1
1. Beastie
2. Clasp
3. Fallen On Hard Times
4. Flying Colours
5. Slow Marching Band
Side 2
1. Broadsword
2. Pussy Willow
3. Watching Me, Watching You
4. Swal Driver
5. Cheerio
DOUBLE-EDGED SWORD-THE BROADSWORD SESSIONS:
Side 1
1. Roland's Entry
2. Lights Out
3. The Curse (Version 1)
4. The Curse (Version 2)
5. Too Many Too
Side 2
1. Calafel
2. I'm Your Gun
3. No Step
4. Down At the End of Your Road
5. Mayhem, Maybe
6. Commons Brawl
Side 3
1. Return To Calafel
2. Jack Frost and The Hooded Crow
3. The Swirling Pit
4. Inverness Sleeper
5. Motoreyes
6. Rhythm in Gold
Side 4
1. Overhang
2. Jack-A-Lynn (Band Version)
3. Crew Nights
4. Drive On the Young Side of Life
5. Jack-A-Lynn (Acoustic Version)
THE MASON ROUGE DEMOS
Side 1:
Flying Colours
Me, Dinosaur
Crew Nights
Drive On the Young Side of Life
Seal Driver
Side 2
1. DJ Dream
2. Rhythm In Gold
3. Honest Girl
4. Jack-A-Lynn
5. Fallen On Hard Times