Michelle Berting Brett: Jazz, Torch & Ancient Pop
FTC Statement: Reviewers are frequently provided by the publisher/production company with a copy of the material being reviewed.The opinions published are solely those of the respective reviewers and may not reflect the opinions of CriticalBlast.com or its management.
As an Amazon Associate, we earn from qualifying purchases. (This is a legal requirement, as apparently some sites advertise for Amazon for free. Yes, that's sarcasm.)
Submitted by

Dennis Russo

on Fri, 11/03/2023 - 22:47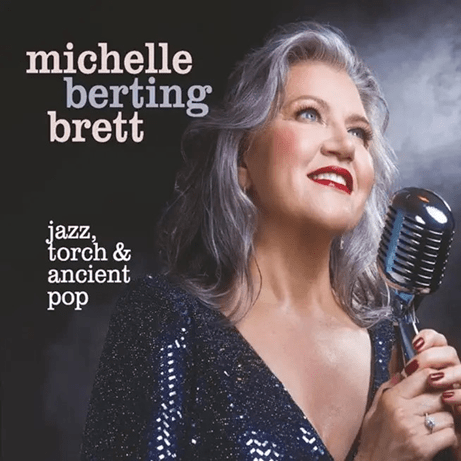 I have often said that one of the greatest enjoyments of listening to music is when I discover the talents of an artist I hadn't heard of before, performing so wonderfully to my ears that it actually makes me angry at myself for not having enjoyed their music sooner.
This album, "Jazz, Torch, and Ancient Pop," is one such album, and Canadian songstress Michelle Berting Brett is one such artist. As I have learned, Michelle has been best known for touring the country since 2013, performing a highly successful show called "We've Only Just Begun: Carpenters Remembered" because the quality of her voice has been repeatedly compared to Karen Carpenter.
Now it is no secret that I consider Karen Carpenter to have had one of the purest, most beautiful voices I have ever heard. So upon hearing this, I simply had to hear Michelle sing, and what better way than to listen to her new album mentioned above, in which she not only covers Carpenters' songs but other staples from the genres listed in the title (track listing at the bottom)… Jazz, Torch, and Ancient Pop is also the name of her nightclub show, which she started in her then home base of Toronto, Canada, and was widely known throughout (she and her husband, Producer Mark Brett, are now based in Connecticut).
When listening to a new album or CD, I love first impressions… What does this new album hit me with right out of the gate? What instant emotions does it conjure? I know many reviewers who don't like to do that; they are afraid to let those first thoughts dictate their review until they've had time to dissect every aspect and note of the album. "Feelings? Emotions? Bah! No place for that in a review!" Well, not this kid. Hit me with it and hit me she did!
Wow, this album was and is amazing right out of the gate! As soon as she started the first song, "If I Were a Bell" (from one of my favorite musicals of all time, "Guys and Dolls"), I was blown away by the crisp, clear, classic, intimate nightclub sound that unfolded before me. Michelle's voice is indeed stunning, and her backing musicians - Rob Thaller on Piano, Drew Birston on bass, Jay Boehmer on drums and percussion, and Anthony Panacci on organ - are superb. I could easily hear each musician's instrument play throughout the song (all songs) without ever detracting from Michelle's vocals, unless they were called upon for a short solo. I could just as easily sit back and listen to them play as one. This is something I usually only find capable of doing at a live jazz venue.
This is a testament to how well this album is recorded too. The soundstage was wide enough for a jazz ensemble and deep enough to put the drums behind the bass and piano, which seemed placed behind and to the side of Michelle. There was a darkness/quietness between each of the musicians that enabled me to hear, as I mentioned, each of them, giving the impression of a real performance in an intimate setting. The strings on the bass had that organic, soft echo sound to them that often gets lost or not heard. The piano never sounded "tinkly" or harsh, and the drums too had that organic feel to them, with the cymbals having that nice metallic ring to them without echoing off into infinity… Superb in my mind's eye.
A special shout-out here to those musicians too. If one were to mute out Michelle's voice, what I heard was as good a jazz group on their own right as I have heard anywhere, especially the bass, drums, and piano. They were so tight, and their playing so articulate. They complemented her perfectly, as if improvising on stage in a club. Laid out in an intimate sound stage between my speakers, I was thinking how much they reminded me of an early Bill Evans trio.
But the beauty here is that you don't have to mask Michelle's voice, and besides, who would want to!? They accompany her so perfectly, set back behind her voice; they let her weave her magic in such a comprehensive way that each song is intoxicating. She literally draws you into each song.
I love each song on this album! To call out a few here, "Lady Is A Tramp" is sung and played with such feeling. "Frenzi" sounded so nice even if I couldn't understand the words (they were in Spanish). With "(They Long To Be) Close To You," I finally got to hear how she sounds singing one of my favorite Carpenters songs, and I emphatically agree with everyone's comparisons of Michelle's voice to Karen's. Michelle pays homage to the original version while adding her own touches, flavor, if you will, to it. Just enough to make it her own, and her vocals are exceptional on it. Several instances, I found myself thinking it was actually Karen singing.
"Honeysuckle Rose" is sung in such a nice nightclub jazz sort of way. The piano, bass, and drums here were… in a word… so cool (okay, two words).
Coming around to some of the Ancient pop songs (never heard them called that, and don't exactly know how that makes me feel, as I bought the original songs when they were new) "To Sir With Love" is certainly not the Lulu version! I never would have thought that this song could have been sung with a jazz flare, but son-of-a-gun, Michelle carries it off here with aplomb. Same is true here with The Guess Who's "Undun." The way Michelle sings it, I believe I actually prefer it to the original, and think it lends itself to being more of a jazz song. In fact, as she sang the song, I kept thinking to myself this song could easily be the theme song to the next James Bond movie. It has that same classic sound to it those early Bond films had (ala Shirley Bassey and Tom Jones).
"Moon River" ends the album, and I couldn't think of a better song to end it with. Michelle sings it in the perfect style for the words. Her singing lets the aura, mood, and feeling of Johnny Mercer's lyrics come shining through as I've never heard them before. Such soulfulness, it oozes with love and sultriness.
Yep, I love it when I get a chance to hear a new-to-me artist for the first time, and they blow me away as I have been blown away here. And what a way to hear Michelle for the first time, on an album that is one great song sung and played as well as recorded magnificently, one after another, on one album.
I can't say enough good things about this CD, nor recommend it more highly than to say if you love music, then this album should be on your shortlist of next albums to buy…period…end of story…drop the mic.
Songs:
1. If I Were a Bell
2. The Lady is a Tramp
3. Spring Can Really Hang You Up the Most
4. Frenesi
5. (They Long to Be) Close to You
6. Honeysuckle Rose
7. To Sir with Love
8. Just in Time
9. Skylark
10. Undun
11. They Can't Take That Away from Me
12. Moon River