You are here
Home
›
Home Video
› Sticky Fingers Grabs You And Doesn't Let Go ›
Sticky Fingers Grabs You And Doesn't Let Go
FTC Statement: Reviewers are frequently provided by the publisher/production company with a copy of the material being reviewed.The opinions published are solely those of the respective reviewers and may not reflect the opinions of CriticalBlast.com or its management.
As an Amazon Associate, we earn from qualifying purchases. (This is a legal requirement, as apparently some sites advertise for Amazon for free. Yes, that's sarcasm.)
Submitted by

Dennis Russo

on Thu, 10/05/2017 - 09:54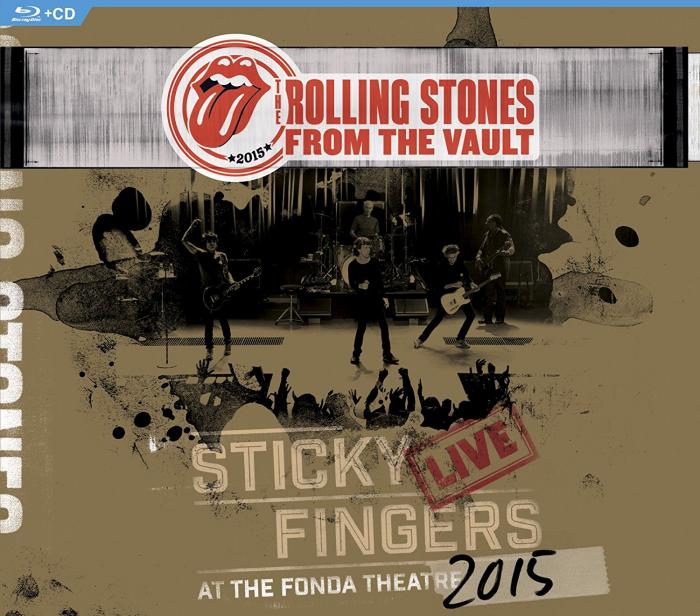 This Blu-ray/DVD/CD set from Eagle Rock Entertainment covers the Stones in an intimate setting at the Fonda Theater in LA in 2015, at the start of the North American Zip Code tour, and captures the first time the band had ever (and, so far, has ever) played the entire STICKY FINGERS album in concert (along with some other great Stones' songs).
There are some people out there who stand on soap boxes and proclaim that the second Generation rockers should all just give up and call it a career. While that could be true for some, it has never been and never will be true of the Rolling Stones. The one question I am left to ask after listening and watching this set is, "How the heck do they do it?" How on earth do they still play with as much passion and energy as they ever have, all being in their 70's! (Except Ronnie Wood, of course, who was only in his late 60's at the time of the concert.) And do you hear that sound? No, that's not Yankee Aaron Judge hitting a home run out of a park that people said couldn't be done. No, it's Eagle Rock Entertainment hitting a blast into the stratosphere with this set!
I decided to listen to the CD first, so as not to have my opinion swayed by the video of the aging rockers lest it make me be forgiving or overly critical of the music unfairly because their age.
From the first song, "Start Me Up," I was struck by how good the band sounded. If I were to put someone in my listening chair and ask them when do they think this concert was,, I'd be willing to bet they'd say late seventies or early eighties. The music I was listening to was being played with such energy and so well, it stupefied me! It didn't hurt that it was mic'd perfectly and mixed to perfection (which at this stage of the game with the Stones, nothing less would be expected). Each instrument was clearly and cleanly placed within the sound stage, with Ronnie Wood's guitar on the left and Keith on the right, and I could follow them across the sound stage as they walked about in front of me. Charlie Watts set nicely to the rear and Mick--well, Mick sounded as he ever has. This was a show that absolutely belied their age.
STICKY FINGERS was never a loud rocker of an album. Many of the songs were blues-ish, country-ish, and dealt with drugs. But it is so good and hearing all of the songs on it here now was such a moment! Though not played in the order of the album, and slightly different as compiled on the DVD, the concert flowed with precision that got the audience up and involved, even when playing a slow blues gem such as "I Got The Blues."
The audience was clearly heard throughout the concert, but it never overpowered the music--again a wonder mixing job. From start to finish, some 79 minutes worth, the CD transported me into the show.
Ronnie Wood played some of the best lead I'd heard him play in years, especially his slide work, proving again its not what you play but how you play it. Mick's voice was strong, and never missed or cracked. It was just a great concert, to go from "Sway" into "Dead Flowers" to "Sister Morphine" to "Wild Horses" was something I never thought I would hear. And hearing Keith play his 12 string while Mick sang the blues was--well, I don't have words for how cool that was.
When it was time to play the concert Blu-ray, I was a little apprehensive because of the wonderful musical experience I had listening to the CD. I was worried that seeing the Stones as they really are, not as I had imagined them, might let me down. Well, I tell you that lasted all of three minutes! Yes, these are old men and the years have not been kind to them, but what a show! Ronnie and Keith moved about as nimbly as they ever did, and Mick Jagger must have a fountain of youth in his dressing room because he bounced about and worked the audience into a frenzy over and over in ways that a man in his 70's has no right to be able to do!
Shot beautifully, the scenes of Mick singing, flanked by Ronnie and Keith with Charlie sitting behind them looking like his regal self, was just awesome. (Charlie does look a lot like William Hartnell, the first Doctor WHO these days.) The audience, too, was filmed in the the right ratio to the concert, and what I thought was cool was that while we did get a glimpse of several big name stars and musicians attending the show, the entire crowd was as one. And while many of the women and men you see in the audience were of the L.A. chic crowd, the initial thoughts I had--that those Hollywood beautifuls were there only because it was going to be cool to be seen there--was quickly dispelled when it became apparent that they were singing along with Mick to every song, even the very rarely (if ever) played ones. Yes, they were the "in crowd," but this night they were like most of the world: a Stones fan.
This show was really cool also because they played a tribute song, "Rock Me Baby," to BB King, who had passed away a short time prior to the show.
What was also cool about the DVD was that it had interviews interspersed between some of the songs, talking about the album, the songs, the musicians, and even the possible model who posed for the cover. (They even had two people who said it was them!) Charlie Watts, who I had a lot of trouble understanding, spoke highly of their new sax player, Tim Ries, who took the place of the great Bobby Keys who had passed away the year prior.
The star of the concert as I mentioned earlier--and feeling even more so after watching the DVD--was Ronnie Wood. The coolest of all, though, is Charlie. With him you just get this cool stoic man who knows how to play the drums in a rock band and doesn't have to twirl his drumsticks or beat the drums so hard the sticks break. Does that mean Keith and Mick are anything less? No way! They transcend rock, and this DVD captures it all brilliantly as you watch and listen to rock music the way its supposed to be played. Again, pick any instrument or voice you want, and this is mixed so well you won't have any trouble following it. It's that good; easily the best concert video sound I've ever heard!
The DVD has 3 bonus tracks (shown below). I'm not sure why there are not included in the rest of the set, but oh well, at least they are included.
There are millions of Stones fans throughout the world; millions of those fans have seen The Rolling Stones live, and millions more have never had the chance. Of the millions of fans who have seen them, many have never heard them play some of these songs, and none have never heard them play the whole album. Here now is the solution to all their problems, brought to you in crystal Blu-ray clarity and stunning CD sound.
There is a version of this set that has 3 LPs, and me being a vinylphile at heart can only imagine how well that sounds, but if you don't have a turntable, do not fret: you will not be disappointed by this CD and Blu-ray/DVD combo!
This set...this concert...is one for the ages, and one for every age. If you're a Rolling Stones fan, don't let this set slip by. It'ss that good!
Songs on CD:
Start Me Up
When The Whip Comes Down
All Down The Line
Sway
Dead Flowers
Wild Horses
Sister Morphine
You Gotta Move
Bitch
Can't You Hear Me Knocking
I Got The Blues
Moonlight Mile
Brown Sugar
Rock Me Baby
Jumpin" Jack Flash
I Can't Turn You Loose
Songs and Order on DVD
Start Me Up
Sway
Dead Flowers
Wild Horses
Sister Morphine
You Gotta Move
Bitch
Can't You Hear Me Knocking
I Got The Blues
Moonlight Mile
Brown Sugar
Rock Me Baby
Jumpin' Jack Flash
Bonus Tracks
All Down The Line
When The Whip Comes Down
I Can't Turn You Loose