You are here
Home
›
Home Video
› Jeff Beck Live at the Hollywood Bowl: You've Gotta See and Hear It to Believe It! ›
Jeff Beck Live at the Hollywood Bowl: You've Gotta See and Hear It to Believe It!
FTC Statement: Reviewers are frequently provided by the publisher/production company with a copy of the material being reviewed.The opinions published are solely those of the respective reviewers and may not reflect the opinions of CriticalBlast.com or its management.
As an Amazon Associate, we earn from qualifying purchases. (This is a legal requirement, as apparently some sites advertise for Amazon for free. Yes, that's sarcasm.)
Submitted by

Dennis Russo

on Mon, 10/09/2017 - 10:58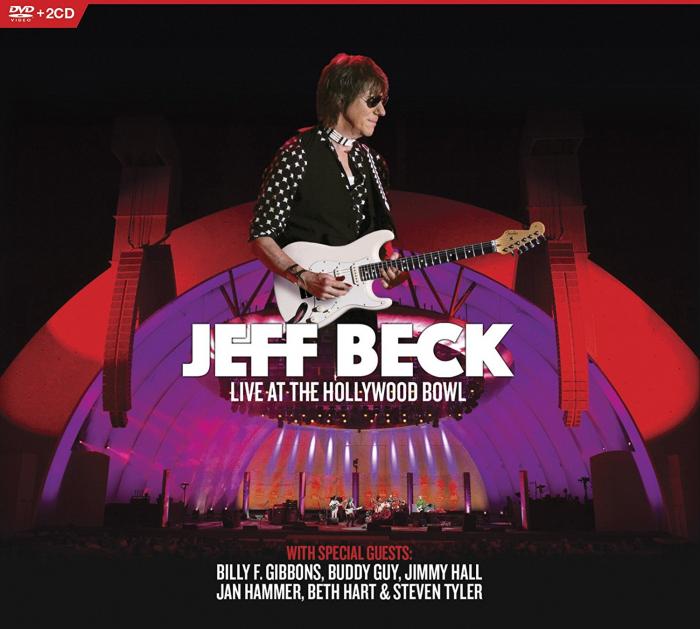 During the Summer of '16, something monumental happened…
Jeff Beck, one of the greatest guitar players rock has ever known, celebrated his 50th anniversary in the business by having a concert at the celebrated Hollywood Bowl amphitheater, along with some very special guests he's worked with over the years.
At 72 years of age at the time of the concert, you would think it more of just a tribute concert. Not so at all. This was no going-through-the-motions event. Jeff was in perfect form, and played as astonishingly as he ever had. Think about what I just said: one of the greatest (in anyone's list of greatest guitar players ever) played as good as I have ever heard and seen him--at 72 years old!
Now, if (like me) you didn't know about this, or couldn't even go if you did, the music lovers at Eagle Rock Entertainment wove their magic and were smart enough to capture it for all of us to see and hear.
This DVD / 2-CD set captures the evening in stunning sound and video. The video portion, though not Blu-ray, is crystal clear, and the camera work focuses (as it should) on Jeff's playing. They do a great job of moving about the stage, but often coming back with close-ups of Jeff's playing without just pinning the camera on his hands (although that would have been fine with me too if they'd had). The video was so vivid you could see the strings bend and the skin on his finger moved as he picked them (one of the characteristics of his style is that he does not use a pick, but his finger, although he does use a slide at times too). The sound was also very good, which is not always easy at an outdoor venue, but when it is done well the openness of the sky and air allow a certain feel to the sound that you can't get indoors.
The sound on the CDs is equally well-recorded, and on a good stereo the sound stage, imaging and venue air are captured nicely.
The concert itself is one for the ages, with a special guest line up that featured Jimmy Hall, Jan Hammer, Steven Tyler, Buddy Guy, Billy Gibbons and Beth Hart. But this wasn't just a concert of "golden oldies." Nay, Jeff and his current band lineup, including bassist Rhonda Smith (who played with Prince) and rhythm guitarist Carmen Brandenburg (who together I don't think add up to Jeff's age), as well as vocalist Rosie Bones played songs from their (then) new album. Mr. Beck does not sit on his laurels, and the songs from this album are as cutting edge as he is.
What I like about this concert is that we get to hear all these great guests sing and perform while Jeff just plays. All too often guitar greats don't weave their magic while they sing; they have to concentrate on their vocals and then stop singing so they can concentrate on playing the guitar. The only ones I know of who could do that were Johnny Winter and Stevie Ray Vaughn. Sadly, both of them have passed, but I did get to see Jeff and Stevie play together at Madison Square Garden once back in the eighties, and it was incredible! So here we get to just listen to incredible guitar work with great singing going on at the same time.
Both Jimmy Hall and Beth Hart were in great voice, as was Steven Tyler, Buddy Guy and Billy Gibbons. Perhaps my favorite part of the show was when Buddy Guy came out (who is 8 years Jeff's senior, and another finger picker) and they played "Let Me Love You." Buddy can still hang with the best of them, and to hear and see both him and Jeff play off of each other was great.
Another high point was when Jan Hammer came out and played several songs with Jeff. Now, if all you know of Jan Hammer is Miami Vice, then do us all a favor and crawl under a rock somewhere and wither away. Jan hammer is one of the most acclaimed and distinctive keyboardists you will ever hear, and watching him feed off of Jeff and lay down a sound that was at once Jan's and at the same time perfectly in tune to what Jeff was playing was magical. On the DVD you can see Jan playing his one keyboard looking at Jeff as he played, and once he could sense where Jeff was going with the tune he just looked down at his keyboard and played as only he can.
Yet another great moment was seeing Steven Tyler perform with Jeff. You could see the fulfillment of a lifelong dream in Steven's eyes, and hear the passion in his voice to play "Train Kept A-Rollin'" with Jeff.
I can't say enough good things about this 2-CD/single DVD set; not enough about Jeff Beck. Perhaps Billy Gibbons (a great guitar player in his own right; check out his pre- and post-MTV era music) said it best when he said to the audience, "50 years, and it will be another 50 years before you see another one of him." I'd dare say we will never see another Jeff Beck, but fortunately for us right now, we still have him and thanks to Eagle Rock Entertainment we can see and hear him at his best anytime we want.
If you are a fan of the guitar, then this is required listening. If you know Jeff Beck, then I don't have to urge you to get it. If you're young and by chance never heard of him, then this is your opportunity to listen to a guitarist considered great by master guitar players in the music industry.
As for the the music itself? Awesome, and it's all here from The Yardbirds to the present, and all the stops along the way (and you'd do yourself a favor and pick up some music from the guests who performed with him; you'll expand your horizons). He even does a rendition of "Purple Rain" in honor of Prince, who had passed away a short time before this concert, and brought all of the guests out to sing while Jeff played. All I can say, and I'll end with this, is that I never heard the song played better.
Songs on DVD and 2 CDs (CD2 begins with I'D Rather Go Blind):
The Revolution Will Be Televised

Over Under Sideways Down

Heart Full Of Soul

For Your Love

Beck's Bolero

Rice Pudding

Morning Dew

Freeway Jam

You Never know

'Cause We've Ended As Lovers

Star Cycle

Blue Wind

Big Block

I'd Rather Go Blind

Let Me Love You

Live In The Dark

Scared For The Children

Rough Boy

Train Kept A-Rollin'

Shapes Of Things

A Day In The Life

Purple Rain