Rolling Stones: Licked Live in NYC
FTC Statement: Reviewers are frequently provided by the publisher/production company with a copy of the material being reviewed.The opinions published are solely those of the respective reviewers and may not reflect the opinions of CriticalBlast.com or its management.
As an Amazon Associate, we earn from qualifying purchases. (This is a legal requirement, as apparently some sites advertise for Amazon for free. Yes, that's sarcasm.)
Submitted by

Dennis Russo

on Tue, 06/21/2022 - 00:13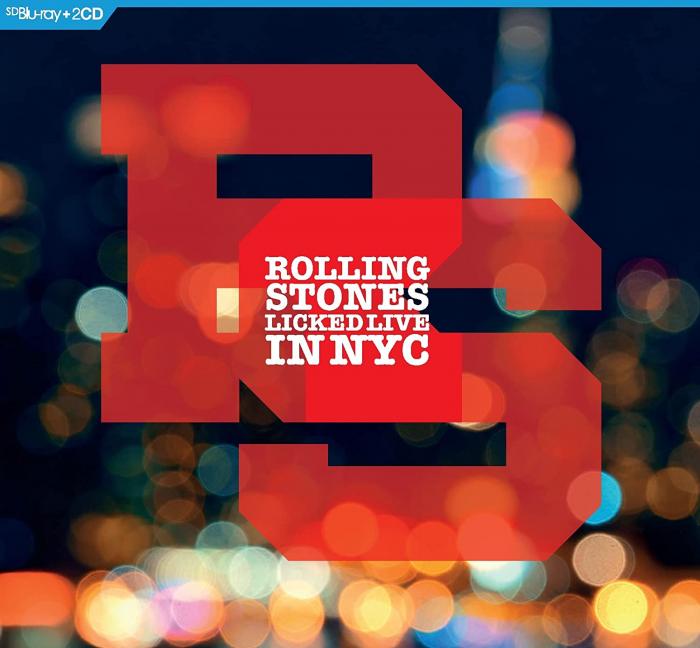 What more can be said about the Rolling Stones and New York City that hasn't been said already? But the truth is when both come together like they did this night in 2003 at the world's most famous venue, Madison Square Garden, both were raised to new heights!
Though they'd played NY many times before, this particular concert, shot and aired by HBO as part of their Four Flicks package, celebrates the Stones 40th anniversary tour and, as Mick says it best, "New York City, top of the world!"
This restored and remastered concert from Mercury Studios is available on multiple formats: 3LP, 2CD, DVD+2CD and SD Blu-ray+2CD. The sets contain four previously unreleased songs from the concert: Start Me Up, Tumbling Dice, Gimme Shelter, and Sympathy for The Devil. The DVD has three bonus performances from Amsterdam and rehearsal footage. The SD Blu-ray package has an additional 51-minute documentary called Tip of The Tongue, which captures the conception and preparation for the Live Licks Tour.
The set I am reviewing here is the DVD+2CD pkg.
It funny. It seems that CDs and DVDs are a thing of the past these days, what with the advent of streaming and the resurgence of vinyl (which I believe is the superior over both CD and all of the streaming formats out there), but both the CD and DVD have their qualities, and both are tangible assets in their own right. This was evident upon putting the first CD into the player that the CD format, in a good player--I'm not tooting my own horn here, but I do have an exceptional Ayre player that brings out the best (and worst) in recorded CDs--and I am very happy to say the restored and remastered CDs in this set are very well done indeed. If they weren't, my system would call out its failings very quickly.
What struck me first with this set is that, while it is a concert done 20 years ago, and having just seen the Stones live last year, they still sound much the same; the energy, the feel, the fans, are so much the same and the recording here captures it all. Part of this is because of the way it has been recorded, but part of it too is in the Stones themselves! It's safe to say the Stones are the same today as they were yesterday, and I feel will be tomorrow.
I always look with anticipation to hearing the first notes of a CD. While not indicative to the whole album, it tells me a lot emotionally what I might expect for the next hour or two.
The first real song notes here, which begin on track 2, come from Keith's guitar and they are one of the most recognizable in all of rock and roll--though not long in time. The first chords of Street Fighting Man here are so crisp and clean that it got my blood pumping like it would have if I were there 20 years ago!
It was also nice to hear Charlie Watts on the drums again. While Steve Jordan is doing a fine job with the Stones now, hearing Charlie again made me more attuned to, and appreciative of, his playing.
The only thing that reminded me that this show is from 20 years ago is Mick Jagger's reference to The Sopranos, Six Feet Under and Sex in The City during some banter with the audience.
As the songs played, each member of the band is perfectly placed within the sound stage and, while not particularly deep, it is fairly wide, stretching just beyond the boundaries of my speakers in front of me.
There is great texture to the instruments as the songs play--from Keith and Ronnie's guitars to Mick's harmonica, I could believe the instruments were really in my room. And they were clear; not an easy thing to do with music recorded in MSG in my opinion. I have seen a good many rock concerts there and have heard many that sound muddled and echoey. HBO, The Stones and Mercury Studios did it right here.
As I mentioned earlier, the Stones have their own "live sound" and the more the CD's played the more I became appreciative of how they kept their live sound, instead of the all-too-common way used today where remastering is being done to emphasize and make bass much more pronounced.
I love how many of the songs begin with Keith just striking a couple of cords. You don't have to look at the track list; its instantly recognizable, and you say to yourself, "Yeah, I love this song!"
And that is so indicative of the way Keith starts so many of the Stones songs: with a simple flamboyant flick or strum of a chord or two on his guitar.
The DVD proved it was the perfect companion piece to the CDs and has all the same songs on it. Instantly when it started to play the colors of their outfits were so vibrant and the images crystal clear. The camera work was exceptional, and the cameras were everywhere: on stage front, back, and sides; in the in the audience; over the audience; and never once did I feel that I was seeing cameras or cameramen. I never saw them once get in the way of the performance, but they brought every aspect of it into my living room. There were even cameras on one of Ronnie Wood's guitars, and one seemed to almost be sitting next to Charlie Watts as he played and looked into it. I have to admit it brought a tear to my eye to see Charlie behind his drum set playing effortlessly as only he could. HBO did a stellar job on this performance.
One of the things that the DVD has over the CDs (or albums) is that on the CDs, as you listen to the music, you imagine in your mind's eye what the show looks like as they perform. On the DVD you see it, and the one thing you can "see" on the CDs/Albums is the fun that the band has playing and bantering with other as they play their songs, and that adds even more to the enjoyment of the concert.
I enjoyed watching how Ronnie and Keith play off each other: Keith being the more flashy player, Ronnie being the more precision player. And by flashy I don't mean in a pyrotechnic guitar solo way, I mean in a more effortless, at one with his instrument, sort of way. I will say that to me he is one of the few and best rock guitar showmen there are out there still performing to his level.
Ronnie too, I don't think is given the level of respect as a guitar soloist that he deserves at times. Yet he is such a great guitar player. The solo on Can't You Hear Me Knocking is about as good a solo that defines "it's not what you play, but how you play it" that you're going to hear.
I enjoyed all the songs in this set, the familiar and not so familiar (are any Stones songs really not familiar?) The only one for me that drug on a bit too long was Midnight Rambler. It could have been a minute or two shorter and I would have been just as happy.
Sheryl Crow did a nice job guesting on Honky Tonk Women with Mick, but for me the performance that Lisa Fischer and Mick did together on Gimme' Shelter was simply amazing and easily one of the highlights of the concert.
And Mick was well…Mick! Nothing more to be said, that's all the description anyone needs, really. People talk about other front men being the greatest, and I know many of them also, but really? Let's get real; others are good, yes, but Mick is in a class all to himself. From start to finish, he brought the house down as he always does.
For their encores they did Sympathy for the Devil and Jumpin' Jack Flash, and it was a great culmination to the show.
This was a great concert captured here. I didn't see this concert when it was performed live, as I did not have HBO at the time (still don't), though I wish I had. But here now I can see it more crisp and clearer than it probably was when first aired.
The bonus features are nice, and on this set you are able to see them rehearse a couple songs. (It's nice to see Keith dresses the same whether he's on stage or in the studio.) The songs from an Amsterdam show, while good, really bring home the point of just how good HBO did in filming the MSG show!
Finally, to reiterate what makes this set so enjoyable for me, and I would assume for a great many Stones' fans who have never seen and experienced their shows live (because ticket prices are prohibitively expensive for so many people that they many never get the chance even though they may have the opportunity), is that with the great job of remastering and restoration here you can essentially see and hear them just like they sound today, with both the CDs/LPs and DVDs. And you'll even get to hear and see some songs they don't play anymore, such as Brown Sugar!
I know some may scoff and say, "Another Stones release? Who needs it?" Well, if you're a Stones fan, nay a Rock and Roll fan, you do! And if you tell me you don't, quite frankly I would question your authenticity as a Rolling Stones fan at all.
This set goes a long way to underscoring the fact that, for me and millions of others around the globe, the Rolling Stones were, are, and quite possible will be, the greatest rock and roll band in the world, ever!
Highly Recommended.
Songs:
CD1
Intro
Street Fighting Man
Start Me Up (previously unreleased)
If You Can't Rock Me
Don't Stop
Monkey Man
Angie
Let It Bleed
Midnight Rambler
Tumbling Dice (previously unreleased)
Band Introductions
Thru And Thru
Happy
CD2
1.   Gimme Shelter (previously unreleased)
2. You Got Me Rocking
3. Can't You Hear Me Knocking
4. Honky Tonk Women (with Sheryl Crow)
5. (I Can't Get No) Satisfaction
6. Its Only Rock 'N" Roll (But I Like It)
7. When The Whip Comes Down
8. Brown Sugar
9. Sympathy for the Devil (previously unreleased)
10. Jumpin' Jack Flash
DVD
1. Intro
2. Street Fighting Man
3. Start Me Up (previously unreleased)
4. If You Can't Rock Me
5. Don't Stop
6. Monkey Man
7. Angie
8. Let It Bleed
9. Midnight Rambler
10. Tumbling Dice (previously unreleased)
11. Thru and Thru
12. Happy
13. Gimme Shelter (previously unreleased)
14. You Got Me Rocking
15. Can't You Hear Me Knocking
16. Honky Tonk Women (with Sheryl Crow)
17. (I Can't Get No) Satisfaction
18. It's Only Rock 'N' Roll (But I Like It)
19. When The Whip Comes Down
20. Brown Sugar
21. Sympathy for the Devil (previously unreleased)
22. Jumpin' Jack Flash
            Bonus:
            Live In Amsterdam
1. Star Star
2. I Just Want to Make Love to You
3. Street Fighting Man
            Rehearsals
1. Well Well
2. Extreme Western Grip
SD Blu-ray Only Bonus
Tip Of The Tongue Documentary
Tip Of The Tongue Boston Backstage