Paul Winter Consort: Concert in the Barn
FTC Statement: Reviewers are frequently provided by the publisher/production company with a copy of the material being reviewed.The opinions published are solely those of the respective reviewers and may not reflect the opinions of CriticalBlast.com or its management.
As an Amazon Associate, we earn from qualifying purchases. (This is a legal requirement, as apparently some sites advertise for Amazon for free. Yes, that's sarcasm.)
Submitted by

Dennis Russo

on Tue, 06/28/2022 - 21:32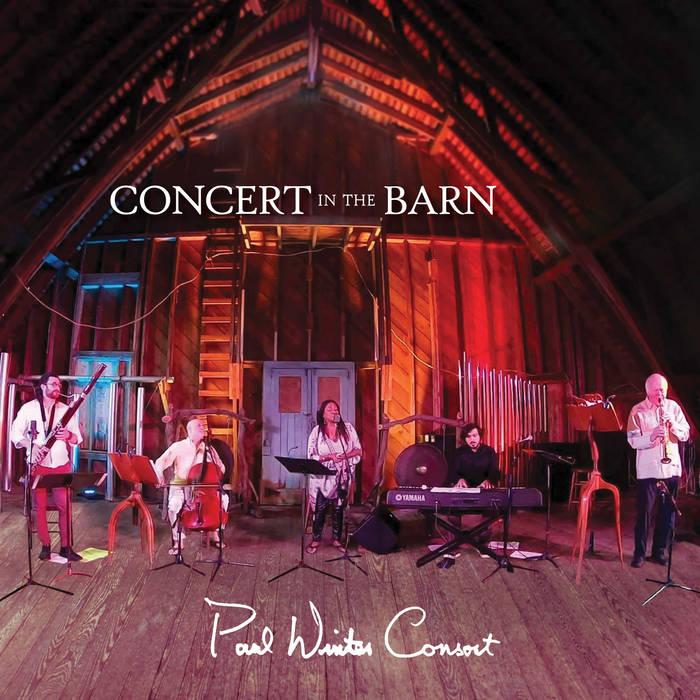 Recorded a year ago during the pandemic up in the barn at Paul's place in the hills of Litchfield Connecticut, it marked the first time in 26 years that the Paul Winter's Consort did not perform their Summer Solstice concert at the Cathedral of Saint John The Divine in New York City. But I wondered, as I sat down and read the notes in the wonderful little booklet that accompanies the CD (which contains wonderful insights into each of songs composition as well as how the concert came to be): Is there no better place to play a concert celebrating the Summer Solstice than up on a hill in the loft of simple barn under God's sky with nature all around?
With an ensemble of musicians brought together by the limitations the pandemic placed upon the country and travel, this group of exceptional magicians, both Consort longtime regulars and a local "newbie", Jeff Boratko, Henrique Eisenmann, Eugene Friesen and Theresa Thomason came together with Paul and recorded this album of mostly new Consort material at daybreak on June 21st: the Summer Solstice.
And come together they did! From the very beginning of the very first song -- a 43-second introduction called "Sun Singer (Theme)" leading into the next song, "Lamento De Aioca" -- it conveys to me what sunrise and morning should sound like! It felt to me as if God spoke to Paul and said, "Take your Consort and create for Me a soundtrack for My mornings."
From there it just flows from song to song.
The recording itself is beautiful; the sounds of the instruments in the cathedral-looking loft of the barn are just haunting in their presence and ambiance. The cello especially for me just sounds so warm and inviting with a tactile realness to it that I could almost touch. This is not to take away from the other instruments: the sax, piano, bassoon, and vocals gave me a feeling of an intimate concert in their presence right there in my listening room.
I loved how "The Well-Tempered Wood Thrush" started with birds playing their "music," and then the Consort joins with them. I have heard Paul do this before, and it never ceases to amaze me how humans and nature can play together -- much the way the best jazz musicians do playing off each other in a seasoned ensemble, or the way that trees seem to move in motion with the movements of those practicing Tai Chi outdoors on a summers day. It's a beautiful thing to listen to, and this song is a fine example of that.
As the album played, I kept comparing the experience of emotions I was feeling to those I used to get when strolling the halls and galleries at the MOMA. Each new painting, in this case each new song, was a different joy.
Of all the songs here, the one that got to me the most was "DNA," a lovely number about togetherness with two of the greatest lines you could possibly pen in a song of this nature: "Let your life be filled with laughter," and "Let us dance until the day is done." These strike home to me because they mirror for me a saying I hold dear in my heart and is a perfect companion line to those in my view: "Let joy and innocence prevail." The voices in this song are recorded very well and present in such a way that you can easily denote each voice individually if you choose to, or simply enjoy them together as intended.
The most oh-my-goodness moment for me came when I listened to "Icarus," a song which I learned was written for the Consort back in 1970 and according to Paul is their theme song. This was startling to me, because the first and only other time I heard this song played before was not by the Consort but instead by an electronic music group called Synergy on their 1976 album Sequencer. I loved their version, and though done totally electronically by them, it's unmistakable in composition. But still I did not put two and two together that it was the same song until a few moments into it. Then it was like a light went off, and hearing it performed here the way it was supposed to sound on "real" instruments -- well, it was nothing short of magical for me!
With over 50 albums to his credit, I feel like I've missed out on a lot of other great Paul Winter Consort music, and am saddened by that thought, and I'm sort of ashamed I hadn't heard them do this song, one considered to be their theme song, before now. Happily, this is an issue I can rectify very soon.
I think it is an awesome extra that Paul includes an encore, but that it's not included on the CD. You have to go to a web address to watch the video! The address is noted in the booklet (and here below) Again, when celebrating something as the Summer Solstice, this is the perfect encore to the album.
If it comes across as if I'm gushing about this album, well… that's because I unashamedly am! People, when music moves you to your core and transports you to an emotional plane of joy and happiness, how can one not gush!?
I'll simply put it this way: Buy, play, enjoy, dance until the day is done; may your life be full of joy, and let joy and innocence prevail on the longest day of the year and every day thereafter. The day breaks, and the Paul Winter Consort has set it to music perfectly.
Highly recommended.
Songs:
Sun Singer (Theme)
Lamento De Aioca
The Silence of a Candle
The Well-Tempered Wood Thrush
Chora Coracao (Cry My Heart)
Sarabande
Lendas Brasileiras
DNA
Air
How Can I Keep from Singing?
Lavadeiras
Swing Low, Sweet Chariot
Moro Na Roca / Lapinha
Icarus
Encore-go to: https://bit.ly/nikkiandlucky