The Jorgensens: Americana Soul
FTC Statement: Reviewers are frequently provided by the publisher/production company with a copy of the material being reviewed.The opinions published are solely those of the respective reviewers and may not reflect the opinions of CriticalBlast.com or its management.
As an Amazon Associate, we earn from qualifying purchases. (This is a legal requirement, as apparently some sites advertise for Amazon for free. Yes, that's sarcasm.)
Submitted by

Dennis Russo

on Sun, 02/05/2023 - 12:42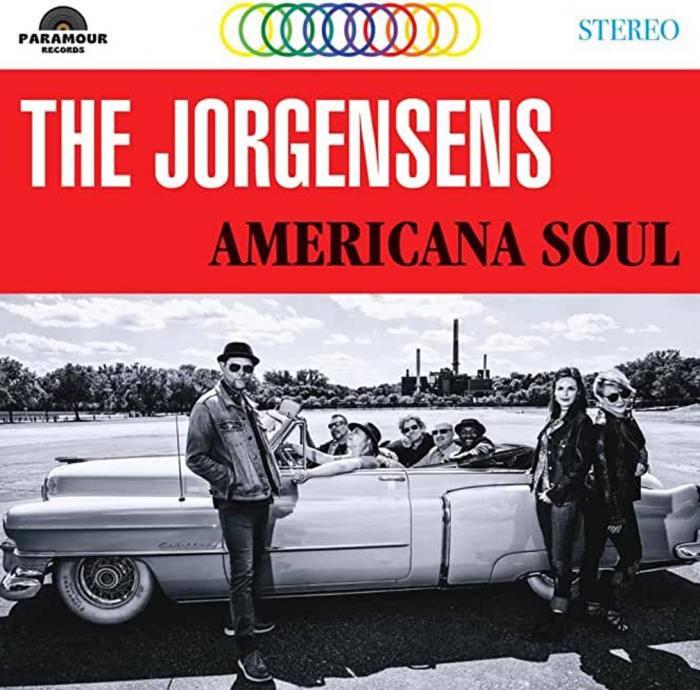 The Jorgensens latest release, Americana Soul on Paramour Records, is an aptly titled collection of ten original songs by the husband and wife team of Kurt and Brianna Jorgensen.
I say 'aptly titled' because this exceptionally talented duo and collective of equally talented supporting musicians have created a collection of songs with a sound that is both comfortable and relatable as Americana, and new and bold and full of soul.
Is this possible? Can such a blend of old and new be possible and not considered, say "New Country" music? The answer for me is a resounding yes!
From the moment the first beats from the title track "Old Black Crow" play, you realize right away this is not country music; and as you listen to the words and how they are sung, you realize this is story telling as it once was, and without the twangy nasality that sends chills up my spine like nails on a chalk board.
I was really impressed by the guitar work in every song on the album; throughout it, I was constantly reminded of bluesy guitar playing that might be heard from some of the classic Southern Rock bands of yesteryear, such as the Outlaws, and ABB. The bass lines are nice and prominent, and the songs are accompanied by an array of strings, horns and acoustic instruments as well, which all give the songs another dimension that sets them apart from either Country or Southern Rock. That, to me, seem both very bluesy and rockabilly in nature, with a tad more heaviness on some songs.
The arrangements on some songs even have a New Orleans style jazziness sound to them. "Dark Road" has almost a late 60's, early 70's progressive rock feel to it, the likes of say The Moody Blues, or even Pink Floyd at their start. Couple all this uniqueness with lyrics that are down-home life experiences, and you have an album of truly unique, great sounding, and enjoyable music that works together in a cohesive amalgam of what I'll call "New Americana."
What makes this all work is the wonderful voice Brianna brings to the music. Her vocals on "Miles" are wonderful! And Kurt's vocals, too, are perfect for their songs. His vocals on "Boom Boom Boom" are strong, well mic'd, and perfectly centered within the soundstage. (I also love on this song that there's a boom, boom, boom beat throughout it that correlates with the title.) They are so perfectly matched, it's almost like they wrote their songs to fit their voices instead of trying to make their voices fit the songs.
While their voices are good on their own, it kicks it up a notch that they also compliment each other wonderfully when they sing together like on "Hey Baby", a great Americana/Blues Jazz song that has this sultry sax in it, melting with their voices, that made it my favorite song on the album. The guitar work on this song was also some of the best I've heard, not because it was some mind-blowing technical solo, but because it just so perfectly fit the song!    
There's so much going on in all the songs and it's so well mastered. If your system is capable, you can hear everything being played and laid out in and across the soundfield. You can mentally zoom in to focus your listening on one particular instrument or aspect of the song if you choose to, or simply sit back and listen to everything playing all together.
As the album played on and I really got into it, I could also detect different styles of singing that reminded me of artists like Fleetwood Mac, Allyson Krauss and even Brian Setzer at times.
The song "Leave Your Light On" has a really great dobro and slide guitar intro on it, with a nice, well-placed vocal duet that draws you into it. "Dark Road" has almost a progressive sound to it that gives another reason to enjoy this album, which has something for everyone while always staying true to its "Americana" roots.
The last song on the album sort of brought it full circle, in that it has the nice soft recurring acoustic guitar line throughout the song that just underlines the "Yep, this is Americana."
If you haven't surmised by now that I really like this album and the music these consummate musicians write and play, I will say it now: this album is superb in what it conveys. It's so different from all the other "chocolate soldier" groups and music out there. They are such an enjoyable breath of fresh air, bringing what was once old leap-frogging into the 21st century, that I will be breathing in for a long time to come.
Songs:
Old Black Crow
Miles
Boom Boom Boom
Hey Baby
Shake It
Out Of My Mind
Leave Your Light On
Dark Road
Twenty Years
State Line