Eva Cassidy with the London Symphony Orchestra: I Can Only Be Me
FTC Statement: Reviewers are frequently provided by the publisher/production company with a copy of the material being reviewed.The opinions published are solely those of the respective reviewers and may not reflect the opinions of CriticalBlast.com or its management.
As an Amazon Associate, we earn from qualifying purchases. (This is a legal requirement, as apparently some sites advertise for Amazon for free. Yes, that's sarcasm.)
Submitted by

Dennis Russo

on Sun, 04/02/2023 - 23:30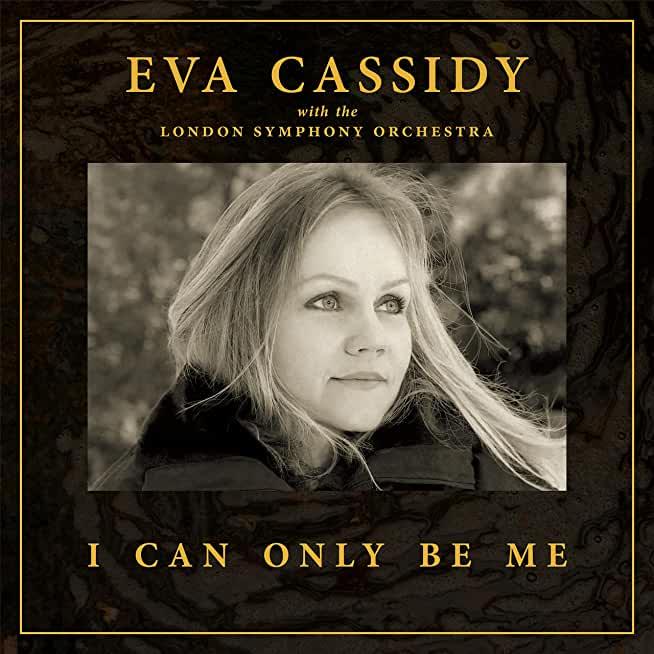 So let me start this review off by finishing it: If you are an Eva Cassidy fan, a fan of the female voice, a fan of beauty and the human spirit, then you need to have this album "Eva Cassidy with the London Symphony Orchestra: I Can Only Be Me" from Blix Street Records. Period. End of story.
Now that you know you need this, here's why.
If you are familiar with Eva then you know the story behind her, her music, her sad passing, her posthumous success, and, most importantly, her beautiful voice and unequalled style. If not, this album will whet your appetite and set you on a course to obtain everything this young lady recorded in her brief career before passing away at 33 in 1996 from melanoma. I doubt anyone who has heard her, hasn't been changed in some way by listening to her music.
Now, I am no engineer so I can't speak of all that it took to create and put this album together, and to make it sound as wonderful as it does. There are other resources available I'm sure where you can dig into that if you're so inclined. But I do know that it employed using the same machine learning audio restoration technology developed by filmmaker Peter Jackson for his 2021 movie "The Beatles: Get Back" and the reissue of their album "Revolver". But I am a tad old(ish) and have bought my share of albums where symphonies and other singers had been added to, or used exclusively, to record music of performers' albums/songs in the past. Jethro Tull, Pink Floyd, The Rolling Stones, and Natalie/Nat King Cole come to mind, to name but a few, each with varying degrees of success, but which in my view failed to achieve the illusion that these songs were performed together or composed with care.
Here, though, using this new technology, is an album where Eva's voice and the music of the symphony (some fuller scale and some smaller accompaniments) not only made it believable to me that they performed together, but that in fact the songs were composed and recorded together! Eva's voice is rendered so realistically, so organically human, that to me there is no sense of manipulation that I could discern, just her pristine voice (and her bandmates that accompanied her on some of the recordings used for this album), clean and pure sounding--no small task indeed considering where some of these songs were recorded at the time (these are all songs from her catalog that she had previously recorded).
Now taking this album to the next level is the symphonic work of the London Symphony Orchestra, conducted by Chris Egan, that was added (I hate to say "added" as it never appears to sound like it was added) to the songs, composed by the award winning arranger/composer Christopher Willis. What an amazing job of composition and playing on each song! As I said, some songs have the whole symphony performing, others only a few instruments perfectly composed and placed within the songs, so that, depending on the song, it may indeed sound like a symphony; or they may sound like an orchestra that would accompany, say, a Burt Bacharach song, or a small accompanying ensemble. The compositions are so smooth and well thought out, it was easy for me to tell that Mr. Willis was taking his utmost care to compose the perfect arrangements to accompany Eva's voice/songs here.
Song after song on this album had me mesmerized! Several times I had to wipe away tears from the beauty of the songs, songs that were always beautiful before that are now just… wow! My wife listened spellbound next to me, and we looked at each other at times and we couldn't speak; we just looked at each other, our faces telling each other what we were experiencing. Yes, this album is that beautiful, that emotional, both in recording and performance.
Believe me I tried, I really did, to see if I could tell when Eva's voice and the symphony were put together -- differences in volumes, ambiance, textures in her voice -- to find something to perhaps call out that could have been done better or differently. But I couldn't. And to be honest, after the first few songs I really stopped trying and just let the album thrill me.
The song selection for this album is spot on, with some of my favorite Eva songs such as "Time After Time", "People Get Ready", "Autumn Leaves", and "Ain't No Sunshine", sounding even more special to me than they did before.
Now there could be some that might say, Eva's songs were perfect the way they were, so why add anything to them? I would agree -- her recordings were and are perfect the way they were. But I want you to think of this album in this way: you can have a single flawless diamond solitaire set in a ring and it would be perfectly stunning on its own; now take that same diamond ring and give it to an expert jeweler, where they can add other smaller diamonds or gems to that ring, that compliment that solitaire in such a way that the diamond now stands out and looks even more beautiful than before. That is this album. Each of Eva Cassidy's wonderful diamonds set in a gem encrusted symphonic ring.
Highly recommended.
Songs:
Songbird
Autumn Leaves
People Get Ready
Waly Waly
Time After Time
Tall Trees in Georgia
Ain't No Sunshine
You've Changed
I Can Only Be Me