Con-tamination is Con-tagious Fun!
FTC Statement: Reviewers are frequently provided by the publisher/production company with a copy of the material being reviewed.The opinions published are solely those of the respective reviewers and may not reflect the opinions of CriticalBlast.com or its management.
As an Amazon Associate, we earn from qualifying purchases. (This is a legal requirement, as apparently some sites advertise for Amazon for free. Yes, that's sarcasm.)
Submitted by

Dennis Russo

on Sat, 06/18/2016 - 20:38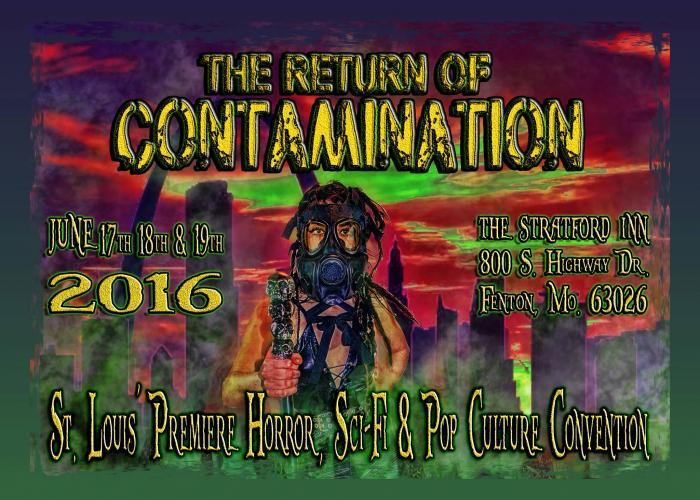 Contamination, Saint Louis' Horror, Sci Fi, Pop Culture convention returned this year in Fenton and runs Friday thru Sunday,  June 17, 18, 19.
I must confess that although this show has been an annual event for several years, this was the first year I had heard of it.
After attending the Wizard World mega shows for several years, I was intrigued to find this one in my own backyard so to speak. Looking at their lineup of guests and events, it was clear that it was a smaller show than the other big name event, but for me, in many ways, the lineup of guests and vendors suited my tastes even more. This was even more geared towards horror, sci-fi, and pop culture, just like their billing states.
For instance, I am a huge original BATTLESTAR GALACTICA fan, and here in one spot, in one row of tables, we have Richards Hatch, Dirk Benedict, Anne Lockhart, Herbert Jefferson Junior and Jack Stauffer! Shoot, if Lorne Greene had still been alive I suspect he would have been here too!
While the lines to see them were long at times, they were never that long that you lost an hour in line for each person--and everyone took time to talk with you, take pictures with you, and gave you the sense they were really glad to meet you.
There were/are many other celebrities there too. Hall of Fame wrestler Hacksaw Jim Duggan, adult film icon Seka, Leslie Easterbrook, and Bishop Stevens, to name a few others, and all were friendly and talking with fans.
What was so nice about this set up is that it wasn't row upon endless row of vendors and stars spread out over a convention center floor. Here everyone was in one large room.
There were many sci-fi and horror authors there, and it was nice to be able to take time and talk to them about their books. One such authors is Kenny Sills, whose novel "Tattoo: A Beautiful Sin" struck me as one that is breaking the mold.
Without giving too much away (because a review will be forthcoming), the story deals with a serial killer that that likes to cut out his victims tattoos while listening to classical music; and what breaks the mold here is that if you go to a website you can listen to the classical music that the killer is playing. How utterly creepy and immersive is that! And Kenny was a consummate gentleman, giving us all the attention we asked of him. I can say this early on, my daughter read 30 pages in the car before we got home, and loved the way he writes, saying it was a really scary read; so I cannot wait to "carve" time to read it this weekend!
I also got meet up close and personal with Bishop Stevens, whom I have liked for years in movies and wrestling. What fun it was to talk and joke with him…and he even graciously posed with yours truly!
Something else that was different was a booth set up by "Horrible Horror." This is a podcast along the lines of the old MST3K, except that it is a weekly podcast that reviews, critiques and laughs at only the worst of the worst in horror movies. Who knew they were out there? Not I, and that is why events like this are so important! It brings to light fun and different things that fans of the genre such as I can indulge ourselves in and help keep going. I cannot wait to tune in to hear them. (You can find them at www.facebook.com/horriblehorror.)
Something else at this show that I thought was really cool and different, and that even the WW show did not offer, was an "escape experience" called "Layers of Insanity" where, for a modest fee, you or you and your friend go into a room and have to discover clues in order to get out into the next room (four rooms in total) in order to escape.
Usually these things you see this sort of event at Halloween, and to have it here in a hotel during a horror and sci-fi convention makes it even more creepy because among other things, hotels can be notorious denizens of the insane and macabre. I encourage you, if you go there this weekend, to look for them. They are a little off the beaten path, down a hallway, but just look around for the zombie and you'll know you are on the right path.
The panel discussions, while much fewer than the myriad of events at WW, were to me better--basically one panel at a time, be it a BATTLESTAR GALACTICA, Seka, or STAR TREK panel, or one of several others, one at a time means you didn't have to choose one over the other and miss one you might have liked. And you were really up close to the panel, not looking halfway across a huge room up at people on some sort of raised platform.
The show had several items up for silent auction that ran from an autographed guitar to Kiss 45's to plastic boobs! And you could walk right up and look at them closely and, if you like, just put your name and bid on the sheet next to it. Very personable and trusting. I like that.
There was even a dinosaur there that was operated by a man in a suit that was enthralling the kids (and adults). I couldn't get a picture (because you can't photograph someone else's kids) but it was really lifelike and the actor in the suit really knew his actions as the dino looked alive.
There were many other vendors there too that had everything from toys to DVDs to Steampunk, to... well, you name it! They even have great t-shirts too! And what is nice is they sell previous year's shirts for only 5 dollars! This means everyone can come home with something and it won't cost an arm or a leg (ha ha)!
This was a great CON and I can't wait for them to come back again next year and get re-Contaminated!
Rating: Off the charts!