You are here
Home
›
Home Video
› "Welcome to My Nightmare" A Dream Come True for Alice Cooper Fans ›
"Welcome to My Nightmare" A Dream Come True for Alice Cooper Fans
FTC Statement: Reviewers are frequently provided by the publisher/production company with a copy of the material being reviewed.The opinions published are solely those of the respective reviewers and may not reflect the opinions of CriticalBlast.com or its management.
As an Amazon Associate, we earn from qualifying purchases. (This is a legal requirement, as apparently some sites advertise for Amazon for free. Yes, that's sarcasm.)
Submitted by

Dennis Russo

on Tue, 09/05/2017 - 08:53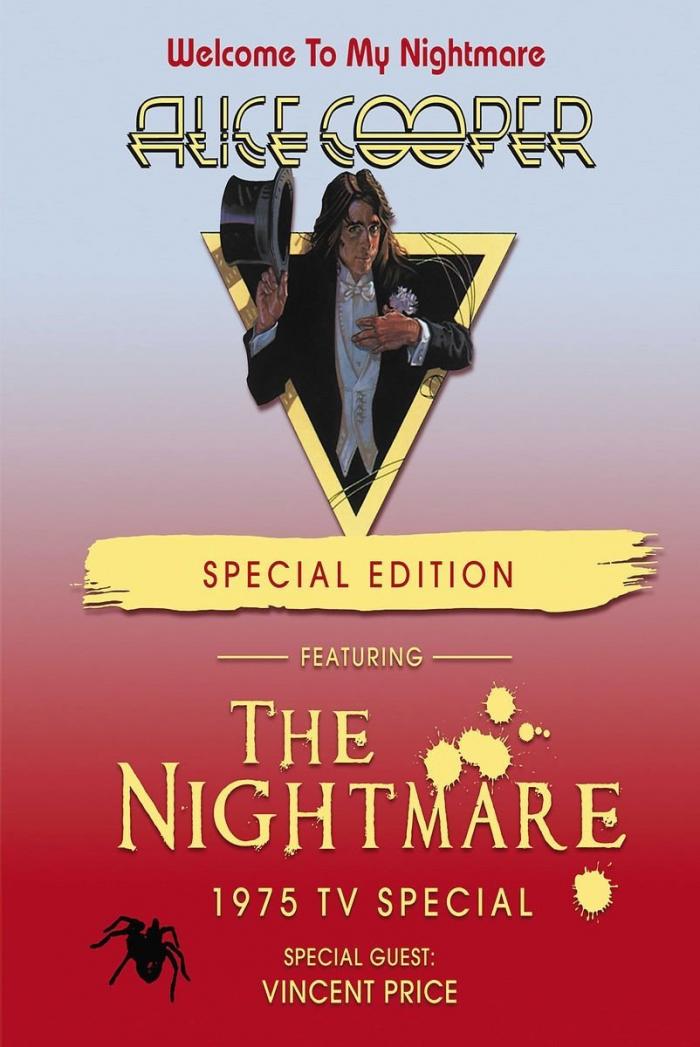 Okay kids, here it is! For you fans of Vincent Furnier who remember the pre-MTV days, Eagle Rock Entertainment has brought back not just the1975 "Welcome To My Nightmare" Concert Video but also the 1975 TV special, "The Nightmare" complete with special guest star, the indomitable Vincent Price, all in a single DVD video offering.
Eagle Rock has been releasing many great videos and CDs of important rock music from the second generation of rock, many of which feature the members performing recently or in the past 10 to 15 years. With this DVD, they are releasing in one of the most important concerts and specials from what I would call the "Golden Age of Alice." It's important for a couple of reasons: one, because it was his first solo tour and two, because it was ground-breaking. Remember, this was before MTV and it was the first time a concert special was filmed to support an entire album in long form.
While both of these specials have been released separately over the years, this is the first time I believe they have been released together.
I remember buying the record when it came out and was (and still am) blown away by it.
If you are familiar with Alice Cooper, then you know he is the master of Shock Rock. All others are impostors to the throne, and copiers at best. Over the years leading up to this release, Alice Cooper has put out several seminal albums considered true classics of rock, including "Billion Dollar Babies," "Love It To Death," and "School's Out," to name a few. To me he wasn't so much shocking (although some of the themes his songs were considered so in the day by the press) as much as he was macabre. He was the Edgar Allan Poe of Rock. Only he could write a ballad called Only Women Bleed, and the Ballad of Dwight Fry, a song about a young man gone mad locked in an asylum and named after the actor who portrayed madman Renfield in the original "Dracula," and incorporate them into the same show, with other diverse yet connected songs that paint the picture of the show. Some may say warped. I say genius. His live shows were more like theatrical performances--think TSO and Cirque du Soleil (before either of them existed) with an eerie macabre twist to them.
So back to the DVD: The TV special "The Nightmare" is a beautifully filmed macabre storytelling of filmed shorts for all the songs on the album. And to make it even better, it has the master of the macabre himself, Vincent Price, in it. When that man speaks, he just sends a chill up and down your spine. Based on a young man named Steven, the special takes you through the nightmare the tormented youth is having.
Originally aired during an "In Concert" time slot shortly after the album was released, it is not crystal sharp as things are filmed today. But the video nonetheless is rendered in great detail considering video itself as a format was in its infancy at the time.
With the storytelling carefully edited to make the flow as smooth as silk and Alice's voice, it flows nicely. Add to that Vincent's role being much more pronounced than on the album, and we get to see much more bantering back and forth between Mr. Price and Alice—which, as they say in the old country, is worth the price of admission alone.
Filmed years before Michael Jackson's "Thriller," "The Nightmare" is far superior in terms of concept and, most importantly, music, and deserves to be elevated to prominence on the pantheon of rock productions.
The concert portion of the DVD, "Welcome to My Nightmare," was filmed live in London and is shot very well. And although we don't have that digital crispness, there are things we see done in this show that, in 1976, nobody else was doing. There are dancers and performers that enact eerie macabre (there's that word again) theatrics and routines when Alice is off the stage (and on) that complement the aura of the performance; vignettes that lead into the next song that sometimes fit the song but most often are just there to shock you. This concert is more of a disturbed play that a concert, really, with a "magic" screen behind them that to this day is still looked upon with wonder as Alice seeming comes out of the video live onto the stage in uninterrupted motion.
At times you can see the band, and at times they are obscured by the stage theatrics. While the concert contains songs from the new album, there are several of Alice's hits performed as well, such as No More Mr. Nice Guy, School's Out, and I'm Eighteen.
The sound is good but not great, and while Alice's voice is strong it is noticeably not a polished as it is on the album or in the video. Still, when you consider that he is running around the stage acting in the theatrics while singing, it is easily forgivable, and in ways much more believable.
Conceptually brilliant, both the concert and TV special are an excellent snapshot of Alice then, as he is still performing his shows today. In fact, I will be going to see him in a few days and it will be interesting to see if he still has it. I imagine and hope the answer is yes.
This DVD is a must have for any Cooper fan and fan of classic rock. Also, if you've ever thought that people like Marilyn Manson were cutting edge shocking performers, then you need to see this DVD, which will hopefully open the door to more of Alice's music for you--which will then lead you to the conclusion that Manson and others like him are just wannabe pretenders to the throne. This DVD will have you pulling out Alice's albums and listening to them again and have you wondering why you haven't played them in so long.
Once again, Eagle Rock has put out a gem of a product. Putting together two separate pieces that make up a whole should have been done years ago. This solidifies their place as a preeminent force in the world of recorded rock production.
Performance Songs:
"Welcome To My Nightmare"
"The Nightmare"

The Awakening
Welcome To My Nightmare
Years Ago
No More Mr. Nice Guy
I'm Eighteen
Some Folks
Cold Ethyl
Only Women Bleed
Billion Dollar Babies
Devil's Food
The Black Widow
Steven
Escape
School's Out
Department of Youth

Welcome To My Nightmare
Devil's Food
Some Folks
Only Women Bleed
Cold Ethyl
The Black Widow
Years Ago
Department Of Youth
Years Ago (Reprise)
Steven
The Awakening
Ballad Of Dwight Fry
Escape
The Awakening (Reprise)