You are here
Home
›
Music
› Blackmore's Night "Winter Carols" a Winter Masterpiece Masterfully Remastered ›
Blackmore's Night "Winter Carols" a Winter Masterpiece Masterfully Remastered
FTC Statement: Reviewers are frequently provided by the publisher/production company with a copy of the material being reviewed.The opinions published are solely those of the respective reviewers and may not reflect the opinions of CriticalBlast.com or its management.
As an Amazon Associate, we earn from qualifying purchases. (This is a legal requirement, as apparently some sites advertise for Amazon for free. Yes, that's sarcasm.)
Submitted by

Dennis Russo

on Thu, 11/18/2021 - 00:25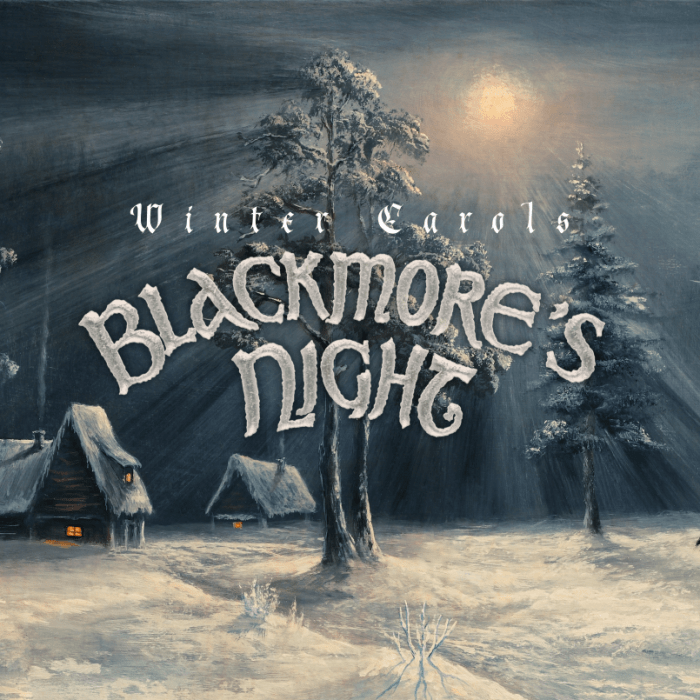 Blackmore's Night (Candice Night and Ritchie Blackmore) along with their band of Minstrels -- Bard David of Larchmont, Earl Gray of Chimay, Troubadour of Aberdeen, Scarlet Fiddler, and Lady Lynn -- have remastered and enhanced their 2006 Holiday masterpiece, Winter Carols. This 2-CD Digipak Edition from E*A*R* Music (available also as a digital album) also contains four previously unavailable tracks: "Here We Come A-Caroling", "It Came Upon a Midnight Clear", "O Little Town of Bethlehem" and "Silent Night", as well as a remastered version of their Christmas single "Christmas Eve".
It is no secret that I am a huge fan of Blackmore's Night, considering Candice Night one of the purest, most beautiful voices ever heard, and Ritchie Blackmore one of the most accomplished guitar players ever. I have enjoyed their music since they began, and use several of their albums as my reference recordings whenever I audition audio equipment.
The original Winter Carols is one of my favorite Christmas/Holiday albums, and is always in heavy rotation when the season rolls around. So hearing that it was going to be remastered and enhanced, well I just had to hear it.
For me, right out of the chute, it just takes me back decades to my youth when I used to frequent the RenFaires up in Tuxedo, New York, Huntington, Long Island, and even Wentzville, Missouri without fail. And what a wonderful feeling it is to rekindle that aura. I find the remastered version to be cleaner sounding with a more expansive soundstage that was both wider and deeper. I could hear Ritchie's guitar notes more clearly, and Candice's recorder has much more definition and place in space, as do all the other instruments.
I wanted most of all to hear how the vocals were now, since I have new JM Reynaud Cantabile speakers in my system that are just now broken in nicely and which do a marvelous job of reproducing the human voice. While ripe with anticipation, I was still not prepared for how beautiful Candice's voice was portrayed before me; it hung in the air in front of me, taking up an almost physical presence, making me feel more than that I was there, but rather that she was here. I made sure to compare both CDs side-by-side to make sure that what I was hearing was not caused merely by the difference in the loudspeakers I was using, and it was not. The definition, too, between the backup and lead vocals was greater on the remaster, to the point where I could easily follow the background vocal should I have wanted.
This new set contains several live versions of the songs on this set, and wow! As good as the studio versions sound, the live is mesmerizingly better. Words were clearer and ever more defined, and Ritchie's guitar work was captured so clearly, I could detect his fingers moving on the fret board and the strings being struck!
One of the things this CD does a great job of capturing and showcasing is just how accomplished a guitar player Ritchie is. Yeah, he's one of rocks greatest guitar players, responsible for some of the most memorable chords, riffs, and guitar playing in rock history. But his playing is so much more, and here you can hear his dexterity and composition, front and center, as it accompanies Candice's voice and the others.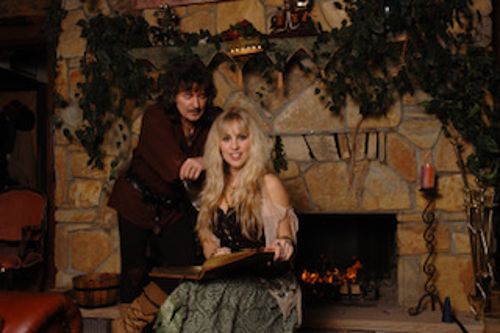 photo: Michael Keel
Most Christmas/Holiday albums make you smile and, in one way or another, remember days of your youth. That is wonderful in itself, but Winter Carols transports you to another time completely. There are songs you know and songs you don't, but all harken back to a simpler time when the meanings of such songs meant a whole lot more. Even the ones you know are sung and played in a way that you feel they were played back then. Maybe they were, maybe they weren't, but they feel like it, giving them a fresh air and a new lease to become a new favorite all over again for you.
Listening to this gives me the feeling that I'm listening to minstrels play in the King's court, surrounded by friends, food and drink (wine, not mead, thank you! Blech!). I really enjoy how some songs start off with instrumentals and soft voices, only to build as the song progresses. The mix of Ritchie's acoustic and electric guitar just ties all of the other instruments and orchestral arrangements together, giving them a sound unlike any other.
Songs like "Deck the Halls" that begin with a tin whistle then build and come on strong as the vocals enter and the song progresses, "Winter" which showcases Ritchie's wonderful playing with such clarity I can see him if I close my eyes, and "Ding Dong Merrily on High" that fills the rooms as the song builds so that it makes me want to stand up and sing along.
"Ma-O-Tzur" is a song I had never heard before from Blackmore's Night, but it is such a lovely song to listen to -- especially the live version included here too.
The additional songs here are wonderful as well, and a great addition to the set. To be honest, I don't thing Candice is capable of singing a song unbeautifully!
So, do I love this new version? Yes, I do. Do I think it's worth getting if you already have the original? Yes, I most emphatically do! From the wonderful addition the new songs to the album as well as the alternate versions, not to mention the sonic improvements, this is the edition to have.
photo: Michael keel
If you don't have the album, then this needs to be on your short list of new Holiday music to have and enjoy. If you are not familiar with Blackmore's Night, then first and foremost you don't know what you have been missing, and Winter Carols may just be the ticket to start your love affair with their music.
I don't know about you, but I'm tired of 2020 and 2021 and all of the craziness, all of the social network yada-yada-yada, and non-stop commercialism to the nth degree that has occupied and dulled my senses over the past two years. Here is something that takes me away from all that. As I said earlier, Winter Carols transports you to a simpler time, centuries ago, almost instantly with songs of faith, winter solstice, family togetherness, and good will, and keeps you there for a while, allowing all this other stuff to melt away and help enjoy the holidays once again -- letting the real reason for the season come shining through again -- or perhaps for the first time.
Highly Recommended
CD1
Coventry Carol
Deck the Halls
God Rest Ye Merry Gentlemen
O Christmas Tree
Hark! The Herald Angels Sing / O Come All Ye Faithful
I Saw Three Ships
Winter (Basse Dance)
Ding Dong Merrily on High
Ma-O-Tzur
Good King Wenceslas
Simple Gills (Lord of The Dance)
We Three Kings
Wish You Were Here (2021)
Emmanuel
Christmas Eve
We Wish You a Merry Christmas
CD 2
1. Crowning of the King
2. Here We Come A-Caroling
3. It Came Upon a Midnight Clear
4. O Little Town of Bethlehem
5. Silent Night
6. Christmas Eve (2013 Version)
Live From Minstrel Hall
7. Hark! The Herald Angels Sing / O Come All Ye Faithful
8. Emmanuel
9. We Three Kings
10. Ma-O-Tzur
11. Good King Wenceslas