You are here
Home
›
Home Video
› What's Going On Gives "Taste" of Blues Rock at its Best ›
What's Going On Gives "Taste" of Blues Rock at its Best
FTC Statement: Reviewers are frequently provided by the publisher/production company with a copy of the material being reviewed.The opinions published are solely those of the respective reviewers and may not reflect the opinions of CriticalBlast.com or its management.
As an Amazon Associate, we earn from qualifying purchases. (This is a legal requirement, as apparently some sites advertise for Amazon for free. Yes, that's sarcasm.)
Submitted by

Dennis Russo

on Sat, 10/10/2015 - 15:34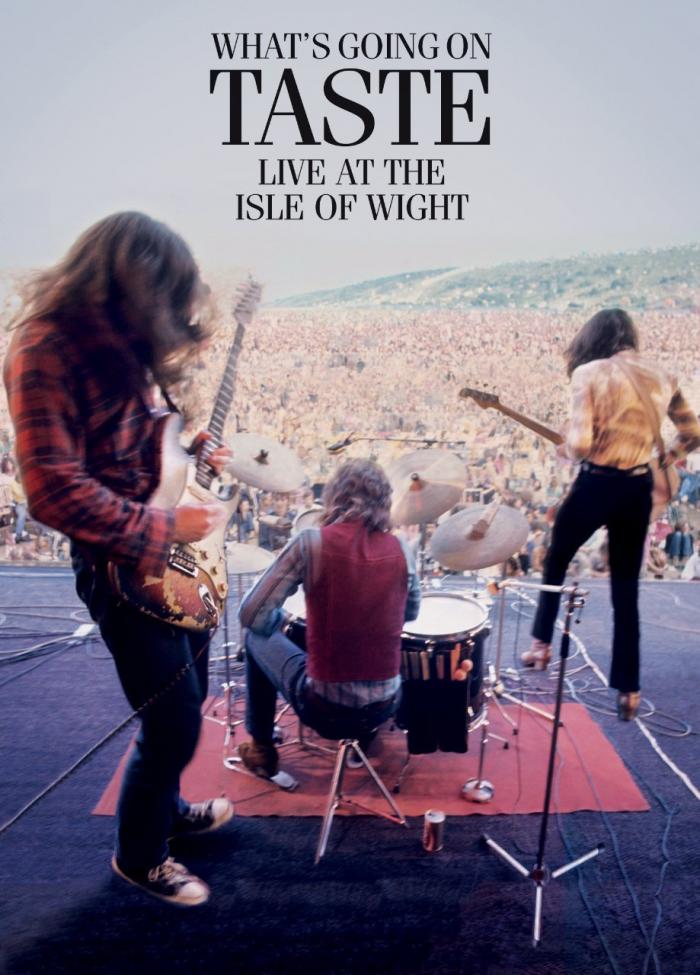 Taste, founded and fronted by the legendary guitarist Rory Gallagher, was an Irish blues/rock band, and arguably one of the greatest power trios ever to hit the stage. I would easily put them up there with Cream, Emerson Lake and Palmer, Blue Cheer, Grand Funk Rail Road and The Jimi Hendrix Experience as the best ever; certainly, in my opinion, playing by far the best rock ever to come out of the Emerald Isle. Yes, I said ever –  e.v.e.r – ever, by anyone.
What made them so good to me was the sheer raw energy with which Rory Gallagher played the guitar. He could stand to-to-toe with any other great guitarist. Doubt me? His performance was so well-received at the show that when Jimi Hendrix was asked what it was liked to be the best guitar player in the world, he replied, "I don't know, why don't you go and ask Rory Gallagher." Need a better recommendation than that?
They weren't around long – roughly four years, (two with the line up at the time of this, show I believe) and by the time the Isle of Wight festival rolled around, where this DVD was recorded, the band only had 2 albums out – and oddly enough decided to break up shortly before hitting the stage at this very concert.
Now given that sort of news, one would think that going on stage at the concert (which featured many of the greats of the day) they'd just go through the motions and get off and go their own separate was. Not so here; they played with such energy and passion that they were called back for an unprecedented three encores!
Which brings me finally to what it is I am reviewing: the DVD of TASTE, "What's Going On" Live at the Isle of Wight (also available on Blu-Ray, LP and CD) is the 16mm restored and remastered account by Academy Award winning Director Murray Lerner of the band's performance at the festival.
Rory Gallagher, along with bassist Richard McCracken and drummer John Wilson, put on what many consider to be the finest performance (at the very least in the top three) of the whole festival, which on the heels of Woodstock the previous year, was attended by an estimated 600,000 people.
No small accolade when you consider other performers at this event included the likes of Jimi Hendrix, The Doors, Miles Davis, Emerson Lake and Palmer, The Who, Ten Years After, Sly and the Family Stone, Jethro Tull, Cactus, Moody Blues and others.
The DVD includes interviews – personal accounts and retrospectives before the music starts – by people ranging from Brian May, The Edge, Sir Bob Geldof,  Larry Coryell and  Rory's brother Donal. These interviews chronicle Taste's  and Rory's early beginnings, up to the concert and the band's implosion. You will also pick up some interesting tidbits of musical history from the interview that I found very interesting, but which I won't spoil here.
Although Murray said he never liked the movie, WOODSTOCK, I couldn't help but see a lot of parallels between the two, both in the way the interviews were conducted, and the way they were intermixed with footage from the event and other rare archival footage of Rory and the band. We see the comings and goings of the young hippies, the sea of humanity, the lying back and digging of the music, just as in WOODSTOCK. In fact, someone not knowing what they were watching might easily have mistaken this for that movie.
I didn't find this a bad thing at all; it helped captured the essence of the event in a much shorter time span. I was also glad all the talking was done up front, so that when the band played it was just them playing uninterrupted.
The band was taped with a small crew, so while there is not this huge production of a myriad of camera angles, what we see is a real up close and personal taping of the band. With just the three performers on stage, the cameramen were able to move in and around them, and captured some awesome shots of the band playing. Many times they were able to zoom in closely on Rory's battered old guitar as he worked his magic. This is where the DVD shines to me. Just listening to the album or CD, while you hear the music (albeit better), you don't know how it is played; here, you see it all and experience the raw energy with which they all played. Remember, they decided to split up just before this concert, and let me tell you, not only from listening to the music but from watching it as well, you'd never guess it in a million years. It was as if they decided, if they were going out, they were going out on top -- and that they did!
While the video of the band playing was consistent, there was disconnect in the beginning during the documentary portion of the DVD where it bounced back and forth between clips from the 50's and early influences, to the 70's and the time of the show, to today, because of the obvious technological advances in film and video. This wasn't distracting, but the vibrant differences in color and graininess were noticeable.
The concert footage itself I thought was very good. In 4K UHD, it looked amazing, considering it was shot live 45 years ago!
The sound was very good as well and I imagine it was no small feat in getting it that way as it was widely known that the sound at the show was not that good. Here on this DVD, it was very listenable indeed; and while this is not a very long set (7 songs) there is more than enough to whet your appetite to learn and hear more about Rory Gallagher and Taste.
Also included on this DVD is the rarely seen Beat Club 1970 (a German TV series) performance and conceptual P3 Music Promo Videos. In The Beat Club Sessions we get to see and hear that Rory not only plays a great guitar, but he also plays a mean sax too! The music videos were strange to me in that they seem to be filmed in German (at least I hear what sounds like German being spoken) and I can't quite make sense out of what they are try to show or tell with them. But the music is great, and that's all that mattered to me
In all, on this DVD we get the opportunity to finally see one of the best perform a legendary set at one of the greatest music festivals ever—restored and remastered such that we can really enjoy it. Watching them perform on stage, and hearing them do things with their instruments I have rarely heard elsewhere was thrilling. And, yes, make no bones about this, the star of the concert (and other footage) is Rory's guitar; and, fittingly, we see the cameras give it proper due here.
The bass and drums are also incredible, and the way Richard McCracken and John Wilson play their instruments with such intensity is mind blowing (especially when Rory improvises with each). They could not just sit back and strum or tap their instruments; Rory played so amazingly that it was all they could do just to keep up with him. But they all took a step back behind the star: Rory's guitar. Even Rory's vocals, which I consider to be one of the smoothest sounding harmonious voices to sing the blues, take a back seat such that I have to remember to listen to him sing instead of fixating on his guitar work.
While Rory continued to make music long after this show (up until his untimely death in 1995 at 47), I think this performance, like the great artists of old would have to say, was his masterpiece. And unlike being in a museum where only a few could see it, now thanks to Eagle Rock Entertainment, we can all see it in the comfort of our home -- not only in digital stereo but also in Dolby digital 5.1 and DTS surround sound.
What's next for me is to hunt down the vinyl versions before they are all scarfed up.
Concert
What's Going On

Sugar Mama

Morning Sun

Gambling Blues

Sinnerboy

Same Old Story

Catfish Blues
Beat Club 1970
If The Day Was Any Longer

It's Happened Before, It'll Happen Again

Morning Sun
P3 Music Promo Videos
I'll Remember

What's Going On

Born On The Wrong Side Of Time