Thin Lizzy: Live at the Sydney Opera House, October 1978
FTC Statement: Reviewers are frequently provided by the publisher/production company with a copy of the material being reviewed.The opinions published are solely those of the respective reviewers and may not reflect the opinions of CriticalBlast.com or its management.
As an Amazon Associate, we earn from qualifying purchases. (This is a legal requirement, as apparently some sites advertise for Amazon for free. Yes, that's sarcasm.)
Submitted by

Dennis Russo

on Tue, 07/19/2022 - 23:37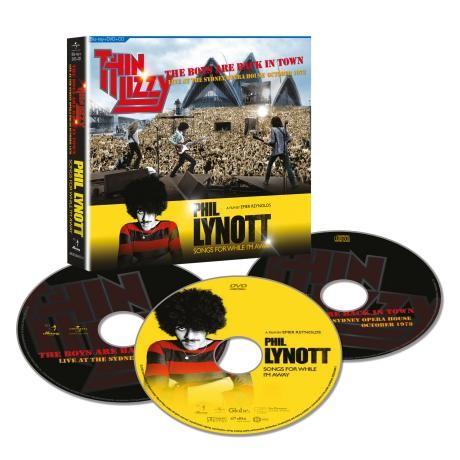 For those who only know of Phil Lynott and Thin Lizzy from either "Whisky In The Jar" or "The Boys Are Back In Town," having heard them played on a classic rock station, let me tell you: you don't know either, nor do you know the impact they had on hard rock specifically, and rock and roll in general.
Fortunately for those people, and those of us who have grown up listening to them and owning their records, there is a new release out from Mercury Studios that will not only offer an insight into just how powerful a rock band they were, but also give us a deeper look into the band and their leader, Phil Lynott.
This new set is comprised of a music CD of Thin Lizzy's October 1978 concert performed at the Sydney Opera House, along with a DVD of the concert and a second DVD from 2020 entitled "Phil Lynott Songs For While I'm Away."
Both the audio and video have been remixed and remastered by Mercury Studios.
At first, I thought it a bit odd that there wasn't a booklet or insert of some kind that usually accompanies a set such as this. However, after listening to and watching the DVDs, I found such an inclusion unnecessary, because there would be little more to add to than what is told and shared on the discs.
I have been a fan of this band since my high school days and remember all too well heading down to my local record store (actually a drug store that sold records) on a Sunday morning after getting paid to buy Jailbreak when it came out. The rest, as they say, is history.
While there had been a few changes to the band's membership through the years, the lineup here captures, for me, the band at its best. With Phil Lynott on bass and lead vocals, Gary Moore and Scott Gorham on lead guitars, and Mark Nauseef on drums, this lineup was the epitome of a hard rock band in the day.
Putting the CD in, I was immediately aware of how crisp, clean and clear Phil's voice was--placed squarely in the center of the soundstage before me, I had no trouble visualizing in my mind's eye him standing in front of me.
The rest of the band, too, was mixed and nicely laid out across the soundstage; though not terribly deep, there was no trouble placing Gary and Scott's guitars on either side of him, which was very nice because it made it very easy to hear them both during their solos, and together when they played in unison. Mark and his drums where clearly set behind them, creating a perfect image of a live band on stage. This was confirmed by the DVD, which showed all the members of the band right where I thought they were during the listening of the CD.
This play list gave me a real insight into the versatility of Phil's singing and songwriting that I had not realized on their studio albums. I was amazed by how highly he was thought of in the rock community, as both a singer/songwriter and musician. The "Songs For While I'm Away" DVD is interspersed with interviews from rock bass players, musicians and band mates that I would put on all sides of the spectrum from where Thin Lizzy sits in my book; musicians such as fellow bandmate Scott Gorman, Adam Clayton from U2, James Hetfield from Metallica, and Suzi Quatro, to name a few, lauded praise on him. Even Huey Lewis said how much he owed to Phil Lynott. How broad of a spectrum of Rock is that?!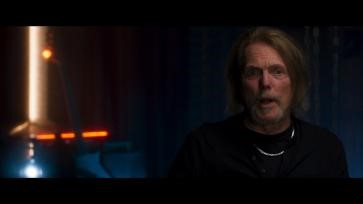 I also discovered something new as well, as to how much during the song "Warriors" (written for Jimi Hendrix) Phil sounded like Jimi at times; and how great a pair of guitar players both Gary and Scott were/are. (Okay, so I already knew how great Gary was, but hearing/seeing Scott perform here on this set gave me even higher respect for his playing.)
During the playing of the CD I kept jotting down how well balanced and clean the sound was, and that the presence of the audience "sound" was kept to a level that let the band shine through. In fact, when you listen to the CD, the sound of the audience as you hear them will make you think it was a smallish crowd; but then when you see them on the DVD you're like, WOW! The audience is huge! And when the other members of the band join in with their backing vocals, you can clearly tell they are behind and to either side of Phil. In all, I think Mercury Studios did a superb job in remastering and restoring this set!
What is also really nice is that the songs there were "lost" from the live concert video are on the CD here. And while there is definitely a difference in the video quality (as explained in the notes on the set case) there is no difference in the sound quality of the performance on the CD; it's smooth as silk.
I really enjoyed the live version of "The Boys Are Back In Town" here. Too often when bands play a song you know so well as a studio recording live, they go overboard and add to/change so much of it that it loses more than it adds to the song. Not here. The band does a really fine job of staying loyal to the original while adding just enough to it to make it fresh. And while Phil's singing and playing is stellar throughout the concert, the guitar playing of both Gary and Scott is just incredible and perfect for each song.
The CD is just shy of 64 minutes long, but in that short time, by the end, I felt drained as if I had been at the show myself. Such was the energy exuberated by the band, and the recording which allowed that energy to be projected from my speakers. The DVD of the concert has a very 70's MTV feel/look about it to me. Not saying that this is a bad thing, but just a bit dated by the level of concert video recordings that have developed over the past decades since this concert.
Mercury Studios did a great job on the DVD also. Not only is the sound and picture crisp, but they give you the versatile options of either viewing the concert as it was first released, or with the "lost" songs added back in, in the order they were played in the concert. Or you can watch the "lost" performances separately.
It's in watching them in line with the show that you can really see the differences in the quality of the video. The "lost" performances were much more blurry and oversaturated in color from the stage lights (reds, greens and yellows). This was very apparent during the playing of some of the songs such as on "Suicide." When Gary lays down a blistering solo with the camera on him, you can barely see him through red light covering him--a real shame, but again, this is lost footage and only so much can be done to restore it. I still think Mercury Studios did a great job all around on this DVD.
The "Phil Lynott- Songs For While I'm Away" DVD is very well done, if a little formulaic in that you have many contemporaries, family, and friends, talking niceties about him and reminiscing about his life and events as they remember them. It's shot with many stills, snapshots, and home movies, while narrated over and interspersed with his music, both as part of Thin Lizzy and by himself.
Again, while basically formula in composition, at 113 minutes it takes its time covering his life from his birth to his death on 1/04/1986. The piece was very informative. I did not realize what a hard life he had growing up in Ireland. And while informative, it also gave me even greater respect for him. I did not know he wrote a lot of music that he performed solo that was not so hard rock in composition, and which reflected his life and his family who he loved (even writing songs about each of his daughters).
I thought it odd though at first that many of his bandmates, from different points in their career, took part in the documentary except Gary Moore. Then I realized this was probably due to the fact that it was made after Gary passed away himself, several years before. Still, it was very interesting to hear the stories and times so many people close to him shared about Phil.
So, formulaic? Yes. Well done? Yes! Enjoyable? Very!!
If all you know of Thin Lizzy is that they were a hard rock band from the 70's who had the big hit "The Boys Are Back in Town," then here's your wake up call to one of the best rock bands to ever form. I'm confident that if you are a fan of this genre, this set will spark your desire to hear more of the band's, and Phil's, work.
If you are a fan like me, then you will want this too, to rekindle and round out your appreciation for the band and for Phil Lynott as well.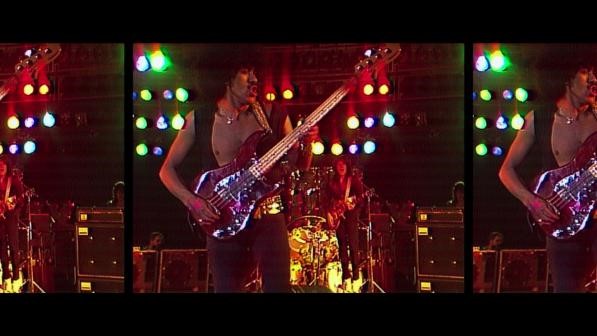 This set is a great listen, a great watch and a great addition to anyone's collection, and I highly recommend it.
CD Songs:
Jailbreak
Bad Reputation
Warriors
Don/t Believe a Word
Waiting For an Alibi
Still In Love with You
Johnny the Fox Meets Jimmy the Weed
Cowboy Song
The Boys Are Back in Town
Suicide
Are You Ready?
Baby Drives Me Crazy
Me And the Boys
DVD: Live at the Sydney Opera House October 1978
1. Jailbreak
2. Bad Reputation
3. Waiting For You
4. Cowboy Song
5. The Boys Are Back in Town
6. Are You Ready?
7. Me And the Boys
8. Baby Drives Me Crazy
Lost Sydney Performances
1. Warriors
2. Don't Believe a Word
3. Still In Love with You
4. Johnny the Fox Meets Jimmy the Weed
5. Suicide
Note: There is an option on the DVD to play the songs with the lost performances in the order they were performed the day of the show.
DVD: Phil Lynott-Songs for While I'm Away
113 Minute Documentary