Diana Panton's "Blue" Will Have You Feel Anything But
FTC Statement: Reviewers are frequently provided by the publisher/production company with a copy of the material being reviewed.The opinions published are solely those of the respective reviewers and may not reflect the opinions of CriticalBlast.com or its management.
As an Amazon Associate, we earn from qualifying purchases. (This is a legal requirement, as apparently some sites advertise for Amazon for free. Yes, that's sarcasm.)
Submitted by

Dennis Russo

on Wed, 11/16/2022 - 09:04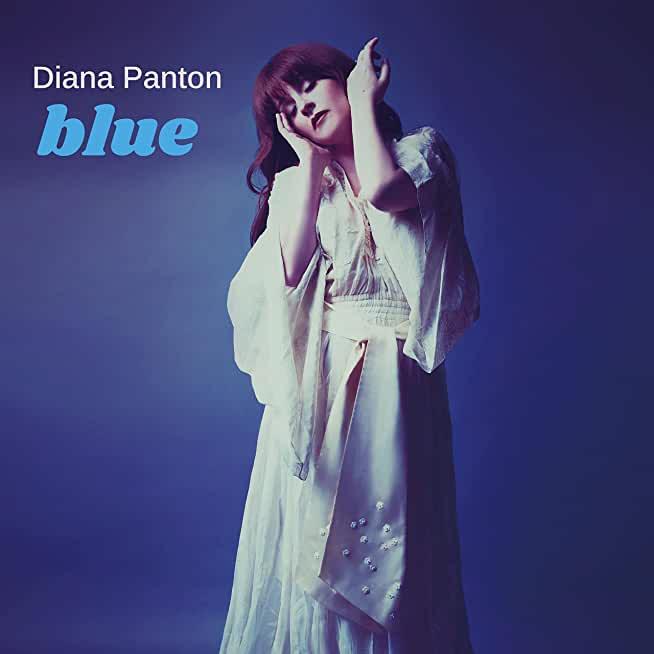 Have you ever had one of those moments where you were just settling into you chair, just about all set to start listening to music. You've hit the play button on your CD player, but you're still a moment or two from being truly situated and focused. All of a sudden, the first words and notes are sung and played, and you jerk your head up, stop what you're doing, and shoot your eyes straight to the space between your speakers -- because what you just heard is recorded so well and the vocals so pure and lifelike that you forget finishing settling in and just stop and listen.
That's what happened to me just now when I cued up the new CD from Diana Panton, "Blue."
I confess, I had not heard Diana before this album, and was instantly blown away by her beautiful voice and singing style. This has only happened to me twice before, once with Eva Cassidy and the other with Julie London.
This album is not just a one-off recording of songs that conjure up the emotions of love lost. Instead, as I found out, it is the culmination of a three-album journey of love deliberately spaced out over more than a decade by Ms. Panton to reflect the different stages of a relationship. The first album, "Pink" suggests the infatuation of first-time love, while "Red" reflects the passion of true love.
For me, the thought of purposely planning this sort of story over a span time to reflect the lifetime of a relationship reflects genius of an artist committed to her craft, and of making music that means something more than just a collection of songs.
The songs here span the ages of what can be called the Great American Song Book, and she is backed by an equally superb group of musicians: Phil Dwyer on tenor sax, Reg Schwager on guitar, Don Thompson as both pianist and arranger, and Jim Vivian on bass. Rounding things out is the Penderecki String Quartet. With an accompanying lineup like that, any vocalist not of the caliber of Ms. Panton would be lost in the shuffle and quickly overshadowed. But because she is such an accomplished singer, they all blend seamlessly, creating this wonderful illusion before your eyes of listening to a sultry jazz performance that hearkens one back to an evening jacket performance at a golden age supper club, such as the Rainbow Room or Copacabana back in the 30s or 40s.
As the album played, I found myself in need of having something more apropos to drink than my customary glass of water, so I hit pause on my CD player and proceeded to get myself a glass of a nice red wine. I had just bought it and was wondering what to have it with.
Once I had my libation, and had completely settling in this time, I hit play and let Diana and the rest of the musicians perform before me in a beautifully laid out and perfectly placed soundstage.
I am so glad this album is recorded as well as it is, because Diana sings with such emotion and truth in her voice that if it weren't recorded this well it would be a crying shame.
As you look at the list of songs on this album, there is no missing the theme of the album, but let me tell you this album is not a downer at all. It's an album of human experiences. Diana draws you into each song so that you feel you actually know the person the song is about. Her backing music, if Diana wasn't singing, would easily be a fine night of instrumental jazz on its own, but like I said they all blend together--the strings with the piano and sax work perfectly together--and Diana with the piano… well, I could almost see her standing in the curve of the piano body, resting her elbow on it, then moving away and slowly walking around the dining room.
I particularly like Yesterday. It was the first time I had heard it sung with such feeling that it could actually be someone going through the emotions of the song rather than someone just singing it. Without Your Love struck me too because of the sax; it sounded so real and tactile before me, with all the other musicians to be seemingly nestled around it. I also loved The Trouble with Hello Is Goodbye. This song over all the others was the best example of what a song sung in a supper club atmosphere would be: so sultry and warm and polished!
The "bring-it-on-home-to-me" song of the album is How Did He Look, a slightly peppier song where the singer is asking another person about an ex-flame and if he's asked about her. It's a short song that Diana sings so matter-of-factly it's like you're standing next to her as she asks this other person the questions.
This album is performed and mastered so well that it will be a staple of my listening sessions for a long time to come, and I would encourage anyone who is a fan of hers to get this album if you haven't already.
If you've never heard her before, I will tell you to take the plunge. You won't be sorry. Diana is a treasure, a one-in-a-million talent who deserves to be not just heard but listened to by anyone who loves music. Before I get music by anyone else, I will be getting her "Pink" and "Red" albums and let her take me on a relationship journey that I wish had happened years ago.
I know of only a few other singers who can convey a song in such a way that they make you jump up in your seat and take notice.
Enthusiastically recommended!
Songs:
1. Medley: Where Do You Start? / Once Upon a Time
2. Yesterday
3. Without Your Love
4. Losing My Mind
5. This Will Make You Laugh
6. The Trouble with Hello Is Goodbye
7. I'm Gonna Laugh You Right Out of My Life
8. To Say Goodbye
9. Meaning OF The Blues
10. I'll Only Miss Him When I Think Of Him
11. It's Always 4 A.M.
12. Just Sometimes
13. How Did He Look
14. Nobody's Heart
15. Spring Will Be a Little Late This Year
16. You Are There